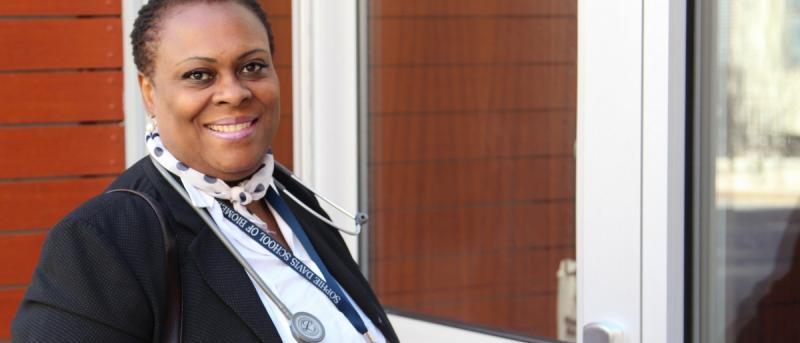 Columbia Nursing's Faculty Practice Launches New House Calls Service, Fulfills Need in Community
Marie Carmel Garcon, DNP, has worked at Columbia University Medical Center (CUMC) for the past 28 years. From the ICU, dealing with infectious diseases, even working with dialysis patients, the newest nurse practitioner (NP) to join ColumbiaDoctors Primary Care Nurse Practitioner Group says she's seen it all in the hospital setting. In fact, it was after she noticed something missing when checking-in with patients after discharge that compelled her to take her new job extending primary care inside a patient's home.
"I realized that a lot of the patients I talked to who had been released from the hospital could not leave their homes and needed help with follow-up care," Garcon said. "Knowing this, I didn't feel as though my mission was fulfilled."
This gap between hospital and community is something Columbia Nursing's faculty practice, ColumbiaDoctors Primary Care Nurse Practitioner Group, fills with their new house calls practice. The new service, which launched on May 15, allows the Nurse Practitioner Group to offer primary care services directly in the patients' homes who need it most.
"That is what I am interested in," Garcon explained. "I want to give patients the best possible quality care in their home. It enables them to stay safe, happy and healthy, and that's important to me."
The service is for those who have difficulty leaving home, and who need comprehensive, in-home primary care—including chronic disease management and follow-up care after hospitalization. The goal is to provide clear, comprehensive and actionable treatment plans within the comfort of a patient's home.
"Our house calls service is essentially the care that is being provided in a healthcare provider's office," said Stephen Ferrara, DNP, associate dean of clinical affairs at Columbia University School of Nursing who oversees the practice. "It could very well be adjusting medication for a patient's high blood pressure or ordering lab services to draw blood or take an X-ray in the home setting."
Until the 1940s, the majority of primary care in both the US and UK took place in the home. Even into the 1960s, 40% of doctor-patient meetings still took place in a patient's home. However due to increased specialty in patient care and an increased dependence on technology, the practice dropped to .6% by 1980.
Thanks in large part to Medicare's increased reimbursement for a house call by nearly 50% in 1998, the practice has yet again seen rises in recent decades. In fact, studies show that it is Nurse Practitioners who are predominantly providing this service, offering 1.13 million home visits in 2013, surpassing the 1.08 million house calls made by internal medicine doctors. However, despite house calls services being available in parts of New York City today, Ferrara says the coverage still does readily not exist in Washington Heights. Until now.
"There is a lack of primary care in the Washington Heights area and the Nurse Practitioner Group increases access," Ferrara said. "In such a densely populated neighborhood, there is no reason why we can't take what we do in the office setting at our primary care office on 168th street, and take it to patients' homes who need it."
Ferrara clarifies that this house calls service should not be confused with home health care, which often helps with light chores or meal preparation from a home health aid or wound care performed by a Registered Nurse. He explains this is primary care from a board-certified NP, and that not everybody will be eligible for the new service. While some house calls providers offer 'concierge' type care for bedside service, the Nurse Practitioner Group's house calls will focus on those who are unable to leave their homes due to health issues.  
"We want to reach patients who are underserved or are health disparate," Ferrara said. "We're asking, 'how can we make the patient healthier?' We know ultimately that people who do not have access to health care tend to be sicker and there are things we can do to help prevent complications or hospital readmissions." 
While the service is listed on the practice website with an 800 number to call for care (888-264-8606), most of the anticipated patients will come through institutional referrals, according to Ferrara.
"We partner with the medical institutions, with rehabilitation facilities, and the short stay nursing homes," Ferrara said. "We want to work with discharge planners, and act as a way to transition patients from those facilities to their homes."
For now the service is only available for homebound qualified patients living in the Inwood and Washington Heights area. As for Garcon, in addition to increasing primary care access for the homebound population, she is most excited to show her patients how much she cares.
"I can see that sometimes homebound patients are lonely, sometimes they feel isolated," she said. "If they can't work and are stuck at home, they may feel like society is no longer interested in them. But I want them to know that I am interested, and there is somebody to care for them." 
ColumbiaDoctors Primary Care Nurse Practitioner Group offers primary care services at three locations in Manhattan including Midtown Manhattan, Morningside, and Washington Heights. If you think you know someone who is qualified and would benefit from the Nurse Practitioner Group's house calls service, please call 888-264-8606 or visit www.ColumbiaNPs.org for more information.