Global Opportunities for Students
Moving Nursing Education From the Classroom Into the World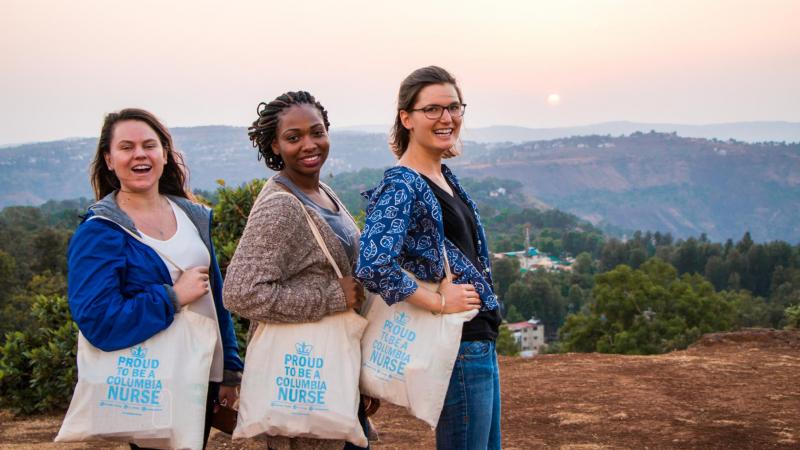 The Office of Global Initiatives (OGI) provides extensive opportunities for unique global clinical experiences, focusing on learning in countries with different health care systems and resources.
Our curriculum provides such on-the-ground experience at home and abroad, in countries like Ghana, Nepal, the Dominican Republic, and other low-income regions where health care is a limited resource; where seeing a nurse, reaching a clinic, receiving medication, and improving health are challenging. 
By learning from nurses who surmount these limitations and develop sound models of care, our students gain a broader understanding of solutions to secure health as a human right. 
Classroom learning provides the framework for clinical learning.  The skill and art of nursing practice come to live and have larger dimensions when learning from nurses and midwives globally, especially in Global South countries, where the reality of inequities is tackled every day.  Nursing students who go to Malawi or India or Trinidad and Tobago or any of our global sites experience a transformation as they learn how nurses provide for their communities under challenging situations. They begin their journeys to work towards global health equity as central to their professional responsibility.
Jennifer Dohrn, DNP, Assistant Dean of OGI
Global Sites
Columbia University School of Nursing currently partners with 14 global clinical sites where MDE and DNP students can spend six weeks working with communities, in local community health centers, and hospitals, as well as performing clinical practicums and research. Each site in turn initiates activities beneficial to its goals to improve community health with Columbia Nursing.  Reciprocity is a central foundation of this program.
OGI notifies students of upcoming opportunities and application requirements, while program directors match opportunities to the students.  Opportunities are offered to current Columbia Nursing students.
Global Opportunities for Students