Masters in Advanced Clinical Management and Leadership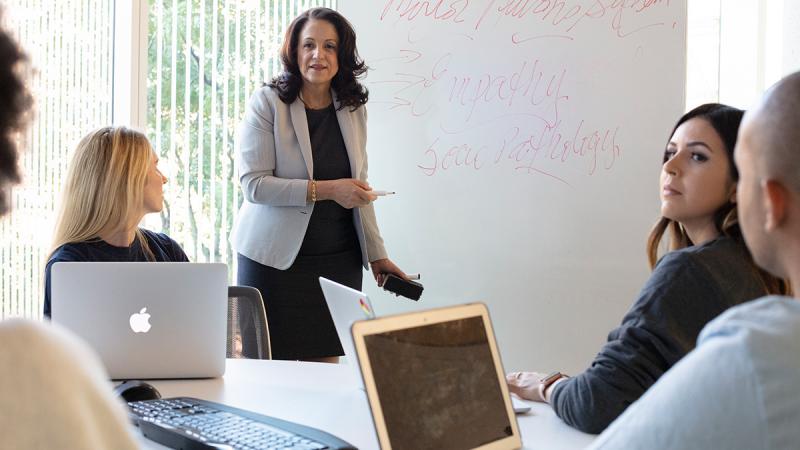 The Master's in Advanced Clinical Management and Leadership grew from our relationship with our affiliates to advance the education of bachelor's prepared RNs to the master's level. To meet the needs of the fast-changing health care environment, nursing education must adapt to today's challenges and anticipate those of tomorrow. Continuing in its tradition of preparing the nation's nurse leaders, Columbia University School of Nursing's new Master's in Advanced Clinical Management and Leadership curriculum equips students with the desire and ability to improve the health and health care of all. Whether it's teaching students to master complex new technologies, provide care based in the latest scientific investigations, lead health care teams, engage in quality improvement initiatives, lead transitions in patient care, or engage in the policy arena, a Columbia Nursing education places its graduates at the forefront of their profession, eminently qualified to provide the best care possible to patients, families and communities.
The Master's ACML student will focus on the competencies of comprehensive clinical care, interdisciplinary and patient centered communication, systems and context of care, and evidence-based clinical practice and scholarship over 5 part-time semesters.
Curriculum
The curriculum is provided to specify the academic requirements of the program. Please be advised that this program plan is a sample, and individual plans of study may vary and are reviewed and approved by the program director. Progression in the program is contingent upon meeting academic policies.
Courses
Course ID
Course Name
Credits
Description
NURS8012N
Advanced Clinical Management and Leadership
3
This graduate course will focus on health service systems.Students will study the theories, competencies, and concepts of management and leadership. Furthermore students will examine the leadership role related to quality and safety in complex health service delivery systems, the management theories and concepts such as interprofessional communication, teamwork, delegation and supervision.The core role competencies for the nurse leader frame the course activities.
NURS7030N
Advanced Physical Assessment for Nurse Leaders
3
This course will develop the knowledge and skills necessary for conducting advanced comprehensive and focused health assessment for individuals with emphasis placed on interviewing skills, health histories, physical and psycho-social findings. Utilizing a systems approach and a background in basic physical assessment, identification and interpretation of abnormalities are emphasized.
NURS7006N
Body Systems, Disease, and Drug Treatment Across the Lifespan
4
In this course we will examine the normal physiological function of organ systems, mechanisms for the maintenance of health, pathophysiological alterations that lead to disease, and the fundamentals of pharmacological treatment of disease. We will focus on diseases that commonly occur across the lifespan, examining common etiologies, pathogenetic mechanisms, clinical manifestations, and common drug treatments of each. Basic principles of pharmacology will also be discussed, including pharmacokinetics, pharmacodynamics, and toxicities.  There will be an overall focus on major pharmacologic agents used to treat the most common disease states with emphasis on relating the mechanism of action to the therapeutic use.
NURS7004N
Care Coordination
3
The care coordination course is designed to provide nursing students the skills to provide patient-centered care, deliberately organize patient care activities and share information among all of the participants concerned with a patient's care to achieve safer and more effective care. Reducing high rates of errors, reducing high rates of readmission, improving satisfaction with care, addressing unmet needs in health care and reducing cost burden will also be explored.
NURS7005N
Health and Social Policy in the Context of Practice
3
This core course examines contextual contributors to health status and the current social, legal, and political determinants of healthcare systems, emphasizing the U.S. system. Issues are explored to understand their impact on current and future delivery of health care, in particular on advanced practice nursing. The class focuses on how to bring the professional values of nursing to bear in policy debate and how nurses partner in the policy process to improve health outcomes of populations and quality of the healthcare delivery system.
NURS7003N
Health Promotion and Disease Prevention
3
This course is designed to provide the student with a systematic approach to the delivery of health promotion and disease prevention in primary health care to individuals, families, communities, and aggregate populations.
NURS7000N
Introduction to Evidence-Based Practice
3
This course is designed for graduate nurses to provide them with the skills to understand and utilize research evidence in decisions about clinical practice. The course is designed to help graduate nurses articulate relevant practice-based questions, search the literature to identify relevant evidence, evaluate the quality of research on which the evidence is based, and discuss the application of the evidence in clinical practice to improve quality of care.
NURS7060N
Master's Capstone Project Development
3
This graduate course is designed to provide the student with the knowledge and skills to facilitate changes in practice delivery using quality improvement strategies. Historical development for total quality management and strategies for implementing process improvement are emphasized. Students will learn how to develop a culture of appreciative inquiry to foster inquisition and innovation. Upon completion of this course, students will design a plan for implementation of a quality improvement project.
NURS8015N
Practicum: Advanced Clinical Management and Leadership
5
Students will work with their faculty advisor and hospital preceptor to implement their individual quality improvement project developed in N7060.Furthermore, students will apply and synthesize the theories, competencies, and concepts of the Advanced Clinical Management and Leadership program.This will be demonstrated through assignments and experiences with precepted nurse leaders. The process will allow the student to take part in summative assessment on work done throughout the program.