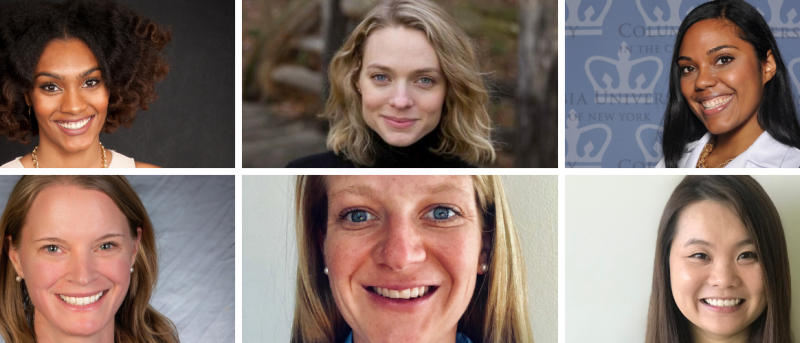 2019 Graduates Share Their Memories, Passions, and Hopes for the Future
Columbia Nursing's 2019 commencement ceremony will take place on Tuesday, May 21. In preparation, we spoke with six graduates from different programs and diverse backgrounds about what they gained from their education at Columbia Nursing and where their paths will take them next. Our favorite quotes and full profiles are below.
Franchesca Ali
Read Franchesca's full profile.
I am passionate about taking care of underserved communities that do not have access to high-quality care. It puts a smile on my face when I am able to take care of an entire family, and they are satisfied with their visit.
Melissa Beauchemin
I am passionate about understanding and improving the care delivery system in which our patients and their families receive cancer care.
Cordelia Cowan
I chose nursing because the profession celebrates humanity and compassion, combined with science … [and]… Columbia Nursing understands the complexities of the profession and offers a dynamic curriculum, allowing for individualization and broad exposure.
Sierra Davis
I've gained so much from my education here … I've had the chance to learn at hospitals all over Manhattan, each with a unique and diverse patient population … By caring for different people from different cultures, you learn how they experience the health care system and illness, thereby enabling you to better serve them in the future.
Madeleine Hamer
Read Madeleine's full profile. 
Being part of a cohort from many walks of life, and working through clinicals in a variety of settings, exposed me to aspects of the health care system that I was not remotely aware of before starting school. Gaining this perspective has opened my eyes to a plethora of needs here at home and abroad. I feel so privileged and lucky to be a nurse.
Aluem Tark
I saw how nurses worked so selflessly to provide comfort and the best care possible for those in need. I wanted to be one of them – someone who devoted their knowledge and skills to making other people feel healthy, safe, and cared for.
Columbia Nursing's 2019 commencement ceremony will be livestreamed on Tuesday, May 21 at 10am. Watch the livestream.