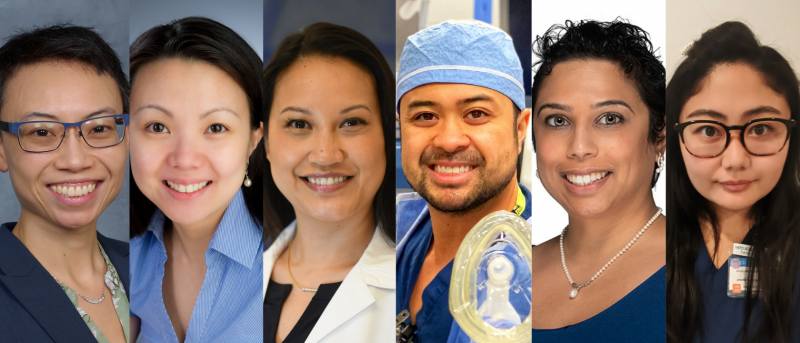 AAPI Nurses on Offering Solace, Solidarity in Uncertain Times
In honor of Asian American and Pacific Islander Month, Columbia Nursing faculty, alumni, and students talk about how they have coped with the ongoing surge in racism and violence against Asian people that has accompanied the pandemic, and how AAPI individuals and their allies can fight discrimination and promote health equity. 
Alumni 
Connie Yip MS '13 
Psychiatric Nurse Practitioner, Private Practice  
"I've always been called to help others. After college, I worked as a classroom counselor, then I taught special education in a mental health collaborative. These middle schoolers were one step away from being in a locked, residential facility. They experienced profound neglect, trauma, or untreated mental illness and needed help. With supportive relationships, a structured classroom, and adequate psychiatric and therapeutic care, I witnessed these kids transform. I wanted to serve as a conduit of change for people who had untreated or inadequately treated psychiatric illness. That's why I chose to become a nurse practitioner. 
Being a Chinese American nurse is an opportunity to be visible and decrease any stigma from AAPI communities about reaching out for psychiatric care. Many of my BIPOC clients explicitly chose me for my ethnicity. It matters to them; some find solace and solidarity in our shared experience of being Asian and a person of color. A common need is to feel seen and understood in a time where being seen or understood can feel risky. Ultimately, my hope is to create an emotionally safe space where their vigilance might be lessened in the presence of someone who can understand microaggressions, implicit bias, discrimination, and systemic racism both intellectually and personally." 
---
Maria Carmela Yu Sam Evangelista DNP '12 
Nurse Practitioner, Columbia University Irving Medical Center Department of Orthopedic Surgery 
"I was in Boston, renting a room from a nurse and a medical biller, and I was setting my sights on going to graduate school in finance. The tragedy of September 11 made me reflect and muse about life. Sinking into depression and a premature midlife crisis, I had to find a way to contribute to humanity and society. I thought, if I am in health care, I will be able to help at the least one person a day. That was my solution to the guilty conscience I was facing. So I decided to apply to nursing school. 
I think I speak for most Asian Americans when I say there was always a nuance of discrimination, and we collectively were subjected to it, whether subtle or not. It's always been there. The question is how we overcome this regrettable side of human nature. The precarious nature of the times certainly brings them out in the open, and the turn of events worldwide have emboldened individuals who have some partiality to express their partiality manifestly. Like most Asian Americans, we were taught to keep our head low, journey on, persevere and blessings will abound from your sacrifice. We push on, I push on. It has not stopped me or us collectively – to help at least one person a day.  
The job is not easy. While all the hate is daunting, I believe American society in general has a collective respect for the AAPI nurse and the AAPI health care professional. When I question why I am in this profession, regardless of the turn of events, I go back to the statement that made me apply to nursing school in the first place – I want to claim that every day I probably helped at least one person." 
---
Faculty 
Janejira Chaiyasit DNP '17 
Assistant Professor of Nursing
Nurse Practitioner, ColumbiaDoctors Primary Care Nurse Practitioner Group 
"I chose to be a nurse practitioner because I wanted to be involved in giving direct patient care in a field that was predominately white. I want to help transform the health field by representing minorities and providing culturally competent care. 
 
The recent surge in anti-Asian discrimination is absolutely devastating. Although these attacks are not new amongst the Asian community, the sting is much deeper in light of the current health crisis as discrimination against the AAPI community has been publicized. 
As an AAPI nurse leader during these times, I not only have to advocate for my patients, but for myself and the Asian population I belong to. I will continue to educate those I come across, about acceptance, tolerance, equality, and science. I hope my role allows me to talk about the discrimination and inaccurate information that is circulating to help raise awareness and insight -- enlightening one mind at a time, in efforts to create universal acceptance of all races." 
---
Christian Cansino DNP '17  
Assistant Professor of Nursing
"Always remember the path, the people and the patients that impacted and shaped you as a nursing professional. Be inherently good despite hatred, racism and discrimination. And despite your own struggles, never lose sight of truly caring for another human being - it is one of the pillars of humanity that define you as a person and as a nurse."
---
Students 
Shanelly Singh DNP '21 
Hematology and Oncology Nurse Practitioner, Englewood Health 
Assistant Professor of Nursing, Columbia University School of Nursing 
"I chose to become a nurse to provide holistic care to underserved populations in the U.S. I think it's important for patients to have health care providers that they can identify with. 
I feel that my role as a health care provider is more important than ever. I believe that I am setting an example in my occupation as a nurse practitioner. I continue to stand tall and keep a smile on my face (under the mask!)  despite adversity. This authentic positivity comes from my desire to provide a safe space for my patients, half of whom are of Asian and Pacific Island descent, to express themselves unabashedly. After all, holistic care includes offering an ear for venting as well as clinical care. It's an honor to be that rock for my patients, while truly empathizing with their concerns. 
I would advise future generations of AAPI nurses to take care of themselves first. This is how one can authentically support others in times of adversity. Once your cup is full, you can put therapeutic boundaries for yourself and your patients into place, in order to prevent burnout. Self-care is doing that work to process your feelings and emotions, so that there is space to holistically care for others." 
---
Reina Joy Mizukoshi  
MDE Student 
"Since I was young, I was exposed to the hospital environment, because my father fought a brain tumor for nine years. While being a bridge to my non-Japanese-speaking mother and the doctor, the care that the nurses provided is still something that I remember vividly. They were there for my mother and I throughout the process and supported us with anything that we needed. Many other factors also came to play with why I choose nursing as my career path but this one was the biggest. My passion lies with being able to build rapport with patients and everything about nursing aligned so well with my belief.  
It means everything to me that I can represent both of my cultures (Japan and Philippines). I hold both cultures close to my heart and it saddens me that the world can make anybody feel unsafe just because of their ethnicity. I believe that representation is a catalyst in fighting racism and discrimination. While it can be tiring having to keep educating people on the differences between AAPI cultures, I will continue to do so because it is worth fighting for my own community.  
To the future generation of AAPI nurses, I say, be proud of how far you've come and celebrate every milestone that you've achieved."