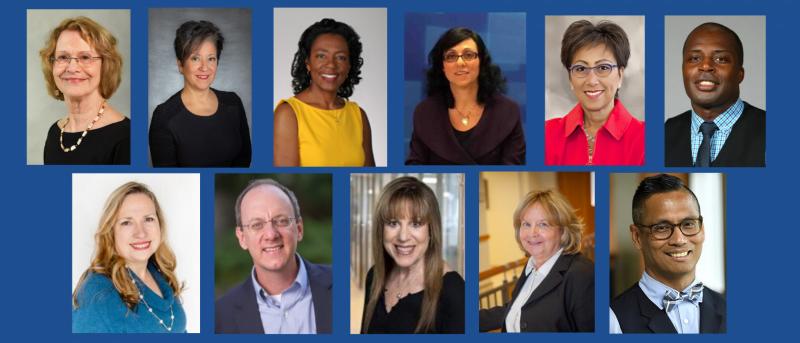 American Academy of Nursing Inducts Eleven Faculty and Alumni as Fellows
On October 26, the American Academy of Nursing (AAN) inducted four Columbia Nursing faculty members into its 2019 Class of Fellows at the academy's annual policy conference in Washington D.C.: Kenrick Cato'08 '14, PhD, assistant professor PhD; Wilhelmina Manzano, MA, assistant dean, senior vice president and Chief Nursing Officer, NewYork-Presbyterian Hospital; Wanda Montalvo '15, PhD executive director, Jonas Nursing and Veterans Healthcare; and Arlene Smaldone '03, PhD, professor, and assistant dean of scholarship and research. Together, 19 Columbia Nursing faculty members are AAN Fellows.
In addition to Cato, Montalvo, and Smaldone, the following alumni were inducted: Felesia Renee Bowen '10; Jesus Casida '96; Janna Lesser '81; Patricia Jean Moreland '03 '10; Nancy M. H. Pontes '03; Mark P. Toles '96; and Aliza Bitton Ben-Zacharia '98.
"We congratulate all of our new faculty and alumni inductees on receiving this most distinguished honor" said Dean Lorraine Frazier.
AAN Fellows & Selection Process
AAN Fellows are leaders in education, management, practice, policy, and research, and show a deep commitment to the promotion of public health through evidence and innovation. Induction into the academy represents a signal professional achievement, where nurses' leadership in the field is honored by their peers.
Fellows are selected through a competitive and rigorous process, in which they submit evidence demonstrating significant contributions to increasing access to care, reducing care costs, and improving quality through nursing theory, practice, and science. According to AAN President Karen Cox, PhD, "[Fellows'] amazing accomplishments have changed health and health care across the country and around the globe."
AAN
The AAN serves the public and the nursing profession by advancing health policy, practice, and science through organizational excellence and effective nursing leadership. Their membership includes more than 2,600 Fellows, who are nursing's most accomplished leaders.