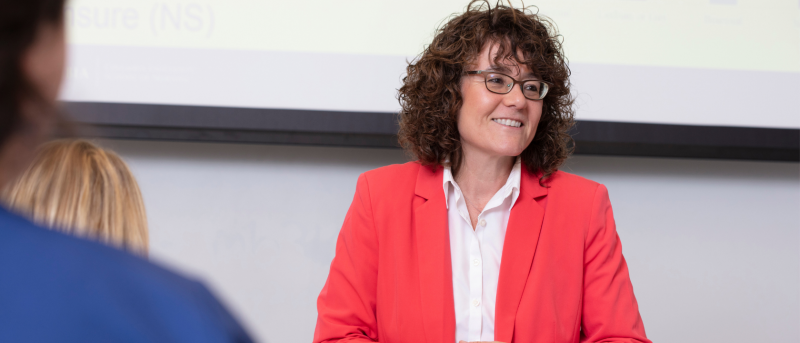 Applying Psychology to Health
Faculty Profile: Jean-Marie Bruzzese, PhD, associate professor of applied development psychology (in nursing)
Jean-Marie Bruzzese, PhD is a researcher and professor at Columbia University School of Nursing. She previously served as associate professor of child and adolescent psychiatry at New York University School of Medicine. Prior to that, she held faculty positions at Kean University and Fordham University. She earned a PhD in Developmental Psychology and a Master's degree in psychology from Fordham University and a BS in psychology from Brooklyn College.
Tell us about your role at Columbia Nursing.
I am continuing research on two grants I started while working at NYU. In one of the studies, I developed an evidence-based asthma intervention for low-income high school students in New York City.  Students with uncontrolled asthma participated in group and individual sessions where they received information and tips on managing their illness. The individual sessions allow us to personalize the intervention. They allow teenagers to identify barriers to treating their asthma, and motivate self-care.  The group sessions were valuable because students shared their feelings about what it's like to suffer from asthma with their peers. Through NIH funding, we tested this intervention in a rigorous study.  I demonstrated that the adolescents who received the intervention had better asthma self-care skills and more confidence to treat it than those who didn't. In addition, the students who participated experienced fewer nights with symptoms, asthma-related school absences, and visits to urgent care compared with those who didn't. This intervention serves as the basis for the two grants I am bringing to Columbia Nursing where we will develop two new interventions.
One grant I brought with me involves creating a web-based version of this intervention. This fall I start work on a new research study creating an intervention to address poor sleep habits in teenagers with asthma. I will also teach a quantitative research methods class to clinical nursing students and mentor PhD students. 
Most of your research is focused on asthma and adolescents. How did you get involved in this subject?
Growing up, I didn't know anyone suffering from asthma, but as a doctoral student at Fordham University, I was part of a research team that studied an asthma intervention aimed at elementary school children. Although I didn't intend to study asthma in teenagers, this experience showed me that it is a serious chronic illness that children and teenagers can die from. As a psychologist, the subject is interesting to me because I'm able to apply psychology to it. Anxiety and depression exacerbate this biologically based disease. Patients who report feeling nervous about aspects of their asthma often experience barriers to self-care.
Adolescent psychology has always fascinated me. I am intrigued by the notion that teenagers are trying to become adults, yet don't have the cognitive skills or confidence that adults have that can result in positive health habits. This has many implications for their health and self-care. When teenagers learn good health habits, they can carry into adulthood. This makes it an ideal time to intervene.
How does your background in psychology complement your research?
I tailor interventions based on the age of my participants.  I use different interventions for children in middle school than for those in high school because even a few years makes a big difference in development. High school students live more independently from their parents than middle school students. Understanding family dynamics is critical to both researchers and clinicians. They must ascertain if the child accepts that they have a health issue, and if the parent also acknowledges these health issues. In some cases, parents view their children's symptoms differently from the children and this can have a negative impact on a child's level of self-care.
What problems do you hope your research will solve?
I would like to address and work on closing the gap in health disparities. These inequities exist in both inner cities and rural settings.  I am working on a grant to bring my high school intervention to rural settings across South Carolina.
What excites you about your work?
I study how people change over time across the lifespan. I can apply my findings to the real world and potentially save lives. My work is multi-disciplinary—I apply psychology to health. The collaborative nature of a nursing school appeals to me. It opens doors to do different types of research.