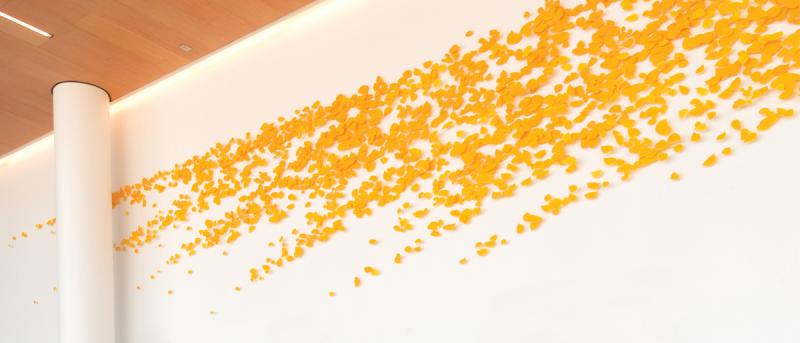 Art Reflects Life
A carefully curated art program, combining the work of vintage, iconic, and contemporary artists, connects the school to the community, the patients we serve, and the world in which we live.
By Laura Raskin

This article originally appeared in the Spring 2018 issue of Columbia Nursing magazine.
When Columbia University School of Nursing opened its new seven-story glass-and-steel building last summer, students, faculty, and staff were welcomed into a state-of-the-art educational facility offering abundant sun-drenched areas for learning, collaboration, and conversation, including a sprawling rooftop terrace overlooking upper Manhattan.
The building, designed by FXCollaborative Architects in New York and CO Architects in Los Angeles, roots Columbia Nursing strongly to its home in Washington Heights. The transparency of its glass façade is one way the building invites the neighborhood inside. A robust, integral, and carefully curated art program that includes pieces that could line the walls of a New York City art gallery is another important link.
Threaded throughout all seven floors and spanning a variety of mediums—from photography and painting, to printmaking and sculpture—Columbia Nursing's newly mounted art collection deepens its connection to the community and New York City. Each piece tells the story of New York through its subject matter and its creator. Some of the work is contemporary, made by young up-and-coming artists who live in Washington Heights. Other pieces, such as photographs from Columbia University's own art properties by Leon Levinstein (1910–88), are historic gems by iconic artists who helped reflect the city back to itself, and the world.
"We wanted a building that had what we would call an enhanced environment—one that is not just about the education that goes on inside but is also a reflection of the environment that we live in," said Dean Bobbie Berkowitz. "The idea of enhancing the environment through art and connecting it with where we live and the people who live here— these were the two ideas that prompted us to take a serious look at the building's design and furnishings, and then the art, too."
In order to curate a selection of art that complemented Columbia Nursing's new building, and vice versa, Dean Berkowitz and the building committee worked with Connie Vick, a renowned New York-based art advisor who helps corporations and institutions source art and integrate it with a client's interior-design goals.
"What was refreshing about this project was that Columbia Nursing is an institution with a long history, so we looked at all of its memorabilia and art, which was fascinating," said Vick. She and her team chose special pieces—such as a series of portraits of Columbia Nursing's deans stretching back to Anna Maxwell, to refurbish, reframe, and relocate.
"And then Dean Berkowitz said she wanted the art program to be about the community. Right off the bat that was a novel request."
Using Dean Berkowitz's clear directive, Vick and art advisor Jessica Bruzzaniti got to work sourcing art from hyper-local artists—those who live on the Upper West Side or in Washington Heights—as well as emerging artists who, as Vick said, are analogous to Columbia Nursing's students in that they too are embarking on their professional lives in New York City. One of those local artists is Paden Treadway, a Washington Heights resident and photographer who moved to the city a couple of years ago from his hometown of Edmond, Oklahoma. Bruzzaniti and Vick chose two of Treadway's photographs of Central Park for the school. The unusually quiet scenes of the park hint at Treadway's sense of discovery in his adopted home, and his fascination with the city's moments of calm.
Vick and Bruzzaniti also chose photographs from Getty and other sources, focusing on classic New York milieus such as Coney Island and the Apollo Theater in Harlem. Once they had a selection everyone agreed on, they overlaid floor plans of the new building with thumbnails of each image, deciding—wall by wall, floor by floor—where each piece would look best. With the photography, Vick was able to print each image at the ideal scale for the room and the work.
"You're telling a story with the art," said Vick.
The art team also tapped the expertise of Roberto C. Ferrari, curator of Columbia University's Art Properties. Ferrari oversees a collection of over 12,000 works of fine and decorative art and archaeological objects from around the world that were given to the University by alumni and other donors. He helps maintain and preserve the work as well as display it throughout the University, makes it available for research, and lends pieces to major institutions. 
"For Columbia Nursing, we chose a selection of wonderful black-and-white photographs by Leon Levinstein," said Ferrari. "He was a New York City photographer who captured candid views of everyday people of all backgrounds, cultures, and ethnicities, mostly dating from the 1960s and 1970s." Several of Levinstein's photographs now have a new life and a new audience.
The literal and figurative apex of the art program is a commissioned sculpture in the school's seventh-floor double-height event space. Here, the team worked with Seattle-based installation artist Katy Stone, whose works blur the boundaries between painting, sculpture, and assemblage. Stone's "Columbia Ray" soars across the south wall of the event space; it's a sculptural relief installation made of 1,200 individual pieces of hand-painted laser-cut acrylic in vibrant shades of yellow, attached to the wall with custom standoff hardware that makes each piece appear to be floating.
"The work suggests a ray of light, a striking formal addition to the space, and a metaphor for the trajectory and reach of education," said Stone. Referencing petals, leaves, and cellular forms all at once, the organic form complements the adjacent "Columbia Blue" wall and reflects the light streaming in from the doors that lead to the rooftop terrace. Stretching to 41 feet across, the artwork also mimics the grand scale of the event space, which serves diverse functions and audiences.
"That art can be a tool for healing, a portal to another mental state, is important to my work. And it seems magnified in a setting that is about life and health," said Stone. Together with "story stations" on each floor of the Columbia Nursing building that tie in different themes related to nursing with highlights from the school's 125-year history including memorabilia, photographs, and narratives, the cohesive art program tells a visual story about the school's local and global community that is equally important to its legacy as a leader in nursing education, research, and practice.
"I think the message we are trying to send with the art program is that this is what makes Columbia Nursing come alive, and it refocuses us on not just what we teach, practice, and research, but also on how we live," said Dean Berkowitz.