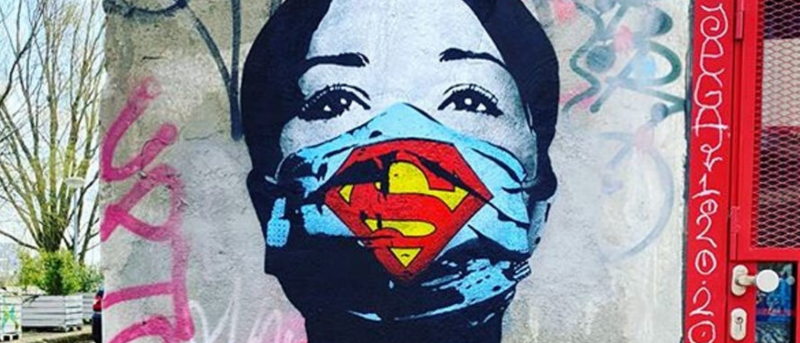 Art in the Time of Crisis
Art in all its forms is a representation of human experience, and it is in the sharing of our experiences even as we struggle to make meaning of them that we create a sense of humanity
- Mary T. Shannon, Academic Medicine, 2013
There is evidence-based research that suggests that engaging in artistic expression can promote well-being amongst health care workers, especially in regard to processing death and dying. 
Art in the Time of Crisis will be a collection of narrative writing and artistic pieces sourced from the students, faculty, administration, staff, and alumni of Columbia University School of Nursing. These pieces will directly address intersectional themes surrounding the current anti-racism movement and lived experiences during the COVID-19 pandemic. These pieces will stand as a memorial to the unique experiences of the individuals at Columbia Nursing during this time.
If you have been inspired to create or used art to cope during this time, we encourage you to submit your creation to the Art in the Time of Crisis collection. 
Submission Guidelines
Accepted forms of art include original non-fictional and fictional narratives, short stories, poetry, paintings and drawings of any medium, song lyrics/dance, or photographs that address the current anti-racism movement and/or the COVID-19 pandemic.
Writing submissions should be no more than 500 words, double-spaced.
All pieces should have been written during or after March 2020. Suggested themes include: "love", "fear", "isolation", "hope", "death" "humanity", and "community".
All pieces should be titled and accompanied with a single line description of the piece.
All pieces must adhere to a code of conduct that centers around respect. While creative expression is encouraged, no profane or culturally offensive language or images will be chosen for this collection.
Note: By participating in this collection, you retain the copyrights to your work, but allow Columbia Nursing and Columbia University the right to archive and share your work publicly on external channels (social media, website, newsletter, etc.). Columbia Nursing also withholds the right to share any submitted content.