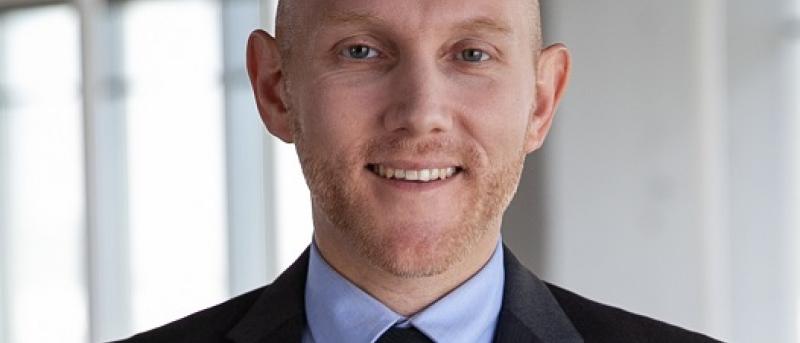 Associate Professor of Nursing Max Topaz, PhD, Sees Data as the Brave New World for Nursing Research and Care
Topaz began his career in healthcare as an army medic in Israel, providing care when lives were on the line and performance under pressure was nonnegotiable. It was this trial-by-fire experience, the influence of his grandmother—a World War II nurse—combined with his love of computers, data, and healthcare, which made him the sought-after information technology guru and healthcare expert he is today. As a healthcare informatician, his research is aimed at using data—the brave new world for nursing research and care, according to Topaz—to help patients achieve better health outcomes.
What inspired you to become a nurse?
I was born in Siberia in the former Soviet Union. My grandmother was a nurse—first during World War II and then in several villages in Siberia—so nursing runs in my DNA. Unfortunately, she was refused care by a hospital when she broke her hip because she was "too old" at 84, and she subsequently died. This experience made me realize that healthcare systems must be improved, and that I wanted to improve them from within. When I immigrated to Israel and had to choose my career path after my army service as a medic, nursing looked really appealing to me because of the many ways in which nurses impact peoples' lives.   
Can you describe your experience as an army medic, specifically how it affects your perception of nursing?
During my army service, I learned that nurses need to perform well under pressure. I also realized that I love to challenge myself, personally and professionally, and that as a career, nursing provides such opportunities to be challenged. Since early childhood, I was always torn between two passions: healthcare and computers. My experiences in the army allowed me to explore and bridge them. One example is my involvement with implementing the Israeli army's first electronic health records system. This was a seminal project for me, as it demonstrated how technology is vital to optimizing healthcare systems.   
 Why did you choose Columbia Nursing and what makes the school stand out for you?
There are many factors that make Columbia Nursing special to me. For example, it was one of the first nursing school in the country to have awarded a master's degree in a clinical nursing specialty. This demonstrated to me that Columbia Nursing has always been committed to being at the forefront of nursing education. The school also stands out because of its stellar researchers, who are always striving and looking to uncover best practices in fields ranging from population health management, global health, and more. In my area, health informatics, Columbia Nursing is the international leader, and I couldn't be more excited to have the opportunity to learn from and work with some of the best researchers in the field. I also know many graduates who have become exemplars of the profession, and I want to contribute to educating the future generation of nursing leaders at Columbia.
You came to Columbia Nursing in September 2018, arriving from Haifa, Israel, where you were a Senior Lecturer for two years. How does your experience teaching in Israel compare to your responsibilities and goals here in the United States?
I spent many years in Israel, and that country is very dear to my heart. I studied for my bachelor's and master's degrees at the University of Haifa. I also received a Fulbright Fellowship to pursue my PhD while in Israel. When it comes to Israel, I also think it's important to point out that the country is a start-up nation in many sectors. It has more high-tech start-ups than almost any other country in the world, guided by a cultural orientation toward forward-thinking in tech. This ethos drove me to develop and teach pioneering nursing courses, such as a seminar on creating and implementing healthcare technologies, and complete several significant research projects focused on innovation in healthcare. Accordingly, my deep understanding of the strengths and challenges of the Israeli healthcare system provides me with insights into the U.S. healthcare system and fuels my passion to innovate and improve peoples' lives. I intend to use this insight in my work, researching and educating.
Elizabeth Standish Gill was a pioneer nursing educator and former dean of the school. What does it mean to you to be the Elizabeth Standish Gill Associate Professor of Nursing? 
Gill was a Columbia Nursing alumna, graduating in 1937, and served as its dean during the 1960s—a turbulent time in America. Under Gill's leadership, the school helped elevate the recognition of nursing as an independent healthcare profession, requiring specialized skills and training. I am very humbled to be associated with such a distinguished nursing leader, and I am truly inspired by her courage and commitment to advancing the nursing profession.
What are your strongest research interests?
In addition to Columbia Nursing, I am affiliated with the Data Science Institute (DSI) at Columbia University and the Visiting Nurse Service of New York. My research interests are based on my work with these entities, and guided by DSI's research motto of "data for good." Specifically, my research examines the intersection of nursing, cutting-edge technologies and community-based care. My primary goal is to use the most recent technologies to help people achieve better health.
In particular, I am focusing on mining health-related data, such as medical records, to answer important nursing questions. For example, I am building software called NimbleMiner to help mine healthcare free-text narratives and identify important patient characteristics, such as risk for poor self-care or substance abuse. I also build and implement automated clinical decision support tools, which help nurses make better care decisions about their patients. For example, my colleagues and I recently developed a patient prioritization tool, called PREVENT. PREVENT helped reduce patient rehospitalizations, findings which were published in Research in Nursing & Health.
We live in the era of "Big Data." Can you describe the purpose of data science and how it may help healthcare providers and improve patient care?
Data science is an emerging field that builds on achievements in computer science, statistics, and information science. Data science approaches are being increasingly used to revolutionize many fields and professions. For example, the emergence of self-driving cars and personalized marketing are significantly disrupting the auto and marketing industries. In healthcare, data science approaches are being increasingly used to aid clinical decision making and even to automate an increasing number of tasks, such as interpretation of radiology findings.
In the next decade, data science advances will likely bring similar disruptive innovations to nursing, possibly changing the profession significantly. For example, we are now learning how to create algorithms that will recommend personalized care to our patients, based on their socio-economic and clinical characteristics.
Would you like to add anything else?
I strongly believe that we are on the edge of a new brave world where information technology will help us produce better healthcare for our patients. I'm excited to be part of it.