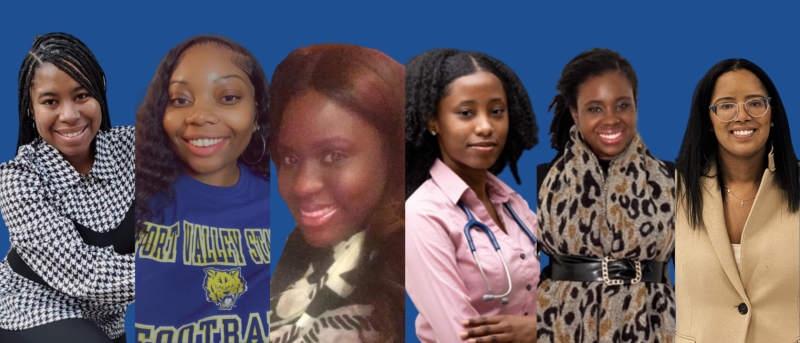 'Be bold, be fearless, be kind'
In honor of Black History Month, six Columbia Nursing students told us what it means for them to be a Black nurse in 2023. They also shared their thoughts on social justice and health equity and offered words of wisdom and encouragement for future Black nurses. 
---
Danyá Seymone 
MDE/DNP Midwifery Student 
Social justice and health equity means reformation in health care beginning with diversifying health care education and workplace, as well as anti-racist education for future health care providers and consistent anti-racist education in the workplace. 
For me to be an incoming Black nurse and future provider means that I am bringing in diversity, knowledge, and experiences to be able to comfort vulnerable patient populations as well as relate to patients who come from unique backgrounds. I want to work towards breaking barriers that the health care system has created that harms people of color and people of lower socioeconomic background. 
As a child, I spent a lot of time hospitalized at the Children's Hospital of Mississippi. When the newborn babies were in the nursery, my mother would take me to see them. That is where my love for a future career in health care began. 
My advice to future Black nurses: Take up space, even when you feel out of place. You are exactly where you need to be!
Vaneasha Blathers 
MDE/DNP Midwifery Student 
Social justice and health equity to me is providing affordable, accessible, and safe care to patients. As a woman of color, it is very important to me to provide a safe space and representation for those who also come from disadvantaged backgrounds.  
As a Black student nurse in 2023, I am aware that this role is not easy, but it is very rewarding. There are many challenges that I have faced but I have had the opportunity to grow and learn how to manage these obstacles. It is important to me to make the most out of this experience as it will help shape me into the kind of nurse I want to be. 
My grandmother influenced my decision to go into nursing as she was a CNA for several years. She is a selfless, kind, and hardworking woman that always showed care and compassion to her patients. I will always be thankful to her for introducing me to the world of nursing. 
My advice to future Black nurses is don't give up. Yes, it will get hard, but always remember your reason for going into nursing. There will be at least one patient who looks like you that will be grateful to see your face when you walk into the room. 
Cheyenne Glasgow 
MDE Student 
As nursing students and future nurse leaders, I say to you, as you continue to do this necessary and vital work, please remember to take care of yourself. Know that you are valued, needed and appreciated and that your expertise and insight matter. Be bold, be fearless, be kind and don't be afraid to ask for help.  
Nursing is a rewarding career—when the days get a bit hard, and you try to balance work and life remember why you chose nursing. You are planting seeds in the lives of every patient/family member that you encounter and for that you should be proud.  Most importantly for many of us the end goal is of course acquiring our degree and working in our desired areas of interest—as you work towards these goals do not forget to celebrate your mini milestones along the way.  
All your hard work and every decision you make will bring you one step closer to your ultimate goal and your achievements, no matter how small they may be, deserve to be celebrated. I'm rooting for you! 
Tatyana Lovell 
MDE/DNP Family Medicine Student 
As Martin Luther King Jr. once said, "of all the forms of inequality, injustice in health care is the most shocking and inhumane." To further his point, health equity is an integral part of social justice. As nurses, it is our responsibility to care for the whole person, and that involves promoting the health of each individual and health equity in disadvantaged groups.  
Being a nurse, specifically a family medicine nurse practitioner, is an honor because I am able to give back to the Black community. As a nurse, you are trained to care for not just the patient's symptoms or illness, but the whole person. You spend a lot of time with the patient at the bedside and create a rapport with them and their loved ones. More specifically in family medicine, you guide the patient in their health care journey and observe the impact of social determinants of health. 
I have been very fortunate to have seen many Black health care professionals, such as my aunt, who have shown me that anything is possible. I would not be here without Black leaders, my loved ones, and God. 
My advice to future Black nurses is to do your research because there are vast opportunities to grow in your career, such as APRN, travel nursing, leadership, and certifications (women's health, oncology, etc.). Shoot for the stars! 
Kimberly Pierre, MPH 
MDE/DNP Midwifery Student 
As a public health practitioner entering the nursing field, social justice and health equity are extremely important in making sure that everyone across the board has access to proper health care. Marginalized communities need the same access to health care to help improve their health outcomes.  
As a Black woman aspiring to be a Nurse Midwife, representation within the community means so much to me. Many Black birthing parents and infants are either dying or experiencing adverse birthing outcomes due to lack of equitable health care. Bringing in a public health perspective to nursing and treating patients while understanding their social determinants, is the start of justice and equity in health care. 
Justinna Dixon 
PhD Student 
My internship as a Summer Public Health Scholar within Columbia Nursing's Helene Fuld Health Trust Simulation Center deeply influenced my decision to come to Columbia for my PhD. Working with Dr. Kellie Bryant and the rest of the simulation team was a great first glimpse into the welcoming nature of Columbia faculty and staff. I also saw the broad impact that Columbia Nursing has on local and global communities with the health outreach work I did as a part of this internship. 
Many principles of social justice are a large basis for the work I do as a PhD student. As I work with nursing school faculty to improve the physical and mental health disparities that face individuals of historically excluded groups, it is vitally important to me that health care is accessible, equitable, and free from bias and stigma.   
I wanted to pursue a career in research because I feel that nurses are such a valuable asset in advocating for patients and I wanted to expand the scope of my impact on the health outcomes of many individuals.  I believe a career in research will give me the opportunity to be a leader in promoting health and health equity.