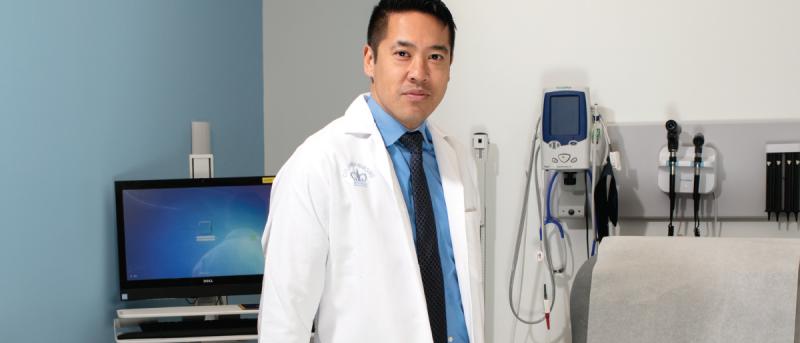 Bringing Better Care to the LGBT Community
Columbia Nursing is breaking down barriers to access to culturally sensitive care through education, research, and practice.
When Jeffrey Kwong, DNP, was a nursing student in the early 1990s, he asked his primary care physician for an HIV test. The doctor was shocked to learn that Kwong dated men. "As a health care provider, you should know better!" she exclaimed. "You're going to get AIDS and die!"
"Her tone, and her assumptions about me, made me feel horrible," recalled Kwong, who is now an associate professor of nursing and director of the Adult-Gerontology Primary Care Nurse Practitioner Program at Columbia University School of Nursing. Such encounters with clinicians, he adds, remain all too common for members of the lesbian, gay, bisexual, and transgender (LGBT) community. "Many times, patients don't talk about their health concerns, because they don't feel their provider understands issues involving their sexuality
or gender identity."
That lack of understanding can have life-threatening side effects. HIV and other sexually transmitted infections are not the only serious health problems for which sexual and gender minorities are at elevated risk. Studies show that LGBT populations have the highest rates of tobacco, alcohol, and other substance abuse. Lesbians and bisexual women are more likely to be overweight or obese; they're also more prone to breast cancer. Gay men have higher rates of anxiety and depression than the general population. LGBT youth are two to three times likelier to attempt suicide.
Such vulnerabilities, researchers believe, result partly from the stress of belonging to a group that (despite recent progress toward acceptance) has long been stigmatized by mainstream culture. But the damage is exacerbated, according to a landmark 2011 report by the Institute of Medicine (IOM), by barriers to health care—most notably, a dearth of providers "who are knowledgeable about LGBT health needs, as well as a fear of discrimination in health care settings."
Under the leadership of Dean Bobbie Berkowitz, PhD, RN, Columbia Nursing is a national leader in efforts to improve care for LGBT patients at every stage of life. "Understanding the health care needs of the LGBT community has been challenging for educators, scientists, and practitioners," said Dean Berkowitz. "Our goals are to identify very specifically what the research barriers are and what the priorities should be, to conduct research that can directly inform practice, and to use this research to enhance the health care of the patients we serve."
Advancing LGBT Research
"In the field of nursing science, LGBT health is a vastly under-studied subject," said Walter Bockting, PhD, who, with Anke Ehrhardt, PhD, both professors of medical psychology, is co-director of the Program for the Study of LGBT Health, a collaboration between Columbia University Department of Psychiatry, Columbia University School of Nursing, and the New York State Psychiatric Institute. The program's mission is to promote the health and wellness of LGBT people through research, clinical practice, education, and training—and, ultimately, to influence public policy in the United States and beyond. "There's a huge need for better data on the factors driving health disparities in this population, and for people who can work with these patients in a clinically and culturally competent way," said Bockting.
The Program for the Study of LGBT Health focuses on five basic areas: youth and families, aging, lesbian and bisexual women's health, transgender health, and the neuroscience of gender. One of the most ambitious of the program's investigations, known as Project AFFIRM, is led by Bockting—an internationally known expert on the assessment and treatment of gender dysphoria, as well as the mental health of transgender children and adults. (He was also a co-author of the 2011 IOM report on LGBT health, along with Dean Berkowitz, who recruited him from the University of Minnesota soon after its publication.) The multi-year study follows more than 400 transgender and gender-nonconforming people in New York, San Francisco, and Atlanta, assessing the dynamics that influence their vulnerability, risk, and resilience. Project AFFIRM examines how participants' mental and physical health changes over time, and how those changes are tied to their relationships with life partners and health care providers as well as their evolving sense of identity. "We're interested not only in the stresses that wear on trans people's well-being," Bockting explained, "but also in the factors that can buffer the negative impacts, such as family and community support, acquired coping skills, a sense of pride in yourself, and good access to care."
A sub-study, led by Columbia University School of Nursing postdoctoral research scientist Kasey Jackman '05 '10 '17, investigates the role these dynamics play in non-suicidal self-injury. "As a psychiatric nurse practitioner," said Jackman, "one of the things I'd like to see my patients do is self-injure less often. A better understanding of this behavior could inform clinicians' approaches to working with trans people, and potentially with members of other stigmatized minority populations as well."
"Most LGBT research focuses on epidemiology," noted Roystone Martinez, an educator and activist who serves on the project's board of advisers, and who identifies as gender-nonconforming. "Project AFFIRM also looks at the things that make people whole, and enables us to tell our stories in our own voices."
The longest-running study of sexual minority women's health currently in existence is the Chicago Health and Life Experiences of Women (CHLEW) study, led since 1999 by Tonda Hughes, PhD, RN. In February, Hughes left the University of Illinois at Chicago to become director of global health research at Columbia Nursing. She will continue to lead the CHLEW study, which centers on alcohol use and health among lesbians and bisexual women, from her new academic home. Meanwhile, she's conducting other research on sexual minority women's (SMW) health, ranging from the impact of marriage equality in the U.S. to substance abuse among SMW in Australia to the impact of stigma on health and quality of life among SMW in Rwanda. "There's still far too little research on these populations," Hughes observed. "Between 1989 and 2011, apart from studies of HIV/AIDS, only 0.1 percent of all NIH funded studies focused on LGBT health—and of those, only 13 percent addressed issues concerning SMW. One of my goals is to increase visibility of SMW's health across the globe."
Putting Ideas into Practice
Using research to inform new models of clinical practice is one of the missions of Columbia Nursing. The school's faculty practice, ColumbiaDoctors Primary Care Nurse Practitioner Group, has been delivering comprehensive primary care to New York City residents for over 20 years. "The vision for the practice is to provide care to populations of individuals who have traditionally been considered underserved," said Stephen Ferrara, DNP, associate dean of clinical affairs, who oversees the Nurse Practitioner Group.
A groundbreaking effort to incorporate culturally competent LGBT care into nursing practice was launched in 2014 by Jeffrey Kwong, under the auspices of the Program for the Study of LGBT Health. The Elder LGBT Interprofessional Care Program (e-linc) was a demonstration project funded by a three-year, $1.5 million grant from the U.S. Health Resources and Services Administration (HRSA) to address common medical and mental health needs of the aging LGBT population. "Older LGBT folks tend to be reluctant to bring up their sexuality or gender identity with clinicians," said Kwong. "They may avoid seeking care at all until their health has deteriorated drastically." The goal of e-linc was to get them the treatment they needed before that happened, using community outreach and interdisciplinary health care teams. Part of the grant involved referring patients to the Nurse Practitioner Group's first location, in Midtown Manhattan.
In September 2016, when the Nurse Practitioner Group expanded and opened a new location in Washington Heights, it not only brought quality primary care to the neighborhood, it also became the first practice in Upper Manhattan to offer a full range of LGBT-specific services, by drawing on that experience. Located on West 168th Street, on the ground floor of the Edge Hotel, the practice offers integrated primary and mental health care services to meet the needs of the largely low-income and Latino community. The 10-member staff are all educated in LGBT health; four are fluent in Spanish. In addition to providing primary care services, such as preventive care (including inoculations and health screenings), sick visits, chronic disease management, and minor injury treatment, the practice specializes in sexual and reproductive health, HIV pre- and post-exposure prophylaxis, STI testing and care, hormone therapy for gender transition, as well as psychiatric and mental-health counseling.
"Our patients have often had bad experiences with health care institutions," said Roshnee Barrett, PhD, assistant professor of medical psychology at CUMC, who provides psychotherapy and counseling at the practice. "Many are grappling with the stresses of navigating American society, not just as an LGBT person but as someone from an immigrant background or a person of color. Part of what we try to do is say, 'you don't have to worry about all that here. Just come and be yourself.'" To help patients feel accepted, the practice has designed its intake forms to include preferred pronouns and names (which may differ from those found on an individual's insurance card). Care providers and support staff attend ongoing training sessions in clinical and cultural issues relevant to the population they serve, usually taught by faculty members but sometimes by longtime residents of the neighborhood.
"As a gay man, I feel more comfortable at the Nurse Practitioner Group than at any other office I've been to," said Stephen Koch, a 27-year-old bar manager who lives around the corner. "When I walk in the door, they know my name. There's a sense of caring and personal attention that's really unique. And I know I can ask any question that might pertain to my welfare."
Learning Opportunities
Columbia Nursing is committed to advancing education in LGBT health, whether in the classroom, in clinical settings, or in student research projects. PhD candidates who wish to focus on LGBT issues receive expert mentoring and opportunities for institutional support. The school is actively seeking to add to its roster of faculty members whose research interest centers on LGBT-related fields. In addition, LGBT issues are discussed in a growing number of the school's courses, including Physical Assessment, Topics in Nursing, and Issues in Nursing in the Masters Direct Entry program, and Advanced Clinical Assessment and specialty modules in the Doctor of Nursing Practice program.
The school also offers an array of extracurricular programming in LGBT topics. Recent examples include screenings of the film Growing Up Trans, and a discussion with Rosalind Rosenberg, the author of Jane Crow: The Life of Pauli Murray, the biography of a pioneering African-American lawyer, priest, and civil-rights activist who questioned distinctions of gender as well as race. "We try to send a message to our own LGBT population—students, faculty, and staff—that this is a safe zone, and that we're their allies in the strongest sense," said Vivian Taylor, EdD, associate dean for diversity and cultural affairs.
For Jeffrey Kwong, Columbia Nursing's wide-ranging leadership in LGBT health care is a reminder of how far the field has come since his doctor lectured him about his sexual orientation 25 years ago—and how far it has yet to go. These days, he spends much of his time at the Washington Heights practice, where he treats patients and works on a new HRSA-funded demonstration project aimed at developing and integrating team-based behavioral health services. "Part of our research is to evaluate our staff's ability to provide welcoming and effective care," he explained. "We're surveying our patients every six months to learn about their experience, from their interactions with front-desk staff to their consultations with care providers.
"From my own experience," he said, "I know how important it is to have a provider who understands where you're coming from, and who can act as your advocate. We want this program to not just passively support the LGBT community, but to really engage it and promote its welfare. We're dedicated to improving the lives of LGBT individuals everywhere, no matter their age, ethnicity, or cultural background."
References
This article originally appeared in the Fall 2017 issue of Columbia Nursing magazine.