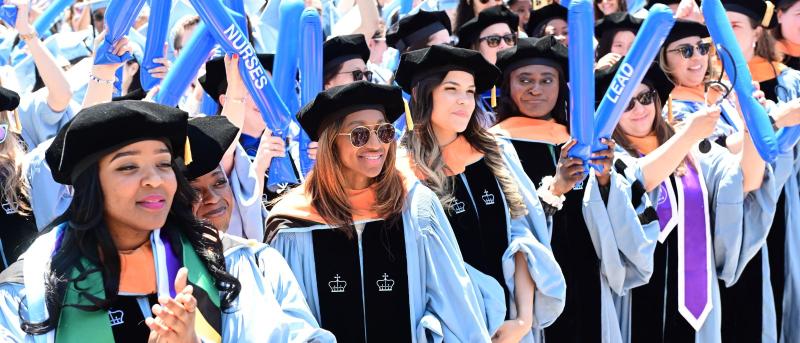 Celebrating Our 2023 Graduates
Friends and family filled The Armory on May 16, 2023, for Columbia Nursing's graduation celebration, the second to be held in person since the pandemic. 
"Today, as we celebrate this career milestone for our graduates, I want to acknowledge your contributions to our profession and your school, your adaptability, and your unwavering dedication to nursing," Dean Lorraine Frazier, PhD, said in her welcoming remarks. "I am moved by the resilience and commitment you have demonstrated as we've worked through one challenge after another." 
In her remarks, Katrina Armstrong, MD, dean of the Faculties of Health Sciences and the Vagelos College of Physicians and Surgeons, noted that covid-19 had "reaffirmed fundamental truths that underlie health care in this country. Truths about the inequity and injustice faced by so many marginalized groups. Truths about the power of collaboration and teamwork. And perhaps most importantly today, truths about the critical importance of nursing to the health of our patients and communities." 
Richard Levin, MD, president and CEO of The Arnold P. Gold Foundation, received the Second Century Award, presented since 1991 for excellence in advancing the health and well-being of all citizens. "While your contemporaries look to find meaning in their individual sectors, meaning will never be absent in nursing," he said. "It is spotting illness and injury and not looking away. It means keeping your heart open and your eyes gazing squarely at the problem. As clinical nurses you are much more than a shadow at the patient's side, you are healers and true exemplars of the cause of humanism in health care." 
Mollie Finkel, MS '12, clinical program director of gynecologic oncology for Mount Sinai Health System and a Columbia Nursing Alumni Association Board member, offered congratulations and urged graduates to remain engaged with the school community. "Your insights and accomplishments will inspire future generations, shape the direction of nursing education and policy, and help us navigate and prepare for the challenges ahead," she said. 
"At its core, we are the embodiment of hope, healing, comfort, and human connection in a world that can sometimes feel fragmented. Every day, we have the opportunity to make a profound impact on someone's life—and this is the reward for our years of hard work and dedication," Finkel continued. We are privileged to be present during times of fear and pain, and also during times of joy and celebration. We are allowed into the most private moments of life and death, and our purpose is never in question. Let your clinical work be your foundation as it will always reward you and let your community engagement and professional goals drive you forward." 
Graduation 2023 by the Numbers 
In the 2023 academic year, a total of 425 students will graduate from Columbia Nursing programs, including:   
8 PhD 
116 DNP (17 Adult-Gerontology Acute Care NP, 3 Adult-Gerontology Primary Care NP, 32 Family NP, 15 Midwifery, 24 Pediatric Primary Care NP, 27 Psychiatric Mental Health NP) 
298 MS (37 Nurse Anesthesia, 49 Advanced Clinical Management and Leadership, 212 MDE) 
3 University Statutory Certificates 
Student Awards 
April Ancheta, PhD '22, received the Dissertation Excellence Award, presented by the faculty for distinguished doctoral student research.  
Melissa Song, DNP '23, and Kenice Kenlock, DNP '23, received the Anna C. Maxwell Award, presented to a graduate of the adult-gerontology, family, or pediatric primary care nurse practitioner program who exhibits compassion, competence, and commitment to the provision of highest quality primary care. 
Ellie Kim, DNP '23, and Noelle Zinn received the Anne Penland Award, presented to an outstanding graduate of the nurse anesthesia or adult-gerontology acute care nurse practitioner program who best demonstrates qualities of academic excellence, clinical proficiency, and empathy for patients. 
Kaycie Hutcheson, DNP '23, received the Mary Dickey Lindsay '45 award, presented to a nurse midwifery graduate who best exemplifies leadership qualities that will promote midwifery diversity and access to midwifery care for all women.  
Annette Smith received the Mary Bleecker Simmons '60 Award, presented to the graduate who demonstrates compassion and devotion to the mental health needs of patients. 
Alicia Genna, DNP '23, received the Faculty Award for Professional Excellence in a Subspecialty, given to a student who best exemplifies professional competence, capacity for leadership, and compassion for patients.  
Penelope Theodoropoulos, MS '23, received the Mary Masterson Germain '64 award, presented to a graduate of the advanced clinical management and leadership program who demonstrates academic excellence, capacity for leadership, and dedication to the highest possible care for patients and families. 
Robynn Cheng-Roberts and Belinda Samuda received the Margaret Eliot Award, given to the graduating nursing students who best demonstrate professional competence, capacity for leadership, and wholehearted compassion for patients.  
Chelsea Chaffee received the Alpha Zeta Chapter of Sigma Theta Tau award, honoring the graduating student who best exemplifies the principles of Sigma Theta Tau: Leadership, Scholarship, and Community Service. 
Tka Edwards, DNP '23, received the Campbell Award, presented by the Columbia Alumni Association (CAA) to a graduating student at each school who shows exceptional leadership and Columbia spirit as exemplified by Bill Campbell, '62CC, '64TC, chair emeritus, university trustee, and CAA co-founder. 
Faculty Awards 
Graduates nominated nursing faculty for these awards, which recognize excellence in teaching and mentoring. This year's awardees include: 
Associate Professor Adena Bargad, PhD, Teaching Award 
Professor Maureen George, PhD, Mentor Award 
Ian West, Teaching Assistant Award 

---

Headline photo credit: Chris Taggart