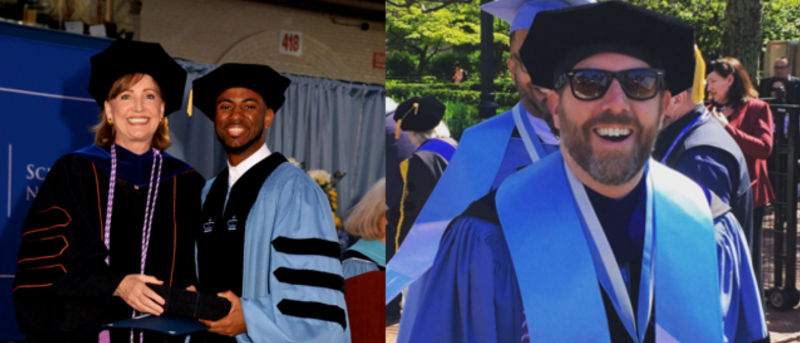 Columbia Nursing Alumni Recognized for Exemplary Leadership and Building the University's Community
Jonathan Ringer Honored With The Campbell Award and Don Boyd Received the Columbia Alumni Medal
This past May, Jonathan Ringer '16 '18 '19, DNP, and Don Boyd '06 '17, PhD, assistant professor, were honored by the Columbia Alumni Association (CAA)—Ringer receiving The Campbell Award at the Nursing School's graduation ceremony and Boyd the Columbia Alumni Medal at the University's commencement.
Ringer received The Campbell Award for demonstrating exemplary leadership and school spirit through his many contributions to the school. His active involvement on campus spanned his serving as a peer mentor, peer leader, executive board member of the Columbia Black Student Nurses organization, and a member of the Columbia Men in Nursing student organization. Ringer's award was named after Bill Campbell, the chair emeritus of University Trustees and CAA co-founder, who was a management consultant to tech giants, such as Apple, Google, and Amazon. The Campbell Award is bestowed upon a member of the graduating class of each University school.
Boyd, who also serves as the associate director of the Nurse Anesthesia Program in addition to his position on the faculty, was recognized with the Columbia Alumni Medal for his commitment to building the University's community through his deep commitment to Columbia Nursing. His service to the school includes serving as a former member of the Board of Visitors, having been past president and now current active member of the school's Alumni Association, and being a founding member of the Doctoral Student Association. He was also the PhD Student Representative on the Dean's Advisory Group and the PhD Student Representative on the PhD Faculty Committee. Boyd has been a leader at the school, as well as with the New York State Association of Nurse Anesthetists in a variety of capacities, including as vice president, president, and board advisor. He continues to hold legislative appointments, advocating for state and national legislation to support nurse anesthesia practice. All these activities have enabled Boyd to give back to Columbia Nursing and the nurse anesthesia community.