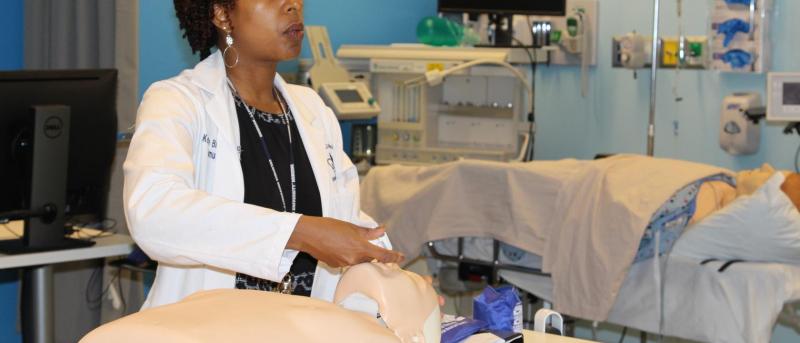 Columbia Nursing and ColumbiaDoctors Partner to Provide Opioid Overdose Training for Patient Safety Week
Opioid overdose rates have more than quadrupled since 1999, making opioid overdoses now the leading cause of death in Americans under age 50. Last year, the opioid epidemic claimed 64,000 American lives.
During National Patient Safety Awareness Week March 12 through 16, Columbia University School of Nursing and the ColumbiaDoctors Patient Safety division collaborated to provide the clinical and non-clinical workforce with essential training on how to combat this epidemic. Forty Columbia University Medical Center employees and neighboring organizations attended the training sessions, which were conducted by Columbia Nursing's Kellie Bryant, DNP, assistant professor and executive director of the Helene Fuld Health Trust Simulation Center, and Eileen Thomas, EdD, assistant professor.
Each 45-minute training session, which took place in Columbia Nursing's Helene Fuld Health Trust Simulation Center, addressed how to recognize signs of an opioid overdose and how to respond if involved with a patient, friend, or family member who has overdosed. Proper use of naloxone (Narcan), which can reverse the effects of an opioid overdose and prevent it from becoming fatal, was also addressed.
Upon completing the training, each participant received an opioid overdose emergency kit which included two doses of naloxone, instructions on how to use the medication, and a certificate of training completion card.
"Our goal is to provide naloxone training and distribute naloxone to as many people as possible with the hopes that one of these kits will help save a life," said Bryant.
According to Bryant, naloxone is a prescription medication used to reverse overdoses caused by heroin, prescription pain medications (such as oxycodone, hydrocodone, and morphine), and other opioids.
Nurse practitioners are among health care providers on the front lines of the opioid epidemic. Today, there are more than two hundred thousand nurse practitioners in the country who are prepared to help in the case of an opioid overdose emergency.
"Our graduates will be at the forefront of the opioid epidemic and will play a major role in fighting it," said Bryant. "As an institution that provides education to registered nurses and nurse practitioners, it is critical that we provide our students with naloxone training to help combat the crisis."