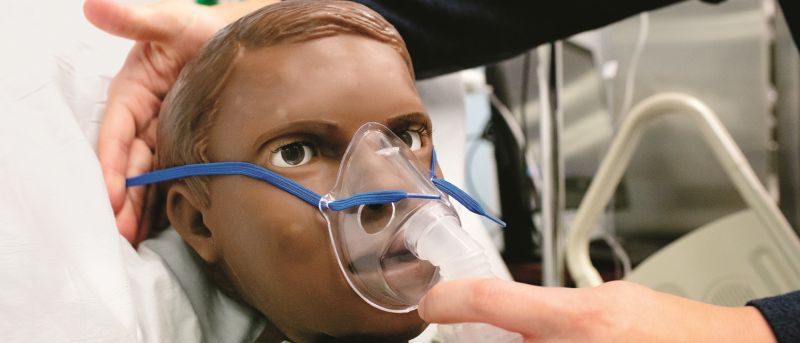 Columbia Nursing Employs World's Most Advanced Patient Simulator to Prepare Students
Robotic technology simulates life-like emotions, facial expressions, and speech
Columbia University School of Nursing has launched a new innovation in its clinical simulation curriculum using "Pediatric HAL," the most advanced pediatric patient simulator. The first of its kind to simulate life-like emotions, responsive facial expressions, speech, and movement, this new robotic technology is being used as part of the school's curriculum to help nursing students develop the specialized skills needed to effectively communicate, diagnose, and treat young patients in all clinical settings.
Columbia Nursing is among the first schools in the United States to use the simulator and the first nursing school to use it in New York State. Wireless and tetherless, the simulator's robotic technology is capable of nearly a dozen facial and verbal expressions that demonstrate anxiety, anger, amazement, and crying, as well as responses to pain. It also possesses dynamic lung compliance, which emulates real lung functionality, aiding the school's Certified Registered Nurse Anesthetist students to practice intubation and delivering anesthesia. Because of his anatomical and physiological design, he is able to simulate medical crises, such as lung collapse, helping students learn to perform emergency interventions, such as chest tube insertion.
"Our curriculum teaches students how to address critical health conditions so they can practice handling difficult situations that require strong communications skills, such as how to communicate a serious medical diagnosis to a young child," says Kellie Bryant, DNP, executive director of simulation and assistant professor at Columbia University School of Nursing. "This robotic technology will help us to enhance our students' clinical skills and help them become better prepared nurses and nurse practitioners, improving patient outcomes and safety through more accurate diagnosis and treatment," she adds. "The simulator's advanced facial expressions will increase the realism of our simulations and enhance communication skills."
Building Student Confidence
According to a 2015 report in the Journal of Pregnancy and Child Health, pediatric nursing is an area that has shown to be associated with higher levels of fear, anxiety, and perceived challenge for the pre-licensure nursing student than other clinical settings. Nursing students reported that practicing communications skills during a simulation contributed to increased confidence. In addition, The Joint Commission reported in 2012 that communication errors are one of the leading causes of harm in healthcare and other evidence supports that simulation can result in safer patient and population/system outcomes.
Patient HAL is located at The Helene Fuld Health Trust Simulation Center at Columbia University School of Nursing, which enhances nursing education by simulating clinical practice using sophisticated technologies. Its two-story, 16,000-square-foot simulation center is one of the largest dedicated to nursing education in New York State, designed to promote patient safety and prepare students for real-world practice in an ever-changing, complex healthcare system.
Columbia Nursing's simulation center also features authentically appointed patient examination rooms that are furnished with the equipment found in a clinical setting––intravenous (IV) pumps, ventilators, crash carts, heart monitors, an electronic medical record system, medication dispensing carts, and monitors––for assessing and tracking patients' health status. The center also includes a labor and delivery suite and an operating room suite, among other specialized rooms for nursing instruction and education.