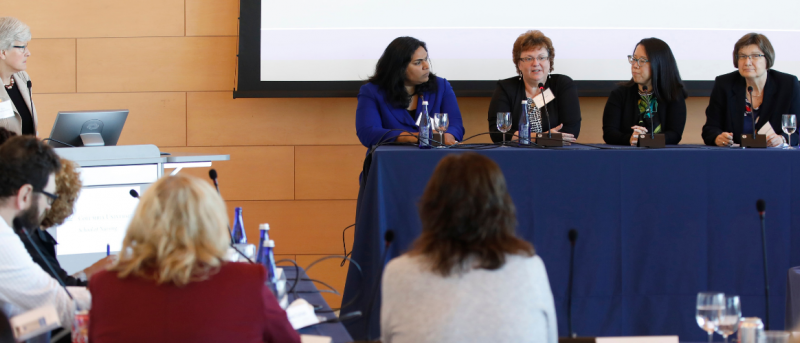 Columbia Nursing Hosts First Annual Innovations in Simulation Summit
In October, 14 simulation specialists met at Columbia Nursing's first annual Innovations in Simulation Summit to exchange and discuss best practices in the field of clinical simulation education, examining its future, its research trends, and how it is and could be used to improve patient safety.
Participants gathered from around the world, representing a range of nursing and medical disciplines, including deans, directors of simulation centers, those with deep knowledge of curricula, and prolific researchers. "This interprofessional summit is like a brain trust of simulation," said Columbia Nursing's Stephen Ferrara, DNP, assistant professor and associate dean of clinical affairs, in his opening remarks. "Every one of you has helped advance the frontiers of healthcare simulation, which continues to enhance how we train future and current practitioners to provide the best care."
Simulation is the use of human patient simulators (or manikins), actors portraying patients, or augmented/virtual reality modalities to mimic situations students or clinicians may encounter in delivering healthcare. The goals of simulation are to give students and healthcare professionals opportunities to practice skills without risking harm to patients and to hone their ability to think critically on their feet. The summit and its participants were, in part, convened to take stock of how and to what degree these goals are being achieved.
Participants were grouped into three panels by topic: the future of simulation-based education, latest trends in simulation research, and patient safety outcomes. In each panel, four or five experts, along with a moderator, presented. Each panel also concluded with a Q&A session, where panelists fielded questions from the other participants. Moderators included: Pamela R. Jeffries, PhD, professor and dean, George Washington University School of Nursing, for the panel on the future of simulation-based education; Michelle L. Aebersold, PhD, clinical associate professor and director of simulation and education innovation, University of Michigan School of Nursing, for the panel on the latest trends in simulation research; and Suzan (Suzie) Kardong-Edgren, PhD, professor and director of the RISE Center, School of Nursing and Health Sciences at Robert Morris University, Drexel University College of Medicine, for the panel on patient safety.
Participants agreed that simulation has gone beyond its original purpose of just teaching basic skills to nursing and medical students. They observed that simulation is now used in healthcare systems as part of staff development, entailing scenarios designed to promote skills maintenance, harm reduction, and better staff integration.
Although simulation aims to prepare students, at any level, for the real world clinical setting, participants also noted differences between the learning environment and the actual workplace. For example, the typical simulation scenario involves one manikin or actor and several students. The opposite ratio occurs in the clinical setting, where a healthcare professional interacts with multiple patients at any time. In addition, panelists remarked that simulations may not be as interprofessional as they could be. Nurses may train exclusively with other nurses and physicians may train exclusively with other physicians, creating silos that extend into clinical practice. 
"Often, it's not until our first job as practitioners that we are put in an environment where we, as either nurses or physicians, need to work together," said Kellie Bryant, DNP, executive director of simulation and assistant professor. "Yet, by establishing better interprofessional collaborations, we can work to eliminate silos, learning about each other, learning with each other, and learning from each other. Thus, simulation is key to achieving this integration and driving healthcare learning and practice into a space where we are operating from shared knowledge."  
A highlight of the summit was a tour of Columbia Nursing's Helene Fuld Health Trust Simulation Center. Opened in the autumn of 2017, the center consists of multiple rooms on two floors of the school. Leading the tour, Bryant pointed out a simulated labor and delivery suite, an operating room, and beds equipped as they would be in typical hospital rooms, with vital sign displays and electronic medical records. In one bed was a brand new pediatric manikin, and Bryant used a computer to make the simulated patient display emotions, such as being distraught and agitated, and their manifestations, such as shedding tears.
"Our state-of-the-art simulation center is where we use our knowledge as educators and experienced clinicians to create simulation activities that prepare our students to become the most competent healthcare professionals they can be," said Bryant. "This summit allowed simulation experts from around the world to engage in thought provoking discussions on the future of simulation through gatherings of the kind we had today." 
As part of the Helene Fuld Health Trust Simulation Center grant, the Innovations in Simulation Summit will continue annually for the next four years. The outcomes of the first summit are being prepared for a journal manuscript submission. The manuscript will detail how simulation in healthcare has advanced over the years, including in research, in simulation-based education, and simulation's impact on patient safety.
View a highlights reel from the summit: