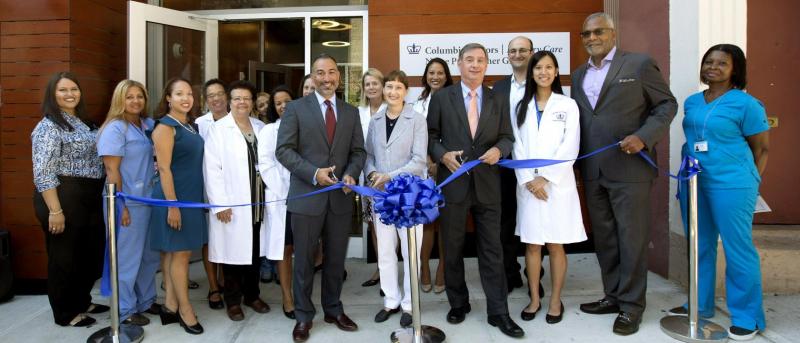 Columbia Nursing Opens Nurse Practitioner Primary Care Group in Washington Heights
Plans Underway for House Calls Practice and Additional Nurse Practitioner Group in Morningside Heights
Columbia University School of Nursing, a pioneer in nurse practitioner-led care, celebrated the opening of a new nurse practitioner primary care group in Washington Heights with a ribbon cutting ceremony and open house on September 14. This is the second primary care practice established by Columbia University School of Nursing to be completely staffed and managed by nurse practitioners – the other practice is in Midtown Manhattan. A third practice in Morningside Heights as well as a house calls practice are scheduled to be opened later this year. As part of ColumbiaDoctors and in affiliation with NewYork-Presbyterian Hospital, the Nurse Practitioner Primary Care Group provides patients with access to a world-class network of specialists from Columbia University Medical Center.
Community leaders joined Columbia University School of Nursing in announcing the new practice which will expand health care options for residents of Washington Heights and the surrounding neighborhoods. 
Bobbie Berkowitz, PhD, RN, FAAN, Dean of Columbia University School of Nursing and Senior Vice President of Columbia University Medical Center, said, "We are meeting the growing need to prepare advanced practice nurses to deliver more complex care as people live longer with  chronic diseases that used to be fatal are now being managed. Our primary care nurse practitioner practice is designed to offer high-quality, comprehensive and coordinated care to individuals and families in their communities."
The Nurse Practitioner Primary Care Group in Washington Heights, located at 516 West 168th Street, offers integrated primary and mental healthcare services to meet the diverse needs of the local community. It contains a series of specialized spaces intended to improve the patient experience and enable nurse practitioners to deliver the most efficient and compassionate care. In addition to seven exam rooms and three consulting rooms, the practice includes a multi-purpose community space where members of the community can learn about healthcare and wellness in a comfortable and welcoming environment. Services include:
Preventive Health
Women's Health
Family Health
Travel Health
Mental/ Behavioral Health
Annual Checkups
Disease Management
LGBT Care
Illness and Injury
Nutrition and Wellness  Nurse practitioners (NPs) are registered nurses who have completed advanced education, including a Master's degree or clinical doctorate and are licensed to provide comprehensive care including prescribing medications. They focus on helping patients make choices that can prevent disease and maximize health.  
Stephen Ferrara, DNP, FNP, FAANP, Associate Dean of Clinical Affairs at Columbia University School of Nursing and Executive Director of the Nurse Practitioner Association of New York State, said  "Nurse practitioners focus on the whole person and help patients make lifestyle choices that can actually prevent diseases and help them stay as healthy as possible. We get to know each patient, his or her history, health goals and challenges, so that together we can develop a clear and personalized treatment plan."
Added Dean Berkowitz: "We are committed to providing quality health care in locations that are convenient to where people live and work. The Nurse Practitioner Primary Care Practice in Washington Heights expands access to a broad range of health care services for patients and their families in this community. The practice is also part of an important and ongoing trend in primary care, with more opportunity for nurse practitioners to serve as primary care providers offering comprehensive community-based care."