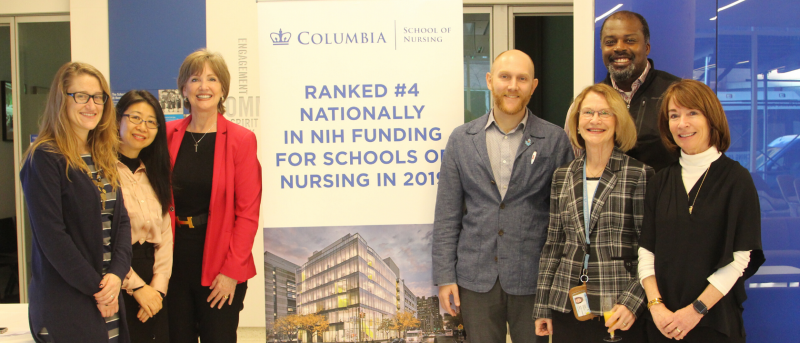 Columbia Nursing Ranks 4th in NIH Research Awards to U.S. Nursing Schools
With $9.7 million in NIH funding for fiscal year 2019, Columbia Nursing moved up two places in the national NIH rankings for Schools of Nursing over 2018, capping a decade of upward momentum — from 15th place in 2009 to 4th place in 2019.
Columbia University School of Nursing now ranks fourth in National Institutes of Health (NIH) research grant funding to U.S. nursing schools, up two places from last year. Columbia Nursing received 21 grants totaling more than $9.7 million in the last fiscal year, an increase of 20 percent over FY2018 and of more than 200 percent over the last decade.
"The breadth and amount of the NIH grants awarded to Columbia Nursing reflect the diversity and value of our research," said Dean Lorraine Frazier, PhD. "Every one of our nurse scientists shares one common goal: to design innovative and rigorous research that improves care and health outcomes for every individual patient and all communities."
Columbia Nursing research aims to have a positive impact on all stages of health — from disease prevention, to reducing disparities that affect vulnerable and underserved populations, to improving end-of-life care. Columbia Nursing research also examines ways to use the latest technologies and data science to evaluate, predict and protect the health of individual patients and of the public overall. A sampling of current NIH funded research includes:
Conducting a real-world trial of a mobile app to improve HIV prevention behaviors in youth 13 to 24 years old, mostly young men who have sex with men.
Evaluating an evidence-based asthma program developed for urban youth, Asthma Self-Management for Adolescents (ASMA), in real-world conditions among rural youth with uncontrolled asthma.
Examining ways to better prioritize patients who need additional nursing support during the transition from hospital to home care to reduce negative outcomes such as rehospitalization.
Tracking antibiotic and hospice use, as well as hospital transfers related to infections in elderly nursing home residents, to help improve end-of-life palliative care.
Studying stress, hazardous drinking and intimate partner aggression in a diverse sample of women and their partners; a related study is testing associations among sexual identity, race/ethnicity, relationship characteristics and hazardous drinking.
Conducting a four-year multiple methods study providing a comprehensive examination of infections, and their prevention and control, among patients cared for at home.
Examining ways to reduce the impact of racial and ethnic disparities on health outcomes for chronically ill elderly patients receiving care in practices that employ nurse practitioners, a profession that disproportionately provides primary care to minorities and practices in underserved areas.
Advancing the knowledge base about symptom self-management among Latinos, considering variables such as genetics, environmental factors, health behaviors and interpersonal relationships.
Examining the associations among sexual identity, adverse life experiences and cardiovascular health in lesbian and bisexual women and their heterosexual sisters.
Using electronic health records and data science techniques to model the complexity of symptom clusters associated with common chronic conditions in adults, such as cancer, heart failure, type 2 diabetes and COPD (chronic obstructive pulmonary disease).
Assessing the value of infographics to facilitate clinician-patient communication in HIV care.
Examining positive developmental assets, both internal (e.g., ability to complete homework) and external (e.g., family support) in adolescents with chronic health conditions and co-morbid depression.
"I was attracted to Columbia Nursing by its amazing faculty, who are recognized around the world as among the most pioneering and visionary in the nation," said Elizabeth Corwin, PhD, who joined the school as vice dean of strategic and innovative research in September 2019. "This new milestone — being ranked No. 4 in the nation for NIH funding for research — attests to the dedication and innovation of our research faculty."
NIH is the largest public funder of biomedical research in the world, driving discovery of new information and innovative ideas, expanding the biomedical knowledge base to combat major health challenges and cultivating the biomedical workforce of today and tomorrow.