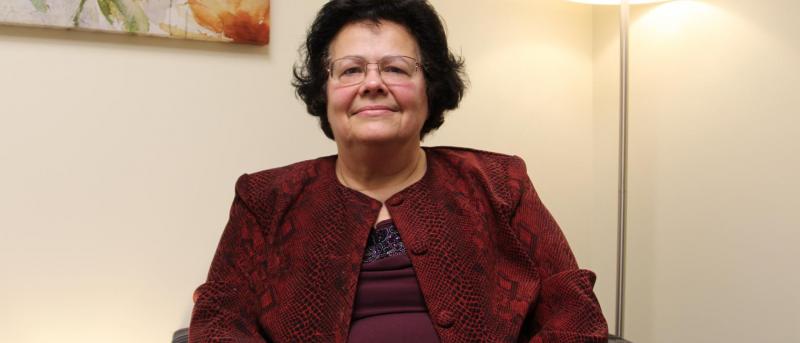 Columbia Nursing's Sandra Alvarado Talks about the critical role of the mental health NP in Primary Care
Long before her professional training, Sandra Alvarado's affinity for becoming a mental health nurse practitioner came through early life experiences. Born in a mountain town in Puerto Rico, as an infant, Alvarado was moved to a crowded tenement building in New York City's Lower East Side with her mother in hopes of a better life.
Times were hard and money was scarce, so her mother worked in Manhattan sweatshops to support the family. They eventually settled in Williamsburg, Brooklyn. Alvarado recalls that it was the accidental hanging of her brother when she was seven years old that changed the tide of her family and her life forever. According to Alvarado, her mother never fully recovered, and it was seeing her have no one to turn to for emotional or mental help that led to her calling in mental health.  
Now an Instructor at Columbia Nursing, Alvarado says she's seen advanced practice nursing transform before her very eyes. An alum of Columbia ('76) and Columbia Nursing ('98), she left her job at Mount Sinai after 37 years to join ColumbiaDoctors Primary Care Nurse Practitioner Group (NPG), Columbia Nursing's faculty practice, in 2016 when it opened a location in Washington Heights. She currently provides mental health care to patients in that community and offers support to Columbia Nursing students doing their clinical practicums at the NPG practice.
Describe your path to higher education.
Graduating from high school was no easy task. You have to remember that the 1960s were a rough time in Brooklyn. Sometimes we would get sent home from school in Williamsburg due to race rioting. Thankfully, I always had great teachers, and was in honors classes.
I graduated from high school at 17 and enrolled at City College because they had a school of nursing. I have to be appreciative of the fact that because it was the early 1970s, there was no tuition. So if you came from a poor background, like I did, it was possible to enroll and get your degree without worrying about how you could afford it.
You started your career as an RN, but it wasn't long before you were looking at advanced practice programs.  
Just like with high school, I graduated early with my Bachelor's in Nursing from City College when I was just 19, and started my first nursing job at 20 as a staff nurse on the psychiatric patient floor of Metropolitan Hospital. I was in the inpatient unit, and I really liked it. It made me want to do more.  
I started looking into advanced practice nursing and, keep in mind, there was no such thing as a nurse practitioner program at that time. I applied to Columbia because they were offering scholarships through the National Institute of Mental Health to students who got in. I got into a two-year program geared toward becoming a clinical specialist, and was one of only two Hispanic students in my class.
What did you do with your advanced nursing degree?
In 1979 I started working as a psychiatric nurse clinician at Mount Sinai, and was the only bilingual clinician at that time. Because of that, a lot of the individuals who were referred to me were Hispanic mothers going through depression, dealing with family issues, and separation and losses, many of whom did not have access to mental health care.
I ran a lot of group therapy sessions, and through that my focus became empowerment—more of a self-help model. My passion is psychotherapy. I loved that I could help these women help themselves. They were comfortable with me. I spoke their language, I knew their culture, and I knew how to counsel them based on the reality of their situation. I served in this capacity until 1998.
What made you come back and work for Columbia Nursing?
I came back as a student to Columbia Nursing in the nurse practitioner program and got a post-master's certificate so that I could transition from nurse clinician to nurse practitioner. This made it possible to add medication management to my skill set at Mount Sinai where I continued to work for years.
However, the change came when I attended alumni reunion at Columbia Nursing and Dean Berkowitz mentioned plans to open a new location of ColumbiaDoctors Nurse Practitioner Group in Washington Heights. I thought it was perfect! It was the same patient population I was working with in Spanish Harlem, and I'd get to practice in an integrated primary care setting. I said, "I've got to go!" During the interview I felt I was perfect for this position. I guess they agreed because here I am.
A lot of people don't make the connection between mental health and nurse practitioners—especially not in a primary care setting. Do you find that confuses people? 
I don't think the movement to integrated care is something that a lot of people are aware of. Having mental health services in a primary care practice allows the primary care provider to refer someone who will be able to follow the patient in an efficient manner and do the necessary follow up. Think about it. If a general practitioner prescribes antidepressants, who will follow up with their care? This doesn't just mean medication management, it needs to include psychotherapy.
LGBT Health is also a focus of what you do here. Talk to me about that.
Making health care accessible to a patient population that traditionally has not had good access to care is a big focus of what we do at the Nurse Practitioner Group. I make sure it is clear that issues around sexual orientation and gender identity--issues people don't normally bring up--can be talked about openly. Working with the LGBT community, I actually work through a lot of the same issues as I do with my other patients such as: issues of shame, fear they will be stereotyped or discriminated against, and being rejected by family.
It's about providing a safe space free of judgment.  
Is there anything else you'd like to add?
I'm also a clinical instructor at Columbia Nursing. I welcome the opportunity to mentor and teach students all of the things I've learned over the years that I think will help them become competent clinicians.
I am also a volunteer attending with Columbia Student Medical Outreach Program (COSMO). COSMO is a student-run outreach program which provides free physical and mental health services to the community. I precept medical and nursing students there as well.
There is a perception that all NPs do is medication management, and I try to impress upon students that the field of mental health is so much more than that. It is about listening and working with individuals to find what works best for them.