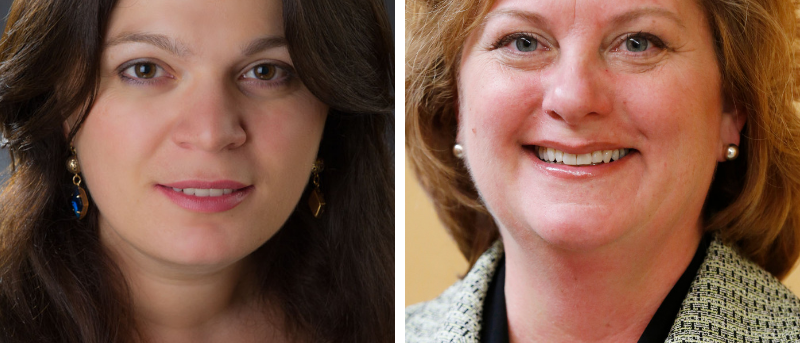 Columbia School of Nursing Researchers Awarded Two Grants From U.S. Department of Health and Human Services Unit
Grants Totaling $3.73 Million Will Support Research To Improve Infection Prevention in Hospitals and Strengthen Patient Care Through Social Networks in Medical Home Settings
The Agency for Healthcare Research and Quality, a unit of the U.S. Department of Health and Human Services, has awarded grants to two research programs at Columbia University School of Nursing. Amanda Hessels, PhD, assistant professor at Columbia Nursing is Principal Investigator of one of the studies, entitled "Simulation to Improve Infection Prevention and Patient Safety: The SIPPS Trial." Lusine Poghosyan, PhD, associate professor at Columbia Nursing, is Principal Investigator of the other study, entitled "Social Networks in Medical Homes and Impact on Patient Care and Outcomes."
Hessels' research will receive $1.86 million in funding through a five-year R18 Research Demonstration and Dissemination grant. The study will test a simulation intervention designed to improve provider performance of standard precautions and prevent health care associated infections (HAIs) and occupational blood-borne pathogen exposures. Columbia Nursing co-investigators include: Elaine Larson, PhD, senior associate dean of scholarship and research; Haomiao Jia, PhD, associate professor of biostatistics; Kellie Bryant, DNP, assistant professor, and executive director of simulation; and Nancy Spear Owen, MA, instructor.
"Despite well-established guidelines and training, standard precautions are not reliably practiced, with self-reported adherence among nurses, who have the most direct patient contact in acute care, at less than 50 percent," Hessels explains. "HAIs are a substantial public health problem affecting approximately two million patients annually, and every year one in 25 registered nurses are exposed to blood-borne pathogens. We think simulation training may improve standard precaution adherence and ultimately improve health care quality and safety for patients and providers."
Poghosyan's $1.87 million five-year R01 grant is for an innovative, mixed-methods study, which will combine analysis of team configurations and social networks in Patient Centered Medical Homes (PCMHs), to assess quality of care and patient outcomes and identify team best practices. Columbia Nursing co-investigators include: Maureen George, PhD, associate professor; and Jianfang Liu, PhD, assistant professor. 
"The PCMH model aims to address such primary care challenges as poor access and quality and rising costs by delivering team-based care. Yet little is known about the composition of effective teams to achieve best patient outcomes," says Poghosyan. "How team members communicate, share advice or help to deliver care, or how social networks affect quality and outcomes have not been studied. Our innovative mixed-methods study will fill this gap to assure the best quality of care and outcomes, particularly for patients with chronic diseases."