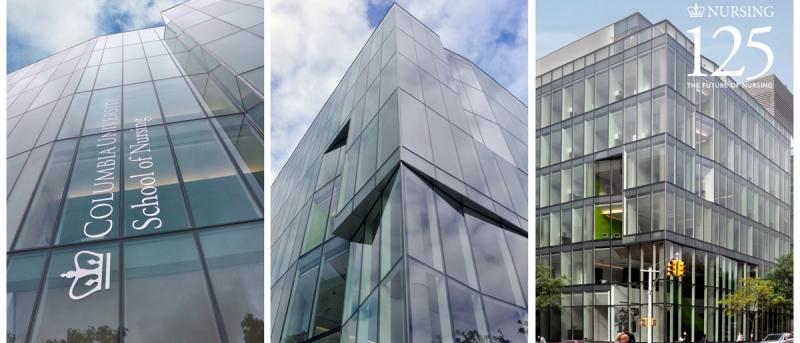 Columbia University School of Nursing Dedicates Its Cutting-Edge New Building
On Thursday, June 8, Columbia University School of Nursing welcomed faculty, alumni, and friends of the Columbia community to a dedication ceremony for the opening of its state-of-the-art new building.
The seven-story, 68,000-square-foot facility's most significant feature is a two-story, state-of-the-art simulation learning laboratory. Anchoring Columbia University Medical Center's campus on 168th Street and Audubon Avenue in Washington Heights, the new building is designed to provide an ultramodern learning environment that prepares today's students to meet the changing demands of the profession as expert clinicians, researchers, and educators. 
"Columbia Nursing has always been a leader in anticipating and responding to healthcare challenges. This new building will give us the space needed to advance our world class curriculum and will expand upon the school's 125-year heritage of leadership and academic excellence," said Bobbie Berkowitz, RN, Ph.D., FAAN, and dean of Columbia University School of Nursing.
The high-tech facility, designed to achieve LEED Gold certification, features an abundance of natural light and will provide 65 percent more space than the school's current location a few blocks away. The new building combines sustainable design with structural elements to complement the school's intellectual vibrancy and dedication to teaching, research, and clinical excellence. Among its many features are an assembly space for 200 people, a sprawling rooftop terrace, meeting rooms for collaboration, and a café. Archival photographs and items displayed throughout the building will provide a visual reminder of the school's 125-year history and its continuing commitment to the future of nursing. 
"This important new building will help ensure that Columbia Nursing continues to be one of the premier schools of nursing in the world -- not only in teaching and pioneering research, but in clinical care and public service to our home community in Northern Manhattan," said Columbia University President Lee C. Bollinger.  "Its completion is another critical step forward for Columbia University Medical Center and another impressive example of the university-wide investment we have made in new and improved facilities across all of our campuses."
"Columbia University School of Nursing needed a space to match its celebrated record as a leader in nursing education, research and practice, and the new facility beautifully fulfills this need," said Lee Goldman, MD, dean of the Faculties of Health Sciences and Medicine and chief executive of Columbia University Medical Center. "This building is a fitting centerpiece for nursing at Columbia."
The most impressive of the building's many attributes is the 16,000-square-foot Helene Fuld Health Trust Simulation Center, which will allow students to simulate clinical skills in a variety of healthcare settings using sophisticated technology in a safe, educational environment. Occupying two floors, it more than quadruples the school's current simulation space.
Students will be able to practice in simulated hospital rooms, exam rooms, in-patient hospital rooms, and even simulate the birth of a child in its labor and delivery suite. All simulation rooms will have video-recording capabilities, which is useful in providing feedback to students.  
"The building's design places simulation at the literal and figural 'heart' of Columbia University School of Nursing's new home," said Jonathan Kanda, FAIA, simulation specialist, CO|FXFOWLE. "The state-of-the-art simulation center provides students with a variety of technology-rich, simulated environments to practice and master patient care skills in a low-risk setting." 
"The simulation center will have many benefits including enhancing the education of our students, promoting patient safety, fostering interprofessional education and providing a rich environment for future research projects," said Kellie Bryant, DNP, assistant professor of nursing and the center's executive director. 
The facility resulted from an invited design competition won by CO|FXFOWLE, a dynamic alliance of two award-winning architecture firms, CO Architects and FXFOWLE. 
Columbia Nursing's new home was designed specifically to alternate educational and research areas with areas devoted to community outreach. Areas with connections to the public are on the lower floors while those with academic functions occupy higher floors. Those areas that need daylight are surrounded by a layer of etched glass that brings in diffused light, while controlled areas, such as labs, research centers, and offices are located at the building's core.   
"Columbia University School of Nursing's new building was conceived as a welcoming 'lantern,' anchoring the Medical Center's urban campus, and creating an iconic new identity for the school. A key feature is its dynamic 'collaboration ribbon' that flows upwards from the lobby, linking people with a series of informal meeting and breakout spaces, culminating in the dramatic rooftop event space and garden with sweeping views of the city," said Nicholas Garrison, AIA, OAQ, LEED AP, design partner, CO|FXFOWLE.  
As part of a major academic medical center, Columbia University School of Nursing pursues interdisciplinary studies that address critical issues encountered by health care professionals every day, from the prevention of disease to the delivery of care.
"Registered nurses are key to assuring the health of our populations. This new facility will provide them with the educational excellence they need to be world leaders in an ever-growing healthcare field," said Dean Berkowitz.
Founded in 1892, Columbia University School of Nursing was the first nursing school to award a master's degree in a clinical specialty and the nation's oldest continuous program in nurse midwifery. The school also operates a primary care faculty practice, the Nurse Practitioner Group, which serves Midtown Manhattan, Morningside Heights, and the school's Washington Heights community.
Please click here to view photos from the night. 
An archived livestream of the dedication ceremony can be viewed here.
Columbia University School of Nursing is part of the Columbia University Medical Center, which also includes the College of Physicians and Surgeons, the Mailman School of Public Health, and the College of Dental Medicine. With more than 100 full-time faculty and 600 students, the School of Nursing is dedicated to educating the next generation of nurse leaders in education, research, and clinical care. 
The school has pioneered advanced practice nursing curricula and continues to define the role of nursing and nursing research through its Ph.D. program which prepares nurse scientists, and its doctor of nursing practice (DNP), one of the first clinical practice doctorate programs in the nation. Among the clinical practice areas shaped by the school's research are the reduction of infectious disease and the use of health care informatics to improve health and health care. For more information, please visit: www.nursing.columbia.edu. 
Columbia University Medical Center provides international leadership in basic, preclinical, and clinical research; medical and health sciences education; and patient care. The Medical Center trains future leaders and includes the dedicated work of many physicians, scientists, public health professionals, dentists, and nurses at the College of Physicians and Surgeons, the Mailman School of Public Health, the College of Dental Medicine, the School of Nursing, the biomedical departments of the Graduate School of Arts and Sciences, and allied research centers and institutions. Columbia University Medical Center is home to the largest medical research enterprise in New York City and State and one of the largest faculty medical practices in the Northeast. For more information, visit cumc.columbia.edu or columbiadoctors.org.
About CO|FXFOWLE
CO/FXFOWLE is a dynamic alliance of CO Architects and FXFOWLE, two architecture firms built on a shared dedication to collaboration in process, innovation in programming, and excellence in design.  It is a collective commitment to use these tools to examine fundamental notions of place, community, and sustainability, and to advance the understanding of architecture's relationship to the human experience.  Combining forces mines the two firms' depth of experience and expertise to build a strong team ready to address the challenges of creating meaningful architecture in a complex world. www.cofxfowle.com