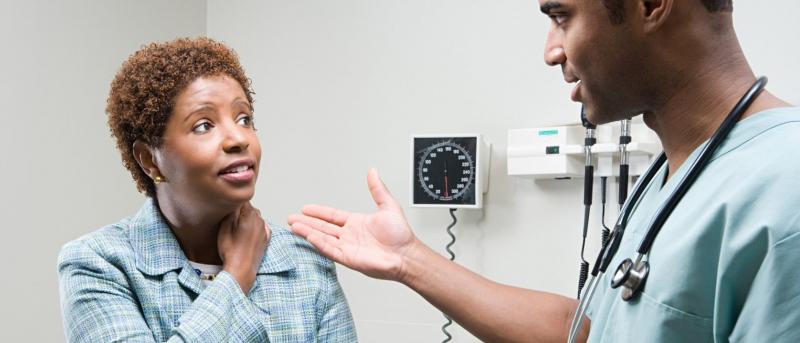 Columbia University School of Nursing Launches Center for Research on People of Color (CRPC)
Columbia University School of Nursing has announced the establishment of the Center for Research on People of Color (CRPC). With the growing demand for health equity and justice in our society, the center will provide multidisciplinary resources for research and educational programming designed to address injustices in health care that disproportionately affect communities of color.

Rooted in the Rev. Martin Luther King Jr.'s assertion that "the arc of the moral universe is long, but it bends toward justice," the center's primary goals are to promote and expand the body of scholarly research related to people of color and to provide consultation and mentoring for researchers.

The need to address persistent health disparities is clear. African Americans between 35 and 64 years old, for example, are 50% more likely to have high blood pressure than whites in that age range. African American women have a higher prevalence of the condition (46.1%) than other racial or gender group in the country. The American Heart Association has determined that more than half of all African American adults suffer from some form of cardiovascular disease. The center's body of research will focus on conditions and diseases that disproportionately affect minority populations, such as hypertension, obesity, diabetes, maternal/child health and poor birth outcomes, LGBTQ health, and genomics of health and disease. 

"For too long, people of color have not been sufficiently represented in health research, which has perpetuated injustice across the field and broader society," says Jacquelyn Y. Taylor, Ph.D., founding director of the center. "The CRPC seeks to promote health equity and justice through high-quality studies, mentorship for early career researchers, and learning opportunities open to all."

The CRPC, with support from the school, donors and other funding sources, aims to support pilot investigators in conducting research and generating preliminary findings and will provide resources for research projects involving people of color, including project databases, access to biological samples located in the CRPC, data management consultation, and support for junior investigators on career development in health equity research.
The need for research in the time of COVID
As a hub for this scholarly work, the CRPC will examine the interaction between the biological sciences and diverse social factors that contribute to health disparities. The timing of the center's establishment is especially relevant, as the COVID pandemic is disproportionately affecting the nation's most vulnerable populations, including communities of color. 

"We are excited to launch this important interdisciplinary work and look forward to seeing the CRPC grow and thrive in the years to come" says Lorraine Frazier, Ph.D., Dean, Columbia University School of Nursing and Senior Vice President, Columbia University Irving Medical Center. "Under Dr. Taylor's leadership, the center will be a focal point for important research and for supporting investigators in areas that have not been fully addressed before."

One recently published CRPC study examines an issue that has been poorly understood—the effects of high blood pressure on pregnancy, preeclampsia or eclampsia, and the epigenetics of this phenomenon, especially among African Americans.

Another project under the CRPC's aegis focuses on gene sequencing: Whole Genome Sequencing as a Screening Tool for Cardiovascular Diseases among African Americans in the Community, Presidential Early Career Award for Scientists and Engineers (PECASE), NIH/NINR. The grant, awarded by President Barack Obama in 2017, is the highest honor from the federal government to scientists and engineers. As principal investigator on the project, Taylor is examining next-generation sequencing-environment interactions on blood pressure among African Americans. 

To view a complete list of CRCP research please visit the website.
About Jacquelyn Y. Taylor
In addition to her new role as the CRPC's director, Jacquelyn Y. Taylor is the Helen F. Petit Professor at the Columbia University School of Nursing. She earned her bachelor's, master's and Ph.D. in nursing from Wayne State University College of Nursing in Detroit and did postdoctoral work in Urban Health Aging at the Wayne State University Institute of Gerontology. Taylor has also completed additional training in molecular genetics at Georgetown University, and in cardiovascular genetic epidemiology at Washington University in St. Louis.

Taylor's commitment to the health of minority populations is reflected in her former role as Associate Dean of Diversity and Inclusion at Yale, her participation on the Diversity Committee of the American Heart Association Cardiovascular and Stroke Nursing Council, her service as co-chair of the Genetics Healthcare Expert Panel with the American Academy of Nursing, as well as in the six commendations she has received from local (state representatives) and national groups (senators) for her commitment to health care in the African American community. Taylor is also the recipient of the 2018 Mary Mahoney Award from the American Nurses Association, for making significant contributions to opening and advancing equal opportunities in nursing for members of minority groups. In 2019, she was elected to the National Academy of Medicine.