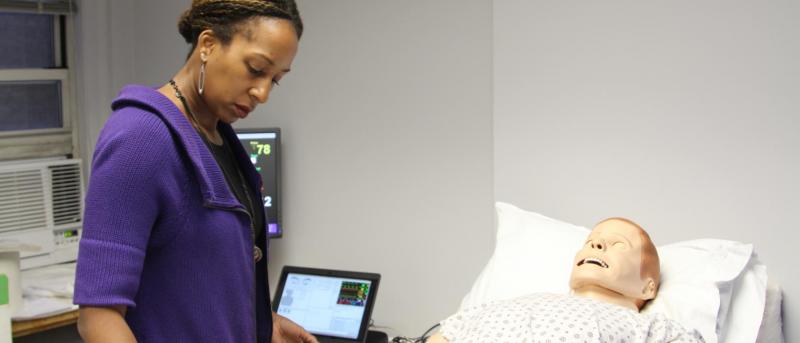 Combining Two Loves: Technology and Teaching at Columbia Nursing's New State-of-the-Art Fuld Simulation Center
Dr. Kellie Bryant recently joined Columbia University School of Nursing and is responsible for day-to-day operations of the new state-of-the-art Helene Fuld Health Trust Simulation Center. The center will occupy two floors in Columbia Nursing's new building and is expected to open to students in the fall of 2017. The new 16,000-sq-ft space more than quadruples the school's current simulation laboratory.
In her new role, Bryant is responsible for the operation of the center including developing simulation activities, integrating simulation into the curriculum, faculty training, teaching simulation sessions and evaluating programs. The role is tailor-made for this self-described "techie" who also has a love of teaching. Her entry into simulated learning was somewhat by chance, but Bryant says she never looked back since that day in 2008. She was immediately intrigued by how simulated learning could not only augment, but enhance the student learning experience.
Bryant received her BS in nursing from Stony Brook University, graduated from the Advanced Practice Nursing Program in Perinatal Women's Health Nurse Practitioner from SUNY Stony Brook and obtained her doctorate in nursing practice from Case Western Reserve University.
What is simulation?
Simulation in general is a strategy to replicate a real life situation. At Columbia Nursing, we are using simulation to replicate the clinical environment for students to practice the skills needed to become a healthcare provider. We are replicating everything from the hospital/outpatient rooms to the role of the patient using high-tech Human Patient Simulators (HPS), called manikins. In some cases we're also using standardized patients, which are real people that come in and play the role of a patient or a patient's family member. The learning activity involves students caring for these patients who have various medical conditions by using the knowledge and skills they have learned from the classroom and clinical setting.  Our goal is to allow them to enhance their skills in a safe learning environment. That way, students and new graduates will have an easier transition into clinical practice and their new roles.
How will the simulation center be used at Columbia Nursing?
The simulation center is one of the largest in this area, particularly for a nursing school. When a student walks into one of the simulation rooms in the new Helene Fuld Health Trust Simulation Center, it will resemble a real patient care environment. This includes rooms that meet the needs of all our different programs. We will have an operating room, labor and delivery suite, outpatient exam rooms, standard hospital rooms as well as rooms that are flexible for all different types of classes.
We'll replicate various patient scenarios that students will encounter in the clinical setting. Students will have to care for their "patient" by obtaining their medical history, performing an assessment and administering medications, going all the way through to implementing a treatment plan. Students will be required to think critically and decide how to prioritize care for their patient. If the blood pressure is low, why is it low? Could the patient be hemorrhaging? What should I do next? In addition, simulation helps students to work on their communication skills such as how they interact with other members of the health care team and with family members. We replicate all of this in the simulation center. The more opportunities for students to practice these skills, the more confident and prepared they will feel in the clinical setting.
Our simulation program will also be inter-professional, so not only our students will be using it. We are looking forward to having simulations with other disciplines, such as medical students, nurses in the hospital setting, physical therapy, and occupational therapy.
Is there one part of the simulation center you are most excited about?
It is hard to say what my favorite is because I am excited about the entire simulation center! My specialty is women's health so I guess I would say the labor and delivery suite will probably be my favorite. It's fascinating to me that there is a manikin that can actually give birth. 
What is it about simulation you are so passionate about?
I have always been a techie, and I have always had to have the newest gadgets. I got into simulation due to a former colleague who had a small grant to start a simulation program. The school had three manikins that had been sitting in a box for a while, and the grant enabled us to develop simulation curriculum.  I started working there one day a week and fell in love with simulation learning. The experience made me realize that simulation was a great way for students to learn. Eventually a full-time position opened up, and that is how I got my first job in simulation.  When I was in school, we learned a lot of skills for the first time with real patients. You can't make mistakes there. If you were about to do something wrong, the instructors had to stop you because you were going to cause the patient harm. In simulation, students can learn from their mistakes in a safe environment. If they do something wrong, we can discuss a plan for improving their performance and provide students an opportunity to practice until they get it right.
Is there anything else you want people to know about the simulation center?
I can't wait for the center to open! We will be a simulation center of excellence and the place where other nurse educators will want to learn about simulation. We want to be the best learning environment for our students and our other stakeholders and the community. As part of NewYork-Presbyterian/Columbia University Medical Center (CUMC), our simulation center is affiliated with one of the best hospital systems in the country. And being part of CUMC provides a great opportunity for our students to learn about, from, and with other health professionals to improve health outcomes. I think that is an important piece of the center. Oh, and research! I am very excited about collaborating with my colleagues to explore ways to incorporate the simulation center into the incredible research that goes on at Columbia Nursing.