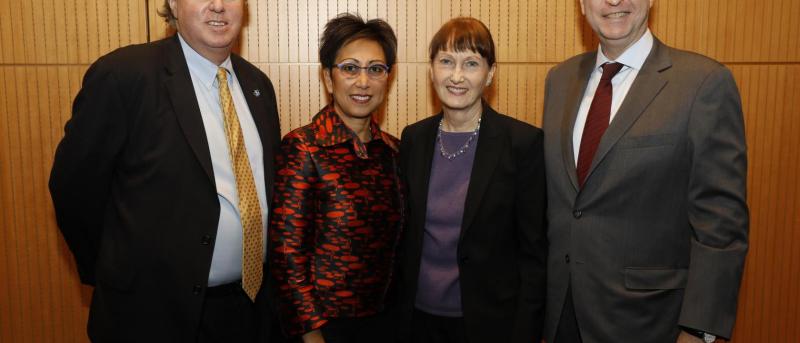 Dean Berkowitz Moderates Health Care Policy Panel
Experts from Columbia Nursing, Columbia Business School, NewYork-Presbyterian Weigh In
Policy, economic and healthcare experts came together at Columbia Nursing's seventh annual Health Policy Forum to share their views on the Cost and Quality of Healthcare and to discuss the impact of the pending repeal and replacement of the Affordable Care Act (ACA). Columbia Nursing's Alumni Association and Center for Health Policy co-sponsored the forum.
The consensus among the experts at the February 2 Forum was that repeal of the ACA seems highly likely because it will fulfill a cornerstone campaign promise of the new President and virtually every Republican who ran for federal office. Less clear at that time was when and how the repeal would take place, and whether new legislation would be enacted simultaneously. In early March, Congressional Republicans answered some of these questions when they introduced the American Health Care Act. At stake and very relevant to nurses is how the changes will impact patient care. 
Pat Stone, PhD, Centennial Professor of Healthy Policy, along with Nursing Alumni President Marty Romney '81 kicked off the event. The audience included students, alumni, staff, faculty and others from across the Columbia University and NewYork-Presbyterian communities.
Dean Berkowitz reviews the goals of ACA; solicits views from the panel
In her opening remarks, moderator Bobbie Berkowitz, PhD, dean of Columbia University School of Nursing, reviewed the original goals of the ACA. "In the simplest terms, the ACA was designed to drive down healthcare costs, improve access to healthcare and drive quality up." The invited experts touched on each of these areas: cost, access and quality.
Before turning to the panel, Dean Berkowitz discussed some of her concerns, which were outlined in a letter to Congress, which was signed by 10 U.S. nursing school deans on behalf of the Deans' Nursing Policy Coalition. Repealing the ACA without simultaneously enacting legislation that provides similar comprehensive coverage, she said, "could jeopardize the nation's healthcare system, patients and the healthcare professionals who treat them." She also expressed concern that it could drive healthcare costs back up.
The question, which Dean Berkowitz said is not easily answered, is "how can we improve population health, decrease the uninsured rate, and manage cost and quality of care at the same time?"
Healthcare and our country's fiscal health are strongly linked
The first question went to Glenn Hubbard, PhD, dean of Columbia Business School and Russell L. Carson Professor of Finance and Economics. Dean Berkowitz asked him to comment on the aspects of the ACA that he predicts will be modified through new legislation and the possible outcomes of those modifications. She also asked if, alternatively, he thought that repeal without replacement is possible and what that would mean.
Dean Hubbard took a step back to first discuss two reasons why he thinks these questions and healthcare discussions are so important. "If you look at the nation's long-term fiscal health, it's really a story about healthcare," he said. "The Medicare and Medicaid programs are driving much of the nation's long-term fiscal issues and a lot of that has to do with changes in the relative price of healthcare."
The second, he says, is about value. In most other sectors, economists generally focus on value—the amount of money at which something is desirable. Dean Hubbard said if he had a choice of 1958 healthcare (the year he was born) at 1958 prices or today's healthcare at today's prices, "there is no question I would choose today." This, he said, is a positive statement about the average value of healthcare. The bigger issues, he says, is that the marginal value of today's healthcare—the incremental or added benefit with each additional unit of healthcare "spend"—is demonstrably low.
Most conversations in Washington, he said, focus on cost and access. On these measures alone, the ACA has a mixed record. Like all previous attempts to overhaul healthcare, including then Governor Romney's attempt in Massachusetts, ACA expanded demand without expanding supply—an economic recipe for driving up costs.
Turning back to Dean Berkowitz's questions, Dean Hubbard said he believes it would be a big mistake to repeal the ACA without an immediate replacement because it would leave millions of American without coverage.
According to Hubbard, the best chance for simultaneous replacement of the ACA would likely be legislation that builds off the 2017 Project. The 2017 Project has been in development for years, led by a group of conservatives working with then chairman of the House Budget Committee and now HHS secretary Tom Price. The 2017 Project tried to remove what Dean Hubbard called a key problem in the ACA legislation, a tax distortion that advantages third-party payers over out-of-pocket payers and certain kinds of employment insurance over others. Hubbard went on to note that a number of economists believe this is driving up prices of health care and health insurance.  
He hopes discussions on Capitol Hill focus on the value of healthcare. "What's the best way to get high value healthcare for the American people," he asks, "and how can we finance it?"
Political disagreement likely over how to implement healthcare policy changes
Panelist Ross Frommer, JD, vice president for government and community affairs and associate dean at Columbia University Medical Center said that repealing the ACA is a high priority for President Trump and the Republican Congress as doing so was a major campaign promise. This will be easier in the House, where Republicans enjoy a larger majority and only a simple majority is needed to pass laws with a budgetary impact.
The path to ACA repeal and replace in the Senate will be more complicated because Republicans hold just a slim 52 to 48 majority and at least 60 votes are needed to pass most bills. The one exception is the budget reconciliation process, which allows the Senate to operate on different rules on just one budget bill per year, which will receive limited debate and then only needs a simple majority to pass.
"The one catch, and it's a big one," says Frommer "is that budget reconciliation cannot be used for bills that do not impact the budget. While many provisions of ACA directly impact the federal budget, several do not, including the ban on denying coverage for pre-existing conditions, coverage for 26 and under, insurance regulations and other consumer protections." These, he says, cannot be changed without meeting the 60 vote minimum, so will require some democratic votes to pass.
Finally, Frommer reminded the audience that ACA could also affect Medicaid, which along with Medicare, drives a very large proportion of federal spending.
NewYork-Presbyterian chief nurse stays focused on patients
Panelist Wilhelmina Manzano, MA, RN, NEA-BC, senior vice president and chief nurse executive at NewYork-Presbyterian and assistant dean for clinical affairs at Columbia Nursing, provided a perspective from the frontlines of nursing care. "No matter what happens in terms of health policy, our focus will stay on taking care of patients," says Manzano.
To continue to improve care and its efficiency, she says nurses must embrace their leadership role and engage with all members of the healthcare team. "We cannot work in a silo; we need to be more collaborative," says Manzano. "We also need to embrace our role as leaders and find ways to drive change, not just respond to it." She added that the pursuit of quality and value in health care will require new levels of engagement, interdisciplinary collaboration, new levels of accountability for results, and a new focus on driving process improvement.
Manzano commented on what she says is a very welcome revival of care coordination and management in nursing. Through the hospitals' partnership with Columbia Nursing, there is a new graduate level program with a concentration in care coordination, which she says is a direct reflection of the nursing school hearing and responding to the needs of patients. Care coordination is not just about moving patients through the care continuum quickly, she said, but safely. By improving the coordination of care, hospitals can reduce avoidable readmissions, improve adherence to treatment plans, and keep patients healthy.
The Q&A session touched on wide ranging topics including escalating drug costs, whether replacement plans will focus on lowering cost and improving quality of healthcare, and linking quality measures to payments.
The complexity of the event's discussion was reflected in Dean Berkowitz's closing comments. "There's a lot more to this than we can even imagine," she said. "The important thing is that within this complexity and uncertainly, nurses must continue to face healthcare challenges, solve problems and serve our patients, no matter what's going on with the policy issue."
The Panel 'Cost and Quality in Healthcare: Experts Assess Today's Trends' took place on Thursday, February 2nd, 2017 from 4-6PM at the Mryna Daniels Auditorium and Riverview Terrace.
Topics