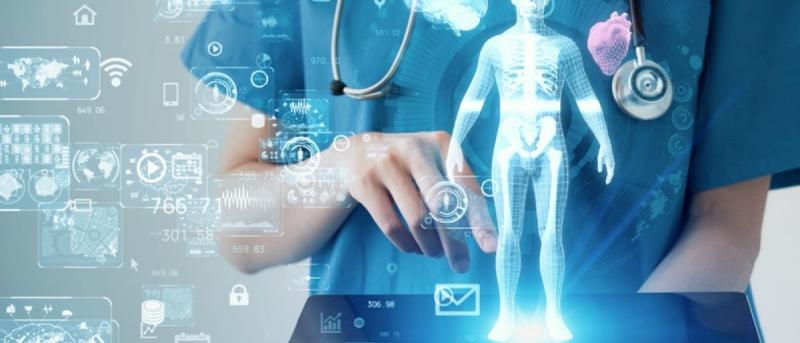 Dean Frazier, Other Front-Line Leaders Envision Future of Health Care
Dean Frazier took part in a discussion of the pandemic's lasting impact on health care workers and systems on September 14, 2021, at the Future of American Healthcare, a virtual conference organized by the Financial Times Group's global conference and events division, FT Live. 
Adrienne Boissy, MD, chief experience officer at Cleveland Clinic Health System, and Katrina Armstrong, MD, physician-in-chief of the Department of Medicine at Massachusetts General Hospital, joined Dean Frazier on the panel, titled "Healthcare on the Frontline." Sarah Neville, global health editor of the Financial Times, moderated the discussion. 
Themes that emerged included the benefits—and risks—of technology in health care, how role flexibility in response to the pandemic could foster empathy and strengthen health care teams, and the central importance of health equity and anti-racism in building better health care systems.  
Lessons learned from the pandemic 
COVID showed people in general what nurses already knew—there is a nursing shortage, and it's getting worse, Dean Frazier said. The U.S. population is aging, more and more nurses are retiring, and the pandemic has forced many nurses out of the profession, she added. "Fortunately many people are interested in becoming nurses today, but to solve the nursing shortage in the future, we're not going to do it by numbers alone. We are going to have to leverage nurses through technology, through remote patient monitoring, through all the research that we're doing now in order to make what we do effective." Paying nurses better and allowing them to practice to their level of education and licensure will be essential for both resolving the nursing shortage long-term and preparing for future health crises, according to the dean.  
"The other thing we've learned in nursing, and I think in health care in general, is that what we're doing now is not working," the dean added. "The pandemic exposed great disparities in our population." To begin to address these inequities, health care needs to meet patients where they live, in the community, she said. "We've got to make sure that we educate our students better, in a different way. Take them into the communities, educate them through the lens of social justice and health equity. Prepare also a diverse work force, a diverse student body, and a diverse faculty." 
Building empathy by crossing barriers 
Implementing large-scale change across the health care system has been a "very slow" process, Dr. Boissy noted. "I agree with Lorraine, if you think about empathy at scale, it's really become about meeting people where they are," she said, adding that this must include supporting health care workers' needs too. "Personally, I think the joys feel much more joyful and the lows feel much lower than ever before," Dr. Boissy said. "I really feel like that emotional journey we're all on requires a deeper level of compassion from everyone." 
One potential positive of the pandemic is that it has exposed health care professionals to new roles, building empathy in the process, Dr. Armstrong said. "When you learn somebody else's job, there is that intrinsic respect and value that comes from that, that I just think is a magical thing," she added, noting that she and her Mass General colleagues are seeking ways to maintain that magic as normalcy returns. "It's not easy," she said. "People feel more comfortable with their own club, going back to spend their time with the people they know well, but they love to learn." 
Institutions also must stop relying on layoffs and furloughs to manage ebbs and flows in patient load, Dean Frazier said, and instead invest in a strong cadre of staff. "How do we keep that commitment to and loyalty to our staff, I think that has to be important in the future."