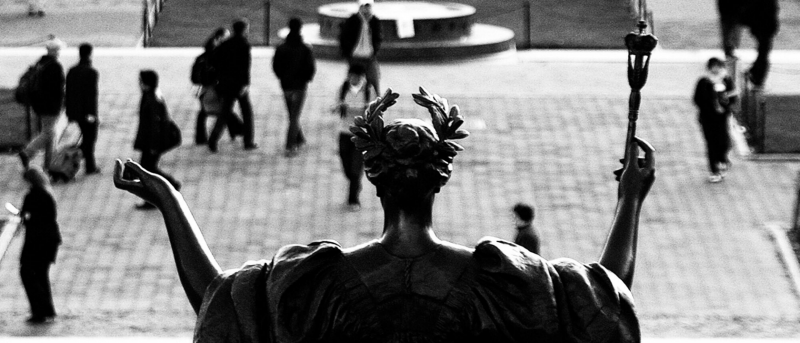 Dean Frazier's Message Denouncing Racism
Dear Columbia Nursing Community,
Nursing is, at its core, about caring. It's about social justice and health equity.
It is thus inherent in nurses, no matter the color of our skin, to be outraged about the injustice, pain, and anguish that African American communities have experienced and are experiencing. Our country has for far too long been torn apart by racism—in its overt and violent forms as well as, just as surely and insidiously, in its subtle and unintended forms.
The senseless killings of unarmed African Americans including George Floyd, Ahmaud Arbery, and Breonna Taylor must end. It is long past time to redress our society's enormous, systemic wrongs toward people of color.  We must ensure that heinous acts like the one last week never occur again.
In addition, to have such an act occur in the midst of a pandemic that is taking a disproportionate toll on communities of color in this country—to have the insults compound each other—makes the accumulated injuries nearly unbearable. Racism is a public health threat that we must and can counter at every opportunity.
All of you receiving this message have chosen nursing—or the support of nursing—as your life's work. It thus falls to each and every one of us to help heal these injuries. To care. To treat every person with dignity and respect, no matter their race or ethnicity, religion, socioeconomic status, gender, age, sexual orientation or gender identity, mental health, or cognitive, sensory, or physical disabilities. Everyone. Without fail.
I pledge that Columbia Nursing, as an institution and as an aggregation of individuals, will continue to stand definitively and vociferously against slights and insults large and small toward people of color. And we will do our very best to push society at large toward doing better than it has done.
As nurses, we can do nothing less.
Our community is here to support you through this time. Please feel free to reach out to the School of Nursing's Office of Student Affairs, our Office of Diversity and Cultural Affairs, and CUIMC's Offices of Student Mental Health Services and Wellness for support.
Lorraine Frazier, RN, PhD, FAAN
Dean, Columbia University School of Nursing
Mary O'Neil Mundinger Professor of Nursing
Senior Vice President, Columbia University Irving Medical Center