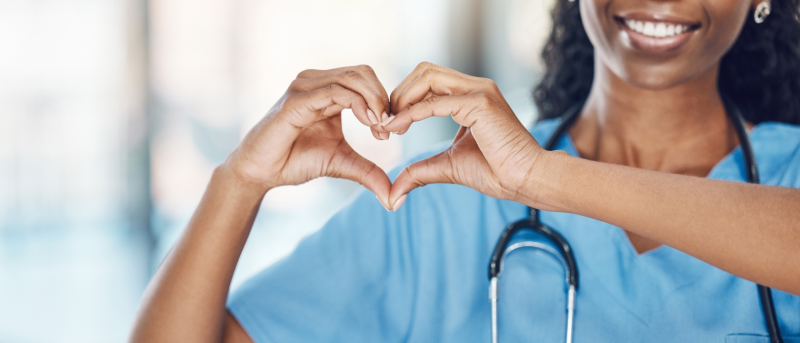 Dean Frazier's Message Honoring National Nurses Week 2023
Dear Columbia Nursing Community,
Tomorrow marks the beginning of National Nurses Week. Of course we observe that noteworthy event every year, but the way our profession and our school have risen to the occasion again and again over the past few years gives Nurses Week 2023 extra meaning.
So I encourage us all to use the coming week to celebrate nursing's central importance to our nation's health. We know now more clearly than at any time in living memory how vulnerable our society can be to pathogens of all sorts—whether microscopic viruses like COVID or monstrous scourges like racism. But society also has a clearer appreciation than ever before of nurses' commitment to improving the health of everyone, everywhere.
In 2023, for the 22nd year in a row, nurses were ranked #1 among all professions on the basis of honesty and ethics by the Gallup Poll organization. That enduring respect for nurses is something that each and every one of us can take both pride in and a piece of credit for.
And a particular point of pride at Columbia Nursing this year is that for the first time ever, we ranked #1 in research funding from the National Institutes of Health among all U.S. schools of nursing.
But we don't need a ranking or a poll or a special week to know that what we do is special. We see it in the eyes of our patients, of our students, every single day.
And we see it in the growing prominence granted to our profession as we advocate for access to health care for all, including mental health care. I am especially proud of our voice in this most important arena. In fact, just this morning one of our faculty members and one of our doctoral students were interviewed on NBC Now about this very issue—including the fact that nurses are crucial to promoting mental health. You can click here to watch the interview.
As the interview makes clear, the pandemic both displayed nurses' mettle and exacted a harsh toll on our collective mental health—among nurses, who have worked tirelessly during the past three years and continue to do so, as well as among the populace at large. Rates of anxiety and depression have skyrocketed. Young people and those from minoritized groups have been hardest hit and have also had the most difficulty accessing care.
Right now, there are simply not enough mental health clinicians available to meet the growing need for treatment. Fielding more psychiatric mental health nurses, and extending their scope of practice nationwide, will be essential to meeting this need and achieving the equitable delivery of mental health care.
So, as the nation marks National Nurses Week, let us salute nursing's central role in our health—physical and mental. And let us celebrate and recommit ourselves to improving the health of everyone, across all sectors of society and all around the world. That charge always has been and always will be crucial to nursing's core mission.
My hope is that our collective voice as a profession will continue not just to be heard but to be accorded ever more resonance and influence, that our expertise and leadership will not just be sought out but will be celebrated, for generations and centuries to come. 
Lorraine Frazier, RN, PhD, FAAN
Dean and Mary O'Neil Mundinger Professor
Senior Vice President, Columbia University Irving Medical Center