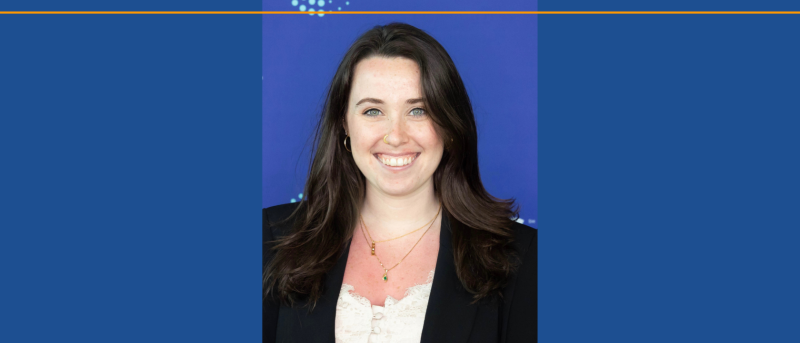 Dougherty is First Columbia Nursing PhD Student to Win Fulbright
Kylie Dougherty, BS, has received a Fulbright for her innovative informatics project that aims to improve maternal and child health in Ethiopia by helping facilities be better prepared for obstetric emergencies. 
Dougherty, who started her PhD at Columbia Nursing in Fall 2021, is the first current PhD student at the nursing school to be awarded a Fulbright. Led by the U.S. government, the Fulbright Program supports international educational and cultural exchanges in partnership with over 160 countries. 
"I will be traveling to Ethiopia in January and spending all of spring term (and maybe some of the summer) in country," Dougherty said. She will be working in both Addis Ababa, the capital city, and Bahir Dar, the capital of the Amhara region. 
Dougherty's first exposure to global health, during her sophomore year in high school, was on a medical mission trip to Mexico, and more global health experiences followed during her undergraduate studies at the University of Kentucky. Her first global health experiences as a registered nurse were in Haiti and Honduras, each for three months. She decided to get her PhD because she wanted to conduct research to improve maternal and child health. "I wanted moms to have better deliveries and babies to have better births." 
Working with the Ethiopian Ministry of Health, through a partnership with Emory University, Dougherty will create an electronic dashboard to monitor facility readiness to handle obstetric emergencies. While the huge, sparsely populated country has an integrated pharmaceutical logistics system, Dougherty noted, the system struggles to ensure facilities remain fully stocked, for example stockouts of critical items such as magnesium sulfate and IV start kits are a common occurrence, and health care providers rely heavily on paper-based forms. 
"The meat of it is upscaling to make it more usable and to include specific dashboards for the maternal side," she explains. "This is not going to be a real-time system; it's going to be getting closer to real time." 
Dougherty is planning to conduct three rounds of data collection while she is in Ethiopia. "If it's successful, the platform could be scaled up to national usage," she said. The approach could also be adapted for use in other low-resource countries, she noted. 
"I'm honored to have been selected as a Fulbright scholar and can't wait to get to Ethiopia and begin work on this project. I have amazing contacts on the ground and it's a really robust research team between Columbia, Emory, and Ethiopia that are going to ensure cultural competency and make sure we are doing things right."