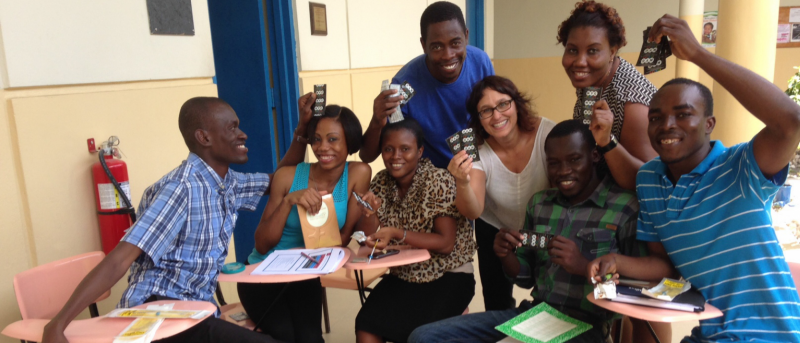 Educating Haiti's First Advanced Practice Nurses
Faculty Profile: Adena Bargad, PhD, Program Director, Subspecialty Program in Women's Health
Adena Bargad directs the Women's Health sub-specialty program at Columbia Nursing. She teaches classes in gynecology, antepartum and postpartum care, and mentors and precepts students. She provides women's health care and precepts students at Planned Parenthood of New York city. In addition, she provides clinical care at Columbia University Student Health Services, Morningside campus. She earned a BA from the University of Wisconsin-Madison in Psychology and Women's Studies, an MS and PhD from Yale University in Developmental Psychology, and a Master's degree in nursing from Yale University. She is a Certified Nurse Midwife.
You volunteered in Haiti last summer. Tell us about your experience there.
I spent a week in Léogâne, a city in Southwestern Haiti, with a nonprofit organization called Promoting Health in Haiti (PHH). The 2010 earthquake destroyed or damaged nearly all of the cities' buildings and thousands of people were killed. The earthquake also levelled the nursing school in the Haitian capital Port-au-Prince.
Currently, nursing in Haiti is limited to the baccalaureate level. PHH trains nurses to provide advanced levels of healthcare. Carol Roye, one of the organization's founders, is a Columbia Nursing alum. This organization is developing the nation's first master's level nurse practitioner program, so nurses can best serve the Haitian population. As a volunteer professor, I taught a unit on women's reproductive health to a 17 nurses. We covered contraception, sexually transmitted infections, and more common gynecological problems like abnormal uterine bleeding. We discussed cervical and breast cancer, because both occur at alarming rates in Haiti.
What did you observe about the country and its healthcare system?
The level of poverty and devastation still evident after the earthquake five years ago is really jarring. Little infrastructure exists:  I witnessed garbage piled along the streets because there is no sanitation system. The roads and highways have few stoplights or stop signs. Everyone drinks bottled water because the tap water isn't safe to drink. Power was intermittent:  While I delivered a PowerPoint presentation to the class, the electricity went out. But I was struck by the Haitian people's resilience. Despite all of their hardships, they still powered through nursing school and everyday life.
In the developed world, cervical cancer is considered preventable. But the rate of cervical cancer in Haiti is among the highest in the world. Breast cancer poses another big health problem. The country's unreliable roads and limited transportation options prevent travelling for preventive screenings. Few clinics can afford to buy equipment used for preventative screenings like mammograms. Therefore, Haitian women often present to a medical facility for the first time with advanced, untreatable cervical and breast cancers.
What differences did you notice in teaching Haitian nurses vs. teaching students in the US?
Like many educated people, students in the US and Haiti have similar deficits in in knowledge regarding the menstrual cycle and how birth control works. In Haiti, these topics are not easily broached, even among trained nurses. I spent more time clarifying ovulation than I had anticipated, for example.
I think people everywhere lack knowledge about menopause symptoms. I heard a story from someone misdiagnosed by Haitian doctors as mentally ill, who was simply experiencing severe menopausal symptoms.
This was my first global health experience and I feel passionate about encouraging others to experience different health care systems in other countries. I plan to return to Haiti next year to continue teaching and learning from these students.  Even though I went there to teach, I learned a lot from my students. Despite adversity, they came to school every day. Some of them traveled several hours on a shared moped with three people just to get to class.