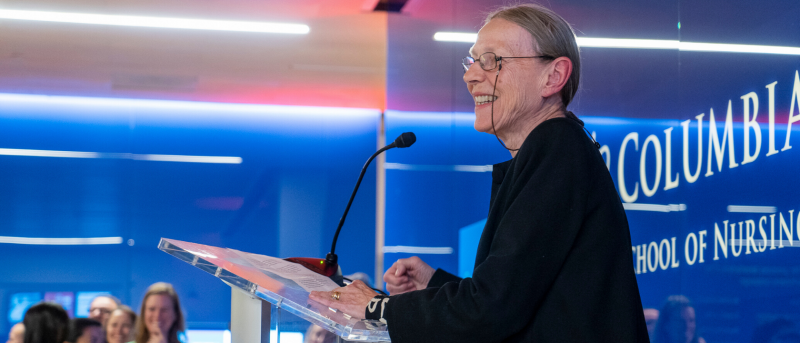 Elaine Larson Redefines Retirement
For decades, the nation's nursing journals have published research articles by Elaine Larson, PhD, RN, who retired a few months ago as Columbia Nursing's senior associate dean for research. But one of her latest articles represented a departure. Larson's "Musings on Retirement" appeared in the education rather than the research section of the November-December issue of Nursing Outlook. And its reflective tone is relevant not only for nurses on the cusp of retirement, but also for those just starting their professional careers—and even for individuals in professions far afield from nursing.
Like the seasoned researcher she is, Larson traces in the article the evolution of her decision to stop working full-time. Her process, not surprisingly, was as controlled, rigorous, and systematic as one of her studies—but also was marked by an honest and critical appraisal of her own thoughts and emotions along the way.
Larson, by both training and temperament, sees both sides of every issue. For example, she noted in the article that the retirement of senior leaders makes way for a new generation of leaders, but at the cost of losing the wisdom the retirees earned over decades of working. But, Larson went on to point out, not all elders are wise. Wisdom, she wrote, comes to those who "use mindfulness, empathy, and self-reflection to learn from their mistakes, failures, and successes over the years."
Larson also offered an honest assessment of the challenge of keeping up in a society that is "fast-paced, technologically-focused, and changing with lightning speed." She's aware that her younger colleagues and students are more facile technologically, but in return she offers a clarity born of experience about what matters and a sense of perspective that comes only with years. In an admission that may surprise her younger colleagues, Larson wrote that she felt like she was just "getting it" as she concluded that it was time to move on.
In the end, Larson made the decision to retire, at least in the strict sense ("leaving one's job, usually because of age"), but make no mistake—she has no plans to stop contributing to the nursing profession. Instead, she views retirement as the next phase in her career development. She believes there is still more to learn, even at the tender age of 76 and after a 55-year career (so far) marked by extraordinary achievements.
While her list of honors is long—in 2017, Larson was named a Living Legend, the American Academy of Nursing's highest honor, and she is one of only two nurses nationwide ever to receive the Walsh McDermott Medal from the National Academy of Medicine—it is clear she cares less about past honors and more about what comes next.
In her article, Larson quoted Angela Barron McBride, PhD, RN, who calls the phase Larson is entering the "gadfly" stage. Larson sees it as a time when she can continue to contribute to the profession that has been a constant source of happiness and meaning in her life, while freeing herself from institutional obligations. She plans to maintain an office at Columbia University Irving Medical Center and has already started working on several projects, using her considerable skills to continue making the world around her a better place.
Larson concluded her article with a quote from the Irish playwright George Bernard Shaw: "My life belongs to the whole community...It is my privilege to do for it whatever I can. I want to be thoroughly used up when I die, for the harder I work the more I love." Elaine Larson leaves no doubt that she lives this philosophy every day.
As a tribute to this spirit—as well as to Larson's impact on Columbia, on the nursing profession, and on generations of students—the school has named the global development fund within the Office of Scholarship and Research the Elaine L. Larson Global Development Fund. The fund was established in 2018 through the generosity and vision of Larson herself. Gifts to it will support programmatic efforts and projects that expand and enhance Columbia Nursing's scholarly and research contributions to improving global health. Visit Giving to Columbia Nursing for more information on the Larson Fund.