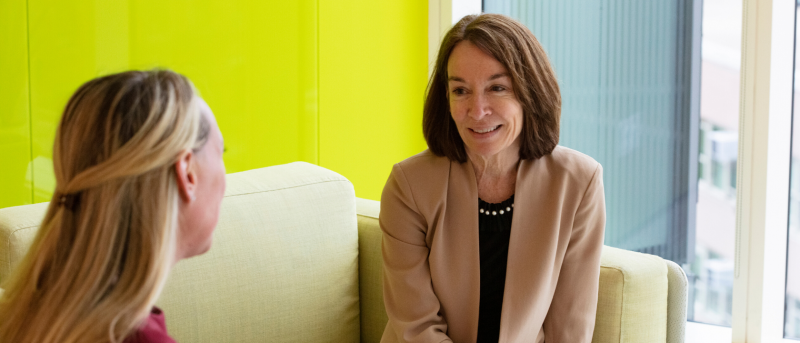 Elizabeth Corwin on the Whys and Hows of Nursing Research
Elizabeth Corwin, PhD has a highly unusual academic background among her nursing peers. Before returning to school to become a nurse and then a nurse practitioner, Corwin was a PhD-holding physiologist. Years of teaching pathophysiology to a broad range of undergraduate and graduate students, she says, cemented a deep understanding of the biology of health and disease that has informed her research ever since. At the same time, her scientific bent is infused with the patient-centric focus that is typical of nurses and is fueled by her dedication to health equity.
"Discrimination and marginalization of any group is one of humanity's greatest faults and losses," she says. "It is what holds us back and contributes to both the human and financial costs that cripple us morally and economically." Corwin, who joined Columbia Nursing in September 2019, believes everyone deserves good health. In her new role as vice dean of strategic and innovative research, she is championing the work of the school's researchers to move toward that goal.
What drew you to Columbia Nursing?
I was attracted to its amazing faculty, who are recognized around the world as among the most innovative and visionary in the nation. Now that I'm here, I am even more impressed by how dedicated everyone is—from students to junior faculty to senior faculty—across the missions of teaching, practice, and service. All the people I've met here are leaders at the top of their game, working to change the world for the better. Our research faculty, doctoral students, and fellows do this through discovery; our clinical faculty and our DNP and MDE students do it through patient care and practice improvement; and all of us do it by educating the next generation of nurses to be extraordinary clinicians and scholars.
What is your vision for the future of Columbia Nursing's research?
First, I want to recognize the incredible research that's been going on here for decades. Earlier this year we celebrated a new milestone: We are now ranked No. 4 in the nation for NIH research funding among schools of nursing in the 2019 federal fiscal year! This is a stunning accomplishment that attests to the dedication and innovation of our research faculty. I am so proud to be a part of this wonderful team.
My vision for the future is that the school, like the city it's in, will continue to attract the most creative and talented and diverse population of faculty, students, fellows, and staff. I want everyone who joins us to feel supported and encouraged to never stop raising the bar, asking complex questions, or looking at old problems—like health disparities—with fresh eyes. At the same time, I hope they will address new problems—like climate change—head on, years before other schools of nursing do so and before it is too late. I also envision that our faculty will expand the entire concept of a nursing school to one that breaks down the traditional barriers that exist between the missions of research, education, and practice. I envision our research grants will include consideration of changes in practice, that our classes will continue to provide the scientific underpinnings for every lesson, and that our students will see patients in the clinic and think about the interventions of the future. In these ways, I see Columbia Nursing leading the nation and even changing the future of nursing, one brilliant idea at a time.
How does the current research happening at Columbia Nursing fit into your long-term vision?
The school has been expanding its research portfolio to include new technologies, approaches, and populations. For example, humans are living longer—and as a result, our research embraces the reality that many people now live long enough to develop the typical diseases of the old, including heart disease, cancer, and Alzheimer's. One of our researchers, Tawandra Rowell-Cunsolo, PhD, is planning to study the symptoms of menopause among older women with HIV/AIDS, something that until recently was unfathomable as a research question. Our faculty are also moving aggressively to develop evidence-based hospital interventions to document and maximize the advantages of providing palliative care to patients and families alike. The bottom line, I like to say, is that there is no research question that any of our faculty can imagine that we, collectively as a school, cannot work to answer. I also tell our faculty, students, and fellows that the minute they get a research idea, a twinkle in their eye, the Office of Scholarship and Research will be with them to move that idea forward. The sky is the limit!
Why is nurse-scientist–led research so important?
Nurse-scientists have a unique perspective on what matters to patients and families, a perspective that is unequaled by those in any other profession. Because of the respect and trust our patients honor us with, we know them both objectively—through their signs and symptoms, X-rays, and labs—and also at a very human level—through the personal details they share with us. As nurses, we never forget why we are doing research or for whom. This ensures that what we do is patient focused and meaningful. And since we are also scientists, the research we do is rigorous, transparent, and reproducible.
Can you tell us a little about your own research?
My research is focused on uncovering the underlying biological pathways that contribute to symptoms of fatigue, depression, and anxiety and to adverse health outcomes across the lifespan. This has led to discoveries related to the contribution of inflammatory peptides to these symptoms and, most significantly, the contribution that chronic stress, including stress related to discrimination and poverty, makes to adverse pregnancy outcomes among African American women. Most recently, my research on health disparities in preterm birth and adverse symptoms among African American women led us to include in our research the contribution of the oral, vaginal, and gut microbiomes to maternal and infant health outcomes.
Can you give us any insights into what this research is showing?
One soon-to-be published article describes the various cultural practices conducted on or by women around the globe that have been demonstrated or hypothesized to affect the vaginal microbiome and thereby influence the risk of preterm birth. These practices range from douching, a relatively common practice in the U.S., especially among African American women, all the way to female genital mutilation, a likewise relatively common practice carried out on millions of women in Africa and other parts of the world. Genital mutilation is associated with chronic infection and, potentially, with alteration of the vaginal microbiome, a connection we are just beginning to study. Another of our recently published papers on pregnant African American women documents that socioeconomic status is one of the primary factors contributing to the difference in the vaginal microbiome—and perhaps the disparity in preterm birth rates—seen between African American and white women. This is a surprising finding that had not been previously considered as affecting the microbiome, but we predict it will be included in all future research on the vaginal microbiome.
Do you have any predictions for research findings we might see in this new decade?
The potential impact of computer learning is vast and fascinating to me. Data generated in a study, or from hospital charts or national databases, can now be analyzed by well-developed computer software programs for pertinent trends and trajectories, making it possible for the computer to accurately predict future outcomes and risks. Columbia Nursing is already actively investigating this area.
Max Topaz, PhD, and Kenrick Cato PhD, have received NIH funding to utilize a natural language algorithm they developed to monitor the health of elderly men and women recently discharged from the hospital and receiving home health care. With this technology, the computer "learns," from the specific words a home health care nurse writes in her nursing notes, whether the homebound patient is likely to suffer an imminent relapse that will put him or her back in the hospital.
We're also leading the way in other important research areas. Tonda Hughes, PhD; Billy Caceres, PhD; and others are leading LGBTQ-related research that will help improve the mental and physical health of this at-risk population. And our health systems researchers lead the nation in their studies about the impact of nursing practice and hospital infrastructure on patient outcomes. These researchers, along with our faculty studying infection prevention, HIV/AIDS, and cancer are changing health-care culture and hospital practices every day.
Lastly, I predict that Columbia Nursing will, within a very short time, lead the nation among schools of nursing in biological and -omic science research, meaning research not only on inflammation and stress, but on genomics, epigenomics, microbiomics, and metabolomics. I am particularly excited that joining us soon will be a new faculty member—Jacquelyn Taylor, PhD, who comes to us from New York University—who studies the biological underpinnings and manifestations of health disparities.