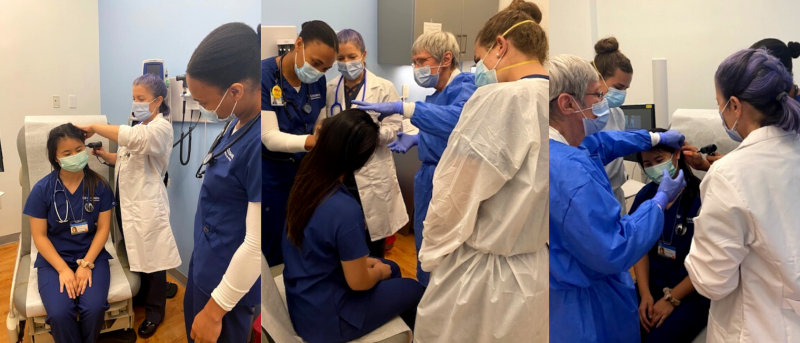 Family Nurse Practitioner Students Learn Alongside Nurse Practitioner Group Providers
This fall, 39 Family Nurse Practitioner students had the opportunity to work directly with nurse practitioners at our ColumbiaDoctors Primary Care Nurse Practitioner Group (NPG) assisting with routine physical exams and meeting regularly with patients. Created in response to the pandemic, the program, which began in September, served as an option for students to fulfill part of their required clinical rotation for the semester. Since then, it has proved to be a valuable, unique experience for students to learn in an entirely nurse practitioner-led environment.
Every Tuesday through Friday, students stepped into the NPG and worked alongside nurse practitioners, Elizabeth Hall, Jane Chaiyasit, Rakiyah Jones, Rachel Drolet, and Ray Gannon, learning how to take a full history and perform physical examinations, through simulation and clinical hours.
Students worked individually with a nurse practitioner to see 1-2 patients per day. FNP student Felita Salim, who worked closely with Drolet, said, "Working with the NPs was a great experience! It's amazing to see a practice run solely by NPs who provide holistic and compassionate care.  The staff was extremely welcoming to us students and encouraged us to participate in the care of patients from well visits, to pain management, and much more."
Not only was this a chance for students to provide hands-on care, but it also allowed them the opportunity to work with underserved populations in Washington Heights.
Stephen Ferrara, Associate Dean of Clinical Affairs, said, "Opening up the practice doors to FNP students has been a great way for them to observe how an NP practice should function—with a holistic approach to health care. Here, we are able to addresses the important aspects of care beyond the clinical scope such as social determinants of health. Our hope is that students leave able to emulate these skills and use them in their future practice."
The first cohort of students concluded their rotation at the NPG in mid-November, but the program will continue into the next semester.