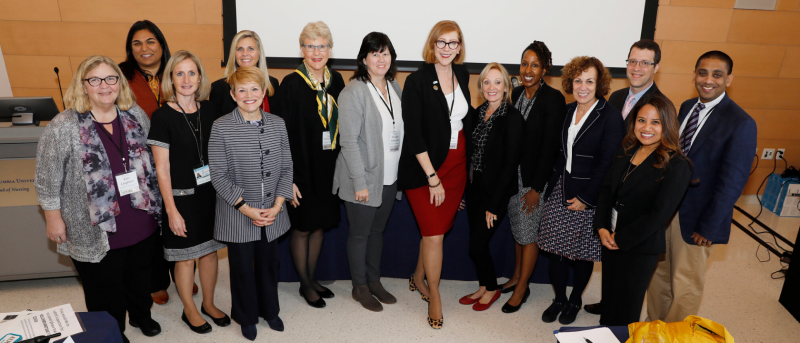 Global Thought Leaders Convene at Columbia Nursing's Second Annual Innovations in Simulation Summit
Simulation is a boon to nursing education, a teaching method for the 21st century that nursing programs are increasingly looking to incorporate, especially as opportunities for direct clinical experiences diminish.
As appreciation for simulation's value in nursing curricula grows, so does the call, echoed at Columbia Nursing's recent Innovations in Simulation Summit, for more research to garner evidence of its clinical benefits, adherence to best practice guidelines, and use of simulation to measure nursing competencies.
The October summit, the second to take place at the school, with major support from the Helene Fuld Health Trust, provides a forum for exchanging thoughts about the benefits of simulation, best practices, and future trends. It featured three panels of experts* in simulation clinical education, in addition to nursing leaders and other health-care simulation experts from across the country and around the world.  "It was a wonderful opportunity for global thought leaders to share their experiences with simulation, and their ideas for taking it to the next level," said Kellie Bryant, DNP, executive director of simulation and assistant professor at Columbia University School of Nursing.
Summit participants overwhelmingly praised simulation for enhancing the quality of nursing education and improving nurses' performance—and confidence—by providing scenarios for practicing real-world clinical skills. David Kessler, MD, vice chair of Innovation & Strategic Initiatives in the department of emergency medicine at Columbia University Irving Medical Center, said that simulation is essential to the patient safety toolbox because it teaches clinicians to assess and mitigate risk, develop resiliency in stressful environments, and work cooperatively. "Simulation serves as a key driver for safety culture," Kessler said. "It trains staff to be curious and open-minded, question assumptions, focus on individual and team performance, and find and solve issues before they impact patients."
Once relegated to teaching with manikins, simulation has evolved tremendously over the years to include, among other things, standardized patients (SPs), who portray the sick and injured, and also undergo training to become "instructors" who teach suturing, conducting physical exams, and give NPs constructive feedback, said Gayle Glivia-McConvey, the founding director of professional skills teaching and assessment at the Sentara Center for Simulation & Immersive Learning at Eastern Virginia Medical School in Norfolk, and creator of the Standardized Patient (SP) Program. "The SP has been re-defined," Glivia-McConvey said. "They will never replace real patient experiences or faculty, but they can fill educational gaps and free faculty to teach higher-level skills."
The latest trend in simulation is the use of virtual and augmented realities, including gaming, which provide nurses with performance feedback in real time, and allow them to chart their progress in mastering skills from one level to the next, explained Susan Forneris, PhD, director of the National League for Nursing Center for Innovation in Education Excellence in Washington, DC. "Teaching with and about emerging innovating technology is the future of nursing education," Forneris said.
As the discussion turned toward the future of simulation, summit participants addressed the importance of its sustainability, specifically, the need for RNs and NPs to be able to transfer its content to clinical settings. "Knowing is not doing," said Janice Palaganas, PhD, director of Educational Innovation and Development, Center for Medical Simulation in Boston, MA. "Education and practice are infinitely intertwined, they can't exist without the other, but the education-to-practice gap still exists and is very vast in health care," Palaganas said. "What we teach is often not sustainable."
Making simulation more sustainable will require a more evidence-based model that mirrors real world practice and meets rigorous standards, said Suzan Kardong-Edgren, PhD, a nurse scientist for Texas Health Resources and the Harris Methodist Ft. Worth Hospital. Noting the integral part that simulation plays in nursing education, Kardong-Edgren emphasized the need for accrediting bodies to make its consistent evaluation mandatory for accreditation. "It's more critical than ever to measure hard skills," she said.
Yet, evaluating program content is not enough to make simulation sustainable, said Tonya Schneidereith, PhD, associate professor at the University of Maryland. Equally important is oversight to ensure adherence to National Council of the State Boards of Nursing (NCSBN) guidelines that promote student—and facilitator—competencies. "We need standards for faculty development," Schneidereith said. "In order to be effective, we have to have consistent content that leads to thorough training in pedagogy. Otherwise we can't reach the outcomes and objectives that we've set for simulation."
Notably, such standards have led to the creation of best practices in facilitating pre-briefing and post-simulation debriefing that could be applied to the traditional clinical pre- and post-conference, said Kim Leighton, PhD, executive director of the ITQAN Clinical Simulation and Innovation Center at Hamad Medical Corporation in Doha, Qatar. She urged clinical faculty to adopt these same best practice standards. "Why are we not taking what we learned in simulation and fundamentally changing nursing education?" Leighton asked. "Accountability of nursing programs to standards of best practice and NCSBN guidelines drives everything," she added. "Being held accountable will help us get funding, develop standards further, help learner outcomes, and improve patient care."
Although there was agreement on the need for greater adherence to standards and stronger faculty development, the experts voiced confidence in simulation education continuing to be an essential tool for educating nurses, improving patient safety and care. Said KT Waxman, DNP, associate professor at the University of San Francisco, "Simulation is a revolution that will continue to have a major impact on nursing education."
*Additional Presenters included: Michelle L. Aebersold, PhD, clinical professor at the University of Michigan School of Nursing; Komal Bajaj, MD, clinical director of New York Health + Hospitals Simulation Center; and, Amar Patel, DHSc, chief learning officer at CAE Healthcare, a global company with offices in the United States, Canada, Germany, and Hungary.
As part of the Helene Fuld Health Trust Simulation Center grant, the Innovations in Simulation Summit will continue annually for the next three years. The outcomes of the first summit is in press in the Clinical Simulation in Nursing Journal. The publication details how simulation in healthcare has advanced over the years, including in research, in simulation-based education, and simulation's impact on patient safety.