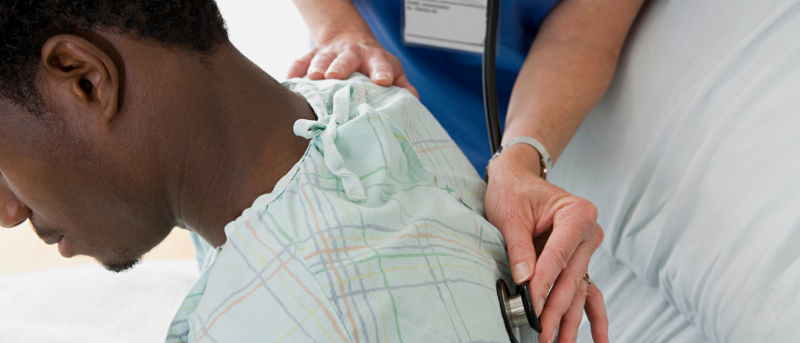 Group-randomized Trial Showed Significant Improvement in Asthma Control Among Urban Black Adults
Compared to whites and Hispanics, Blacks have a higher prevalence of asthma and are about three times as likely to die of the disease. To help address this disparity, a member of the Columbia Nursing faculty conducted a group-randomized longitudinal trial. Designed to assess the effects of a novel shared decision-making intervention, the trial showed a significant improvement in asthma outcomes among the target population. The study's lead author was Maureen George, PhD, an associate professor at Columbia University School of Nursing.

The study, titled "Group-randomized Trial of Tailored Brief Shared Decision-Making to Improve Asthma Control in Urban Black Adults," was published in the Journal of Advanced Nursing on November 29, 2020. It evaluated an intervention called BREATHE (BRief intervention to Evaluate Asthma THErapy) to determine intervention efficacy, as well as feasibility and acceptance. Relative to a comparator group of 40 adults, the 40 BREATHE participants showed significantly better asthma control at every check point during the three-month trial and higher perceived shared decision-making immediately after the intervention visit with their health care provider.

"Based on this study, BREATHE has shown to be a promising, brief, and tailored intervention that can be integrated into office visits, with clinicians as interventionists," says George. "We believe BREATHE is particularly useful because it's a pragmatic, shared decision-making approach to improving asthma outcomes in a population that experiences marked health disparities."

According to the study abstract, the approach "addressed the important problem of uncontrolled asthma in a high-risk vulnerable population. Compared to the dose-matched attention control condition, participants receiving the novel shared decision-making intervention had significant improvements in asthma outcomes and greater perceived engagement in shared decision-making. Brief interventions integrated into office visits and delivered by clinicians may offer a pragmatic approach to narrowing health disparity gaps." 
Forging a "real-world" approach to better adherence
"Using the patient's own clinician as the interventionist has the added benefit of keeping the patient apprised of the challenges in asthma management," the study pointed out. "This intervention can serve as a template for other patient populations who may be experiencing similar challenges."
The study authors suggested that future studies examine the mechanisms by which brief interventions like BREATHE strengthen shared decision-making and encourage patients to be more proactive in adhering to their clinicians' treatment recommendations. This understanding could help other health-care team members, such as office nurses and social workers, assume the role of shared decision-making interventionists for vulnerable patient populations.
"This trial provides early evidence that supports a real-world approach to sustaining and building capacity to meet the needs of an underserved population," the study concluded.
The challenge of treating asthma
Asthma, one of the most common chronic illnesses, affects about 339 million individuals worldwide; an estimated 15 million disability-adjusted life-years are lost due to the disease. In the United States, asthma affects 19 million adults—with those living below the poverty level having a higher asthma prevalence than those above it.
About Maureen George, PhD
Maureen George, PhD, is an associate professor of Nursing at Columbia University School of Nursing.  She has worked as an advanced practice nurse specializing in lung disease since 1986 and as a certified asthma educator since 2002. This shared decision-making intervention study is part of a broader program of research that uses innovative qualitative approaches to inform the design, testing, and evaluation of behavioral interventions to reduce health inequities in vulnerable pediatric and adult populations with chronic respiratory diseases.