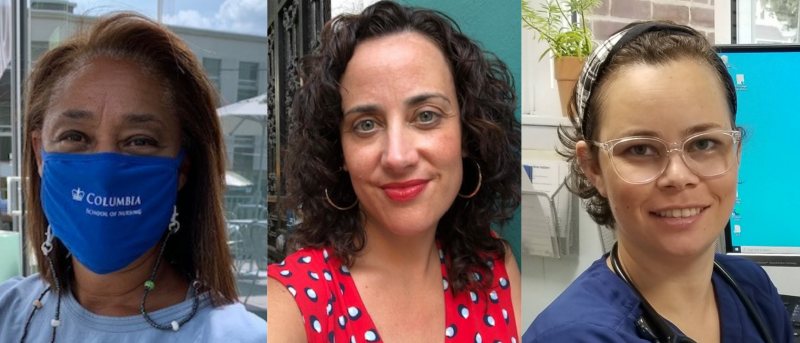 National Hispanic Heritage Month is held Sept. 15-Oct. 15, to coincide with the independence days of Guatemala, Honduras, Nicaragua, El Salvador, Costa Rica, Mexico, and Chile, as well as Columbus Day/Dia de la Raza.  To celebrate our nation's amazingly diverse Hispanic/Latinx population, Columbia Nursing alumni, faculty, and students offer advice for future nurses with Hispanic/Latinx roots and speak about the central role of health equity in their own careers.
Faculty
"As a mother and a scientist, I believe that a person's health throughout their lifespan, not only during pregnancy, is key to healthy kids and families.  
My work centers around understanding health inequities in pregnancy and birth outcomes, with a focus on women from communities of color. My doctoral study focused on how acculturation was associated with adverse birth outcomes in Puerto Rican women, and we found that first-generation Puerto Rican women had worse birth outcomes than those who had been here two or more generations.  
This work demonstrates the need to understand how culture and society influence health care, and that Latinos are not a homogeneous group.  
It's important to have scientists that reflect the communities we serve so that we can ensure adequate representation in research study recruitment, and develop research questions that are relevant and important to our communities."
Alumnus
Rose Rodriguez MS '06
"I'm proud to represent Latinx Pediatric Nurse Practitioners, who are nurse leaders before, during, and beyond the pandemic crisis. We strive to deliver equitable health care and address disparities that still exist in our communities.  
Some of my Hispanic patients refer to me as 'doctora' because they know I am knowledgeable, skilled, and certified in pediatric heart failure and transplantation and proficient in Spanish. Now I'm in a DNP program. Soon they'll refer to me as their nurse practitioner, 'Doctora Rodriguez!'
My advice for the next generation of Hispanic and Latinx nurses is to remember that your value for family, community, and culture will inspire you to be the best clinicians, bringing knowledge, science, and clinical scholarship to the bedside of every patient you care for. Make a difference by giving back to our communities in the most trusted profession--nursing."
Student
DNP Student Julia Barbosa
"As a nurse with Latino origin I feel that I tend to be more sensitive to the needs and particularities of other cultures and people in general. My heritage stimulates my interest in becoming more familiar with different values, traditions, and any other characteristics that make human beings unique.
My advice to the future generation of Latino nurses is to embrace your heritage and be proud of it!"