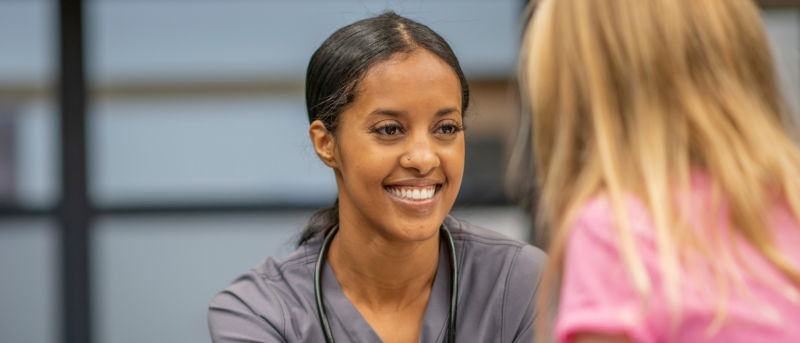 How School Nurses, Positive School Climate Can Support LGBTQ Adolescents
Third-year PhD student April Ancheta recently spoke with The Journal of School Nursing about her manuscript, The Impact of Positive School Climate on Suicidality and Mental Health Among LGBTQ Adolescents: A Systematic Review, published in the journal in April 2021. Ancheta is a predoctoral fellow in the Program for the Study of LBGT Health, a Jonas Nurse Scholar, and an NIH/NINR Ruth L. Kirschstein Predoctoral Research Fellow.   
How did you decide to pursue a PhD? 
I really loved nursing school, but during undergrad I was also strongly interested in public health and public policy, especially in how they affect the LGBTQ community. Always wanting to continue my learning and understanding of the healthcare needs of the LGBTQ population, after nearly one year of working at the bedside as a med-surg nurse, I attended two events that helped shape my decision to go for the PhD.
One was a New Jersey Public Health Nursing Summit event on the healthcare needs of the LGBT community. The other was an LGBTQ Health Disparities event hosted by a faculty at the National Student Nurses' Association Convention. I mention these two organizations because I always want to give credit to those that have helped shape my own professional development as a nurse. I think it's highly important to get involved with local and professional organizations! 
After attending these events, I was left floored—almost star struck. Who were these people giving these presentations, how were they so knowledgeable, and how do I become knowledgeable like them? They were doing the work to increase health equity and decrease disparities for LGBTQ populations. I wanted to work with them, but much to my chagrin, after explicitly asking if I could—in some capacity as a research assistant—they both said, "I am sorry. I am not a researcher. I am DNP-prepared and a clinician. If you want to conduct research and truly expand your knowledge of these populations, you need to pursue a PhD." And so I did. 
Do you have any advice for school nurses on deciding whether to return for a doctorate? 
I can only speak specifically for the PhD and not the DNP, but I would say if a school nurse is interested in pursuing a PhD, I wholeheartedly think that your personal experiences caring for students in schools are so tremendously valuable and would only serve you for the best when formulating research questions. In fact, I am sure your experience would be one of the hottest commodities.  
More broadly, I would say that as a clinician you can help hundreds of patients at the individual level. And I have always found that individualized and personalized care so deeply valuable and impactful. I still practice as a bedside nurse to this day. But as a researcher, you can help even more people by working to change systems and influence policy and really see community-level change. 
Through your education, you gain the skills, learn the methods, gather the tools you need to ask a research question, and properly answer it. How cool is that? I think that sounds pretty cool. 
How did you first become interested in the mental health of LBGTQ adolescents?  
I am not a pediatric nurse, but I do have experience working with adolescents through my research assistant intervention work to help improve sleep hygiene among urban adolescents, and I have experience teaching. Further, I have always found the intersections of the classroom, school, and health to be very, very interesting. Hence why I'm probably studying school climate now! 
But to answer your question about how I became interested in the mental health of LGBTQ adolescents —the mental health of LGBTQ adolescents is one of the areas where we see the most jarring disparities for this population. LGB students are 2.92 times more likely to report suicidality (or suicidal ideation, suicide plans, and suicide attempts) than their heterosexual peers. They are also 2.1 times more likely to be bullied at school. Accordingly, Healthy People 2030 has declared reducing the bullying of LGBTQ high school students a primary objective. 
Many of these disparities can be attributed to what researchers call minority stress, the extra-stressful experiences people from marginalized communities experience above and beyond the normal daily stressors due to stigma and discrimination. LGBTQ adolescents can encounter minority stress in many situations, including not being able to use a bathroom that corresponds to their gender identity and being picked on and bullied for their sexual orientation or gender identity, not only by peers, but by teachers and administrators as well. 
Minority stress can also manifest itself at the policy level. Believe it or not, some states have anti-bullying policies that prevent schools from adding protections for LGBTQ adolescents. Protections at the state level matter, because they can trickle down to the district level.  
These adolescents can encounter so much at the interpersonal and school levels that can adversely affect their mental health. Therefore I believe it is imperative that school nurses help to advocate for change to help improve mental health through school climate. 
I noticed in your literature review you discuss positive school climate and positive climate for LBGTQ students. Tell us more about that. 
I love this question because I think this where our paper adds nuance to the discussion of a general positive school climate vs. a positive school climate for LGBTQ students. Let's first talk about what school climate is. School climate is popularly defined as "the quality and character of school life." As plain and simple as that!  
School climate is based on four overlapping entities: 
Teaching and learning (the basis for schools) 
Interpersonal relationships (not only peer-to-peer relationships, but student-to-teacher relationships and student-to-school nurse relationships) 
Safety (students want to feel protected while they're at school), and 
Institutional environment 
Characteristics of a positive school climate include:  
Positive student-teacher relationships. 
School connectedness. 
Opportunities for student engagement. 
Adequate academic support and satisfaction. 
Positive social and physical environments. 
A positive LGBTQ-specific school climate is one that: 
Has supportive staff, teachers, and nurses who provide a sense of safety and support for LGBTQ students. 
Promotes student empowerment and visibility through gender-sexuality alliances and inclusive curricula. (Students want to see themselves in history books and have common class examples given in English class that feature same-sex couples and gender non-binary individuals). 
Requires staff to learn about LGBTQ topics as part of their professional development. 
Has staff that intervene when sexual orientation and gender identity-based harassment occur. 
Does not police what students wear to school to see if it "justly" aligns with the school's perception of the student's gender identity. 
A general positive school climate is highly important for the mental and physical health and wellbeing of all adolescents. But if we circle back to this concept of minority stress, these stressors above and beyond the normal stressors of everyday life, we can see that these individuals may need special protections, and that's where an LGBTQ-specific school climate comes in. These considerations are really important for these students. The research bears that out. 
At the systems policy level, how can school nurses influence school climate to create a healthier environment for LBGTQ students?   
I truly believe that school nurses are in a unique position to serve as confidants for students who are targets of stigma, as they view school nurses as outside the traditional academic system. They're not teachers, they're not administrators, they're not principals. They're someone you go to when you're feeling sick or unwell, to get your medications. They're inherently people you trust. School nurses can leverage their unique role within schools by advocating for more professional development opportunities to increase knowledge about LGBTQ issues. If your school is unable to offer such professional development resources, there are many resources online that provide high quality information. I strongly recommend reading resources from the Fenway Institute, a center for research and education on LGBTQ health with headquarters in Boston.  
Also, something school nurses can control—building a culture of inclusivity within physical spaces! A rainbow or safe zone sticker on your door or inside the walls of your office goes a long way in showing explicit, outward support for your LGBTQ students and their allies. And research shows that provider trust significantly increases if the patient can sense from the physical environment that this office cares about them and values their identity and experiences. 
School nurses can also work with counselors and teachers to ensure that school policies create a sense of safety and support by including specific language that protects these adolescents. Lastly school nurses can practice and promote student confidentiality and ensure the privacy of the students they treat and serve. This is of utmost importance. 
Listen to the full interview with The Journal of School Nursing.