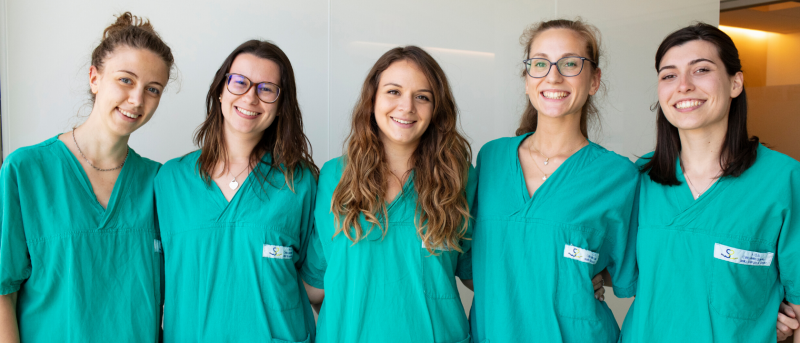 Italian Exchange Students Share Their Experience At Columbia Nursing
Despite Cultural and Health System Differences, the Emphasis is Always on the Patient
Despite Cultural and Health System Differences, the Emphasis is Always on the Patient
This summer, five pediatric nursing students from Italy's University of Turin participated in a two-month exchange program with Columbia Nursing to learn about U.S. nursing education and practice within the context of the American health care system, while also enjoying life in New York City. The experience included a robust program with a combination of didactic courses, such as nursing research and professional issues, as well as nursing simulations aimed at the advanced practice role of the pediatric nurse practitioner at the school of nursing.
This was enhanced with an immersion experience in the reality of practice. Students rotated through pediatric units at NewYork-Presbyterian Morgan Stanley Children's Hospital, observing comprehensive nursing care activities, participating in meetings and patient debriefs, as well as engaging in complementary therapeutic interventions, such as child life and play therapy.
The students shared their experience with faculty and staff at Columbia Nursing during a formal presentation at the school, providing information about nursing in Italy while also speaking to the similarities they observed in the U.S. health care system. Above all, they stressed that patient care and well-being are always at the center of the Italian health care system, a principle which Columbia Nursing champions and practices.
"During my time at the school and NewYork-Presbyterian Morgan Stanley Children's Hospital, I realized that, as nurses, regardless of nationality, we are all motivated by a common goal—what is good for children and families," said Deborah Rosso Pognant, one of the Italian exchange students. "Providing care and alleviating physical and emotional distress is the universal calling of our profession. As competent, knowledgeable, skilled pediatric nurses, our work also comes from the heart, which I observed firsthand here."
Italian National Health Care System
During their presentation, the students gave a broad overview of the Italian National Health Care System, explaining how it is funded and how care is delivered. The central Italian government works with its regional counterparts to determine an appropriate allocation of funds based on each region's population, and to ensure that a uniform standard of health care is being provided throughout Italy. After the funds are allocated, each region disburses the funding to its municipalities, so that clinicians can render care to patients at the primary, specialist, and emergency care levels.
"In Italy, we ensure that everyone receives care, particularly children and infants, at whatever level they need, and what struck me the most here was that same emphasis on children. The attention paid to a child's discomfort or potential pain—something that can be underestimated but is critically important to address—is just as important in the U. S. as in Italy," said Anna Fracchia, another of the exchange students. "I would not have been able to experience and understand how our realities are different yet the same" without the exchange program."
Nursing Education in Italy
In addition, the students spoke about the educational component. Those wishing to enter the nursing profession must first take a selective entrance exam. Passing applicants then enter college and choose to become pediatric or adult nurses or midwives. Baccalaureate nursing programs include didactic and clinical elements, and a thesis submission with defense, followed by a licensing examination. After passing the examination, new nurses can start work, enter a master's program, or pursue a first-level certification in a specialty. Nurses holding a master's degree can deepen their education by obtaining a second-level certification in a specialty or by pursuing a research doctorate.
"It was a privilege to work with a cohort of global students while they were away from their own health care reality and 'in our backyard'," said Lisa Iannacci-Manasia, '77 '89, MS, instructor, who was the Italian exchange students' preceptor and is a visiting professor at the University of Turin. "A key learning the students took away from their experience is that simply having resources to deliver care isn't sufficient to deliver the best care. Rather, care is driven by the values that leadership and individuals practicing within a health care system promote and embody, which should be excellence, patient-centric, emphasizing holistic care and aiming for health equity and access."