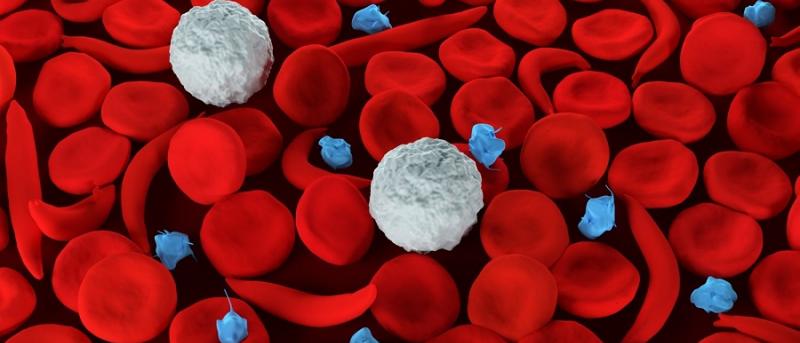 It's "National Sickle Cell Awareness Month": New Columbia Nursing Study Shows How Community Health Workers May Improve Quality of Life for Youths' with the Disease
September is "National Sickle Cell Awareness Month." The observance, unanimously passed by Congressional resolution in 1983, was endorsed through presidential proclamation, which spoke to the national progress that had been made to diagnose and treat sickle cell disease (SCD). The proclamation also cited the success of Comprehensive Sickle-Cell Centers across the United States in establishing programs of research, training, and community service to address SCD, a blood disorder causing abnormalities in hemoglobin, leading to the telltale sickle shape in sufferers' red-blood cells.
Research, in particular, was a focal point of the proclamation, both for its advances, and the urgent need for more: "In the past decade, there has been substantial progress in research on sickle-cell disease. Diagnostic procedures have been greatly improved. Measures to ameliorate […] excruciatingly painful sickle-cell crises have been introduced for those afflicted with the disease. [….] […] [However][,] more remains to be done to conquer this serious health problem."
New research from Columbia Nursing and the department of pediatrics, Columbia University Irving Medical Center (CUIMC), published in The Journal of Pediatrics, has found that community health workers (CHWs), although perhaps not able to conquer SCD—an inherited condition that affects approximately 100,000 Americans, most of whom are African-American and Latino—may be able to help youths afflicted with the disease live better, happier, healthier lives. Management of SCD is best achieved during adolescence, when youths may be prescribed hydroxyurea, the first U.S. Food and Drug Administration-approved drug for sickle cell therapy. According to the study, youths with SCD who received disease management support from a CHW reported greater improvements in hydroxyurea adherence and health-related quality of life (HrQL) domains, especially relating to emotions, worry, and communication, than those who did not receive such support.
In addition to focusing on barriers to daily hydroxyurea use, the HABIT (Hydroxyurea Adherence for Personal Best in Sickle Cell Treatment) study underscored the importance of improving parent-youth partnerships, in this context termed "dyads," in disease self-management. Many studies have shown that for youths with chronic health conditions, such as SCD, adolescent-parent conflict is a contributor to nonadherence, stemming from either the parent's difficulty delegating responsibility of self-care to the adolescent or the adolescent's perception of a lack of parental support.
Arlene Smaldone, PhD, professor and assistant dean of scholarship and research, Nancy Green, MD, and co-investigators conducted the six-month randomized controlled trial to test the feasibility and acceptability of a CHW intervention. The intervention involved CHW home visits and text messaging designed to improve youths' quality of life, their partnership with their parents in managing the disease, and their hydroxyurea adherence. Although hydroxyurea reduces hospitalization and enhances quality of life in youths with SCD, it is underused, possibly because, as Smaldone noted, "treatment adherence often deteriorates during adolescence, as youths assume greater responsibility for their self-care." Thus, parental support is critical as adolescents learn to manage their illness, she stressed.  
Investigators randomized youth-parent dyads to intervention or control groups. Both groups attended seven monthly clinic visits, during which they received clinical care and educational handouts about SCD and hydroxyurea therapy. Only intervention dyads received monthly CHW home visits, during which the CHWs and youth-parent dyads discussed critical social issues, including barriers to hydroxyurea use and strategies for overcoming them. CHWs also helped intervention dyads develop text-message language in their native Spanish or English to remind them to take hydroxyurea daily. Texts replaced CHW visits by the study's fourth month.
Overall, 28 youth-parent dyads participated in the study, with 18 in the intervention group and 10 in the control group. Half were Hispanic, and the youths' mean age was 14 years. Compared with controls, intervention youths reported less worry about pain and the need for hospitalization or emergency room visits. They also reported less anger about having SCD; less difficulty talking to others, including health professionals, about their emotions; and improvement in all disease-specific HrQL scores, such as pain impact, compared with controls, whose scores remained stable or declined.
In the intervention group, youth-parent concordance over disease self-management improved slightly at three months but dissipated by six months, when text-message reminders had replaced CHW support. Nevertheless, Smaldone concluded, "the HABIT intervention is feasible, acceptable to parents and youth, and shows promise in improving psychosocial domains of both generic and disease-specific HrQL, as well as dyad concordance regarding self-management tasks."
The HABIT study, funded by a grant from the National Institute of Nursing Research (NINR) at the National Institutes of Health, was so successful that the NINR chose to fund a larger four-site randomized controlled trial to test the intervention's efficacy. And, although the HABIT intervention may not be a cure for SCD, it moves research, and its ability to help patients, one step forward, reaffirming Columbia Nursing's commitment to reducing the burden of chronic diseases, such as SCD, bringing hope during "National Sickle Cell Awareness Month."