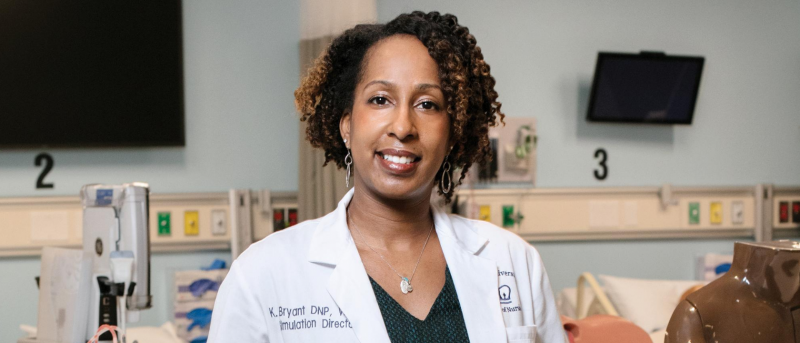 Kellie Bryant Recognized as One of Crain's "Notable in Health Care"
Kellie Bryant, DNP, Assistant Professor and Executive Director of the Helene Fuld Health Trust Simulation Center, was selected as one of Crain's New York Business "Notable in Health Care."  
Now in its third year, Crain's Notable in Health Care recognizes men, women, and small teams who have made significant contributions to the health care community in the New York metropolitan area, and most especially during the pandemic.  
Bryant has continued to prove that she is an exemplary nurse leader through her commitment to the School of Nursing, but most recently, as she stood front and center in wake of the pandemic and anti-racism movement. Bryant was able to mobilize the donation of voluminous amounts of PPE from the simulation center to NewYork-Presbyterian Hospital, and then used simulation to train nurses redeployed from other units in the hospital to treat COVID patients and to train students preparing to serve as nurse technicians. 
In her free time, Bryant serves as the faculty advisor for Columbia's student chapter of the National Black Nurses Association (NBNA). She actively mentors students and is a concerted role model for minority nursing students. She is also recording secretary and scholarship and awards chair for the NBNA's Greater New York City chapter and helps to organize protest marches so health care workers can advocate for social justice. 
Dean Frazier said of Bryant's nomination: "Since the pandemic hit, Bryant has been one of the most visible faces at Columbia Nursing—every day, she is here to lend her expertise, her leadership, and her service. She has been critical to helping our students serve to their fullest potential during the pandemic." She added, "And despite the incredible pressures and demands on her from all quarters, she has also found the time to advocate for social justice, even marching with students in protests on weekends."