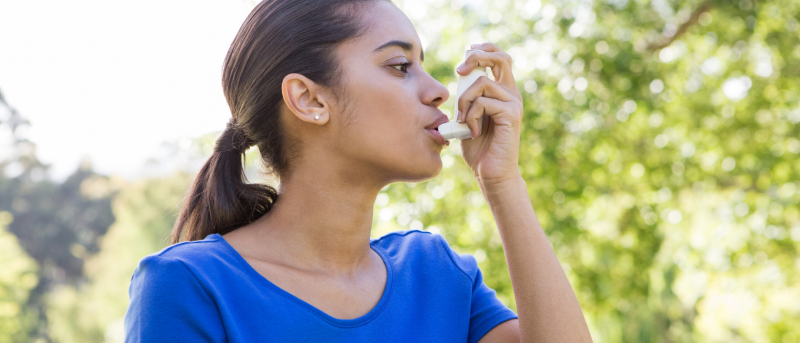 Latino and Black Urban Teens at Lower Risk of Going Undiagnosed with Asthma than Whites
New research has found that despite known disparities and health care shortages among low-income Latino and African American urban adolescents, these groups were at lower risk to go undiagnosed compared with whites.
The research also revealed that Asian Americans and females are more likely to not receive an asthma diagnosis. In addition, study findings highlighted that undiagnosed asthma may be nearly twice as prevalent as diagnosed asthma in urban adolescents overall.
Asthma is the most common chronic pediatric illness and, when uncontrolled, contributes significantly to morbidity. It also can result in reduced physical activity, higher school absenteeism, a reduced quality of life, and an increased risk for other diseases and disorders, such as obesity and depression. Accordingly, accurate and timely diagnosis is essential to negating these effects on adolescent health.
The study, "Individual and Neighborhood Factors Associated with Undiagnosed Asthma in a Large Cohort of Urban Adolescents," was published in the Journal of Urban Health. Jean-Marie Bruzzese, PhD, Associate Professor of Applied Developmental Psychology (in Nursing) at Columbia University School of Nursing, along with other researchers, aimed to identify risk factors for adolescents going undiagnosed with asthma.
"This is the first study to investigate individual level and neighborhood level factors associated with undiagnosed asthma in a large cohort of urban adolescents," said Bruzzese, co-lead author and the study's principal investigator. "Our findings showed that quite a large proportion of adolescents went without a diagnosis of asthma despite symptoms. We need to become better at identifying risk factors for adolescents with undiagnosed asthma in order to ensure they can be treated."
The study authors' hypothesized risk factors included: (1) being female, (2) being Latino or African American, (3) living in neighborhoods with low education statuses, (4) living in neighborhoods with higher concentrations of Latinos or African Americans relative to whites, and (5) living in neighborhoods with a lack of primary care access. 
Between 2008 and 2012, 33,596 students from 44 New York City public schools completed surveys to assess whether they had ever been diagnosed with asthma and whether they were experiencing asthma symptoms. Approximately 45 percent of the students surveyed were Latino and about 31 percent were African American. Their mean age was nearly 16.
Inclusion criteria for this study were: (1) reporting symptoms consistent with asthma but not having a diagnosis; or (2) reporting having a diagnosis of asthma, regardless of current symptoms. This resulted in a study sample size of 10,295.
Key findings and interpretations:
Just over 20 percent of adolescents reported having symptoms consistent with asthma, but not having ever been diagnosed, which was twice that of those who reported being diagnosed with asthma.

Compared with whites, Asian American adolescents were 41 percent more likely to being symptomatic but undiagnosed.

Contrastingly, Latinos and African Americans were 33 percent and 34 percent less likely to be undiagnosed, respectively. 

Compared with males, females were 25 percent more likely to be undiagnosed.

Living in a neighborhood deemed a health care provider shortage area was associated with a 29 percent lower risk of being undiagnosed.

Given the known asthma disparities among Latino and African American youth, health care providers may have been more likely to assess Latinos and African Americans adolescents for asthma, leading to fewer undiagnosed cases when compared with Asian Americans or whites.

Easy access to extensive public transportation systems, such as in large cities, may have contributed to the lower odds of Latinos and African Americans with undiagnosed asthma
The research was funded by the National Institutes of Health.
Researchers at Columbia University School of Nursing, Dickinson College, and Columbia University Mailman School of Public Health collaborated on the study. Additional authors include: Katherine A. Falletta, MPH; Emilie Bruzelius, MPH; and Lusine Poghosyan, PhD.