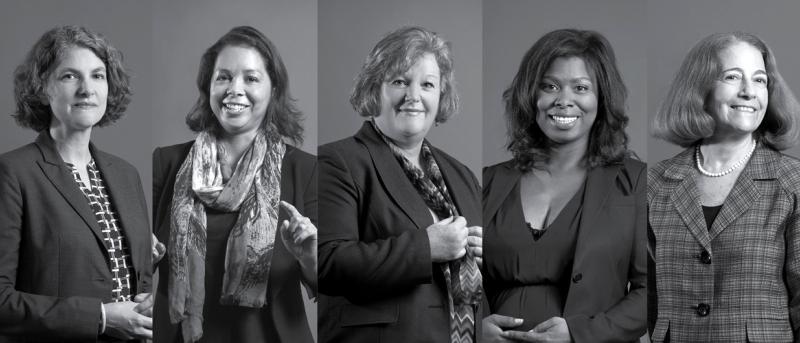 Leading Lights: Change Agents for Nursing's Future
Columbia Nursing Alumni Excel at the Bedside and Far Beyond
*This article originally appeared in the Fall/Winter 2015 issue of Columbia Nursing magazine.
Where can a nursing education take you? For Columbia Nursing graduates the answer has long been "as far as you want to go." Having participated in innovative programs in clinical nursing, research, and informatics, as well as taking advantage of opportunities to earn advanced degrees in public health, policy, and business, Columbia nurses are pursuing careers in a diverse array of fields.
In this article, we profile five extraordinary alumnae who have built successful careers in government, hospital leadership, research, nursing education, and advanced clinical practice. For these five women, nursing education has been a springboard to opportunity, allowing each to follow her unique passion and trajectory.
As one of the nurse leaders put it, "Nurses are so many things: they are patient advocates, they deliver care, they are leaders, and they have made a huge impact in health care, business, and policy."
The Government Official
Sally Dreslin '94
Executive Deputy Commissioner, New York State Department of Health
For Sally (Rogin) Dreslin '94, serving as executive deputy commissioner of the New York State Department of Health often demands many of the same skills as working in a busy hospital emergency department, which she once did. Overseeing individuals and departments responsible for such major state programs as Medicaid, public health, health systems management, and quality and safety is "a very challenging, exciting position, and it's important to be able to juggle corresponding crises and major policy initiatives, and negotiate with multiple stakeholders," she said.
Many of Dreslin's most important management skills—promoting teamwork, encouraging open communication, and prioritizing—were developed two decades ago during her nursing education and training at Columbia Nursing and in her early days in the ER. "You don't need clinical skills to do this job, but it definitely helps to have the ability to understand how our policies and proposals impact people at the ground level—patients, families, and the health care workforce."
Her experience as a practitioner also gives Dreslin credibility with the nursing staff in the department, many of whom also know how hard she fought to help pass the Nurse Practitioner Modernization Act—state legislation that allows advanced practice nurses in New York to work at the top of their license without a collaborative physician.
Another holdover from her nursing days is having "a thick skin," said Dreslin. "Health care situations are stressful; the patient and family are often in crisis and not always on their best behavior. They may, at times, be confrontational or even verbally abusive, and you have to remain calm and understand the fear and stress they're experiencing. These traits come in handy now in the heat of policy skirmishes and similarly demanding situations," she said.
When she started clinical nursing in 1994 at St. Vincent's Medical Center in New York City—the epicenter of the AIDS crisis—there were few treatments to offer the HIV-positive patients she cared for. Now Dreslin helps develop policies and implement programs for that very same population. She is also involved in the state's Medicaid redesign efforts, responsible for enacting reforms that lead to improved health and better cost control at a time when the program is expanding to cover more New Yorkers. "You do good work wherever you are as a nurse," said Dreslin. "Working for the state, your touch is just much broader."
The Researcher
Oliva Velez '06 '11
Executive Director, HealthEnabled Capetown, South Africa
Olivia Velez '06 '11 took an unconventional route to nursing. After graduating with an undergraduate degree in computer science, she spent eight years designing software for use in health care settings. Her job required her to "spend thousands of hours shadowing nurses, doctors, and midwives" to better understand how clinicians interact with patients and use electronic health records. Becoming disenchanted with simply doing programming but without a clear goal for the future, Velez describes herself as "going into nursing kind of on a whim." That whim turned out to be life-altering. Earlier this year, she moved her family to Capetown, South Africa, where she is now executive director of HealthEnabled, a new nonprofit organization that works with government and NGO partners to develop digital health initiatives in South Africa and other low- and middle-income countries.
Her first step in starting her new career, enrolling in Columbia Nursing's Entry to Practice program, introduced Velez to the clinical practice of nursing and also to what she calls "really the best health informatics program anywhere." She went on to earn a master's degree from the Mailman School of Public Health and a PhD in health informatics, focusing on the use of phones and mobile devices to improve the health of mothers and infants.
At HealthEnabled, Velez is working to design and promote mobile health applications for use at the national level. For example, the group is part of a team supporting the rollout of South Africa's MomConnect program, a government initiative to register all pregnant women in the country and provide them with stage-based messages about pregnancy, birth, and care of an infant. As in much of Africa, cellphones are widespread—some 93 percent of South Africa's population has access to one, even in remote areas far from hospitals and clinics. The women are registered by health care workers and then receive text messages for the remainder of their pregnancy and for the first year of their child's life.
Having a PhD in nursing research and a background in informatics has been a great advantage for Velez. "I definitely have a different perspective from the other people I tend to work with on a daily basis," she said. "They are either super-techie or public health people with no technical background." So if busy clinicians resist the mobile health approach because they think the technology won't work or the system will be too time-consuming, Velez tells them, "'I am a nurse, I know what your day-to-day job is like. I know how to deliver a baby and care for patients.' When you come in as a software developer you don't have that experience."
Velez says that Columbia Nursing gave her strong leadership skills and helped foster an interdisciplinary approach to tackling complex global health problems. For her, "Columbia Nursing was all about 'you're never just a nurse, you're a leader, an advocate, you have to be in the political space at all times, you have to be in the research space at all times.'" By combining her skills in nursing, public health, and digital technology, Velez is advancing health care for women and children throughout the developing world.
The Hospital Executive
Janet Ready '81
President, University Medical Center of Princeton
Janet (Cook) Ready '81 is the first nurse to serve as president of the University Medical Center of Princeton in Plainsboro, New Jersey. She is also the first woman to hold the position since the hospital's founding 96 years ago.
Ready leads the senior management team, oversees patient care services, and is responsible for maintaining the medical center's high level of clinical quality and keeping it fiscally sound. Ready, who holds MBA and MPH degrees from Columbia University, as well as her nursing degree, said, "I have to give credit to Columbia Nursing for teaching me how to think critically, work autonomously, and not be afraid of failing."
Overseeing strategy and operations, Ready is responsible for advancing innovations in care delivery and introducing new services, such as a neonatal unit that can care for premature babies born as young as 28 weeks, sophisticated robotic surgery capabilities, and a center for pelvic wellness. True to her background, Ready is dedicated to making University Medical Center more "patient-centric" by better managing care transitions— transitions— from hospital to home, for example—and care coordination between inpatient providers and primary care practices. The institution also aims to be responsive to the broader community's needs by operating a clinic for indigent patients who live in the area.
In her three decades as a hospital executive—with a six-year stint operating a large physician practice—Ready has found that when the going gets tough, she is quick to fall back on her basic nurse training. In December there was a sudden surge in patient volume. A few heads turned when Ready came down to assist with patient flow. "The staff was not accustomed to seeing the hospital president in the nursing office and they responded very well to that."
When it comes to designing a business strategy for the medical center, Ready's decisions are made from a nursing perspective. "My approach is to invest in a culture of patient safety, staff excellence, and great care delivery," she said. "If you can deliver quality outcomes, have the right staffing model, and maintain and advance patient safety, you will have a good financial outcome."
The Primary Care Leader
Marlissa Belay '97 '00
Founder NP Associates
Marlissa Belay '97 '00 is a dedicated nurse practitioner immersed in what she calls the "art and science" of clinical practice. But Belay also possessea a savvy business sense that is breaking new ground for nurse entrepreneurs.
In 2007 she developed a new approach that uses nurse practitioners to provide daily, on-site primary medical care for residents of long term care facilities. The idea was to supplement the weekly or monthly visits physicians usually make to these centers, and manage emerging health issues before they require distressing and costly transfers to the hospital. Now, eight years later, Belay—who earned an MS in the adult-gerontology nurse practitioner program at Columbia Nursing—and two other NPs provide primary care for hundreds of residents of three long-term care facilities in New Jersey.
Her model has won acceptance from insurers, nursing homes, and patient advocates alike. Last year Belay added a new venture to her repertoire: She opened a private primary care practice in Montclair, New Jersey—one of only a few headed by a nurse practitioner in the physician-heavy state. "We're going to see a lot more of this," said Belay of nurse practitioners setting up shop in the community.
Belay believes she is filling a "huge unmet need" for primary care among the underserved population living in the area—especially residents of nearby Newark. She accepts Medicaid and also welcomes uninsured or under-insured patients. "To see a doctor right now is expensive, especially for people paying out of pocket. A typical physician visit is $125 for a new patient," said Belay. "I charge $60 and offer a sliding scale for those who can't afford to pay."
Belay puts an emphasis on understanding the social and emotional sides of her patients along with addressing their physical health needs. She schedules an hour for each patient's first visit. "I want to know about your social history, I want to know about your family support system, and I want to know about your diet, what you eat for breakfast, lunch, and dinner," she said.
The confidence to go it alone came after several years of working in long-term care and on a surgical floor at Hackensack University Medical Center. "I learned so much about medicine from the surgeons and the other doctors," said Belay. "I just sucked it up until I felt that I wanted more, that I had outgrown the job." She tries to teach the NPs she works with to think independently and realize that they are capable of working without a physician "looking over their shoulder." She added, "What I feel most proud of is that I am building the profession by teaching my NPs to develop a sense of entrepreneurship and envision setting up their own practice someday."
The Academic Leader
Judy Honig 
Associate Dean for Academic and Student Affairs
Judy Honig, associate dean for academic and student affairs at Columbia Nursing and pediatric nurse practitioner, calls herself a "lifelong learner." She has an impressive collection of degrees that attest to her dedication to educational advancement: She is a registered nurse, certified pediatric nurse practitioner, and pediatric primary care mental-health specialist, and has two doctorates, one in nursing practice and one in education. "I think I got a new degree every five years," she said only half-joking.
Still, Honig felt that something was missing. Ultimately, it came to her: a doctoral degree for nurses like herself who weren't interested in becoming hospital administrators, health policy experts, or researchers but instead wanted to attain the highest level of expertise in clinical practice. "Clinical practice is what centers me, it's the reason I went into nursing," said Honig. "Had there been an option for a clinical doctorate, I would have taken it."
That Columbia Nursing now offers such an option is due in no small part to Honig's commitment and passion. She played an integral part in the design and implementation of the school's doctor of nursing practice (DNP) degree. And she served on two national task forces charged with defining the essential competencies for graduates of a clinical doctoral program.
Columbia Nursing admitted its inaugural class of 20 nurse practitioners into the DNP degree program in 2004—the first such program in New York and one of only a handful in the nation. "It took a long time for us to get members of the university's senate to understand our program because it was a degree no one had ever heard of," said Honig. Although the concept of a DNP had enthusiastic support from many physicians and university colleagues, there were a few dissenters. "One guy stood up in a meeting and said, 'I don't understand why nurses need doctorates. Who's going to take away my wife's bedpan?'"
As much as she loves her "little pediatric practice," Honig continues to spend much of her time envisioning and shaping the future of nursing education. She was instrumental in developing Columbia Nursing's new accelerated Master's Direct Entry program for non-nurse college graduates. Starting in 2016, students will follow a curriculum that emphasizes cultural competency, the importance of evidence-based practice, and care coordination—all of which will better prepare them for the demands of a continually changing health care world.
Honig sees education as "super-important" in providing the chances to advance and grow over her long career. "When I decided to go into nursing, I never thought I'd be where I am now," she said. "There have been many points in my career where I had to make a decision or a choice, and I think nursing offers these opportunities to expand in new directions." Through her dedication to nursing education, Honig is providing similar opportunities to the next generation of nurses.