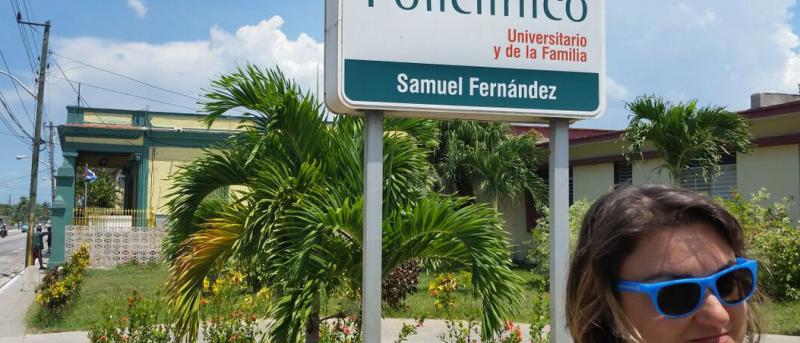 A Lesson in Cuban Health Care
This past July, President Obama announced that the US and Cuba would reopen their respective embassies, ending a 54-year diplomatic impasse that began at the height of the Cold War.
Six weeks later, on a steamy day in August, a group of 20 Columbia Nursing students watched the American flag rise over the U.S. embassy in Havana for the first time since 1961. Standing in the Plaza de la Revolucion, a few hundred yards from the embassy, they recorded videos on their smart phones, posted selfies on Instagram, and chatted with Cuban citizens, some wearing T-shirts with the American president's face.
The students witnessed the historic flag-raising ceremony during a 12-day Columbia Nursing global health experience in Cuba. To learn about health care on the Caribbean island, they met with physician-nurse teams and public health professionals, visited community-based health centers, and spent time at a home for seniors.
They learned that Cuba, while a developing country, has achieved many impressive health outcomes. These include an overall life expectancy that rivals the U.S., immunization rates that are nearly 100 percent, and low infant mortality.
A strong primary care thrust, emphasis on prevention, and a community-oriented approach epitomize the Cuban system.  Family doctors and nurses working out of consultorios (small neighborhood offices) principally provide primary care through home visits for up to 1,500 people per practice. Community polyclinics comprise the second link to primary care and offer such services as imaging, laboratory tests, and dentistry. Each polyclinic treats 20,000 to 60,000 patients annually. Traditional hospitals represent the third level of care.
"The purpose of this trip was to get students to think beyond what they've been exposed to in the United States and connect health policy with patient outcomes," said Columbia Nursing Assistant Dean Donna Cill, DNP. Cill, who has participated in a medical mission in Jamaica, and consulted in Guyana, Egypt, and the United Kingdom, accompanied the students on the trip and designed the curriculum.
During a visit to a polyclinic's emergency room in Santiago, Shannon Sickle, a family nurse practitioner student, was surprised to see that a child with a broken arm was cared for and left the ER in less than an hour.
 "During my clinical rotation at a large city hospital in the US, I saw patients without health insurance wait in the emergency room for eight hours because they needed a refill for their asthma inhaler," said Sickle. "Everyone in Cuba has health care from birth to death, whether or not they have a job." A primary reason for the short wait times is that Cuba has the world's second-highest ratio of physicians per 1,000 people -- 6.7 -- nearly triple that of the US.
A visit to a Havana psychiatric clinic also revealed differences between the US and Cuban health care systems. One of the Columbia Nursing students asked the facility's head nurse if Cuban psychiatric patients experienced discrimination, as many do in other societies.
"This puzzled expression came over the nurse's face when she asked her," said Sickle. "She explained that in Cuba, mental health issues are considered no different from physical ones. She told us that the patients at the facility are taught skills such as cleaning, cooking, and basic repair so they can find jobs after they leave. If they have trouble finding a job, they are often offered positions at the facility."
The students were also exposed to several weaknesses of the Cuban system. The country struggles with a shortage of medicine supplies, and doctors and nurses are paid extremely low wages despite their extensive training. Several students also noted outdated autoclave sterilizers and other medical equipment, as well as limited paper towels and liquid soap dispensers. Seeing these limited resources made Cuba's positive health outcomes seem even more unexpected.
Some of the students were surprised to learn that natural and traditional medicine has the status of a medical specialty in Cuba. Mainstream health care providers in Cuba regularly incorporate acupuncture, homeopathy, and yoga into their practices while pharmacies sell alternative natural products to treat everything from chronic pain to the common cold.
At one of the polyclinics the group visited, first year ETP student Danielle Segarra learned that practitioners often use acupressure, a method of relieving pain and curing illness by pressing on designated points in the body.
"I met a patient who said that the small stones the doctor placed on her ears provided relief from her severe migraines. Back home, I feel that most health care providers would only prescribe drugs for this complaint." Segarra says she will consider using holistic treatments in her future work as a nurse practitioner.
Said Cill: "I think this trip succeeded in getting students to think about how they might integrate different ways of thinking into proving better patient care when they are home in the US. Ultimately, the students and their future patients will benefit."