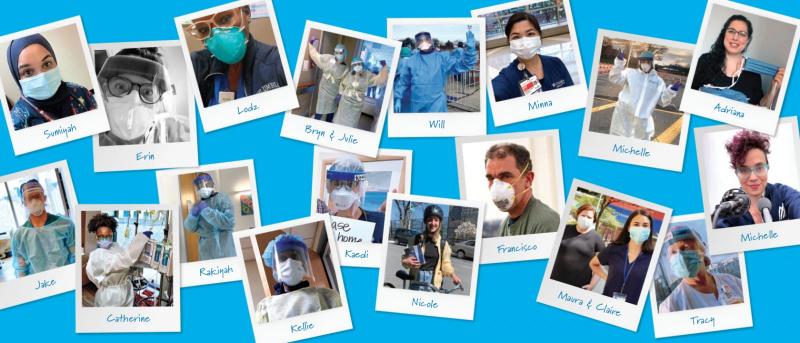 The Many Faces of Bravery
Columbia Nurses on the COVID-19 Front Lines
"They could have been afraid, but they stepped up," says Dean Lorraine Frazier, PhD, of the nearly 200 Columbia Nursing students who volunteered when COVID-19 hit New York City. "Immediately, our students said, 'We want to be there. We can help.'" 
Anticipating the stresses and strains that hospitals and their nursing staffs would face, Frazier, who is also senior vice president of Columbia University Irving Medical Center, and Judy Honig, DNP '05, EdD '77, the Dorothy M. Rogers Professor of Nursing, vice dean of academics, and dean of students, collaborated with the leadership of NewYork-Presbyterian Hospital (NYP) on an innovative service and educational opportunity. The students offered critical support to NYP's nurses during the crux of the crisis, and at the same time they had an epochal clinical learning experience. 
The collaboration entailed assigning 85 Masters Direct Entry (MDE) students and 100 Doctor of Nursing Practice (DNP) students to a variety of essential tasks, including conducting temperature screenings at hospital entrances, providing direct patient care, and staffing COVID hotlines. "We were prepared," Honig says.
Under the direction of registered nurses, MDE students worked as paid nurse technicians, performing a wide range of duties, including communicating with the families of COVID patients via phone or FaceTime to inform them of their loved one's status; being present for dying patients; helping to turn patients on their stomachs to facilitate better lung expansion (a technique known as "proning"); delivering supplies to RNs working in isolation rooms; participating in codes and other rapid responses; and assisting with postmortem care. "We wanted to give nurse techs a growth experience that would bridge academics and practice," Honig says. "Students learned what it's like to be a nurse in a pandemic and to engage with other professionals." 
In addition to supporting nurses throughout NYP, the nurse techs also participated in weekly faculty-run seminars that allowed them to share their experiences. "They were seeing things they'd never seen before, and there was a lot of challenge and grief, so we made sure they had the opportunity to debrief, learn, and unload," says Honig.
Meanwhile, DNP students, many of whom are working clinicians, mostly volunteered on pandemic hotlines, answering questions about COVID and directing people to appropriate testing and treatment locations, including the ColumbiaDoctors Primary Care Nurse Practitioner Group, which was converted temporarily to a cough and fever clinic to address the specific needs of patients with COVID symptoms. "The best we have to offer was exhibited during this pandemic," Honig says.
Working on the front lines of the pandemic, Frazier points out, exposed students to a side of nursing they never would have seen in a classroom, fast-forwarding their education by a decade. "It would have taken them years to understand the impact that nursing has," she explains, such as its central role in patient care; the importance of caregivers' wellbeing; and the safe and efficient operation of hospital systems, especially during a crisis. "Students saw the multiplicity of what nurses do. They saw the strength and power of nursing not just at the bedside, but also in organizing, staffing, making bed assignments, and running a hospital," Frazier continues. "Patients came in with so many different needs, floor designs changed, staffing shifted. The situation taught students that whether they're a nurse leader or working at the bedside, they have to be able to adapt to the situation at hand." 
At every turn, faculty ensured students' understanding of the risks they faced. To their surprise, the students remained undaunted. "We learned about their courage, their commitment and calling," Frazier says. "Kudos to these students, who will be an incredible force in the future."
With this photo-feature, the magazine honors their bravery—as well as the bravery of all the alumni and faculty who have served, and continue to serve, at COVID front line locations.
Sumiyah Syed-Uddin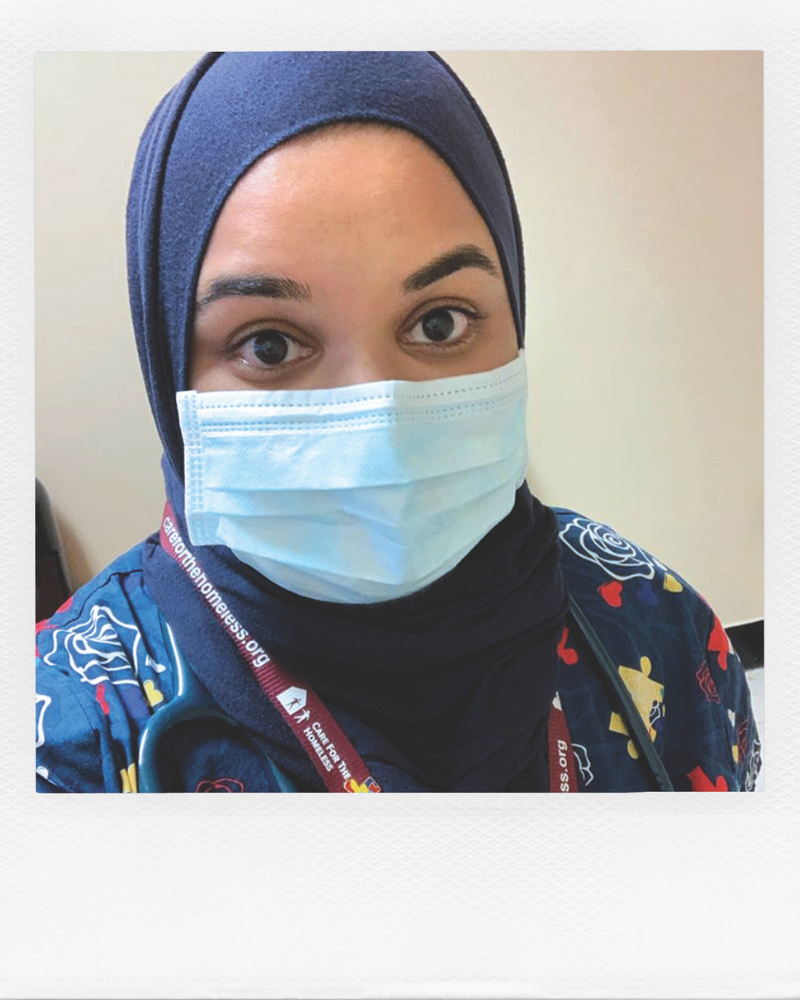 Student: Doctor of Nursing Practice, Family Nurse Practitioner Program
Location: Care for the Homeless, New York, NY
If we want to flatten the curve, we need to ensure our most vulnerable are taken care of, because if they end up on the streets it will only lead to more spread and despair. We need more isolation shelters in place for homeless individuals. We need to demand our state and our government do more for their health care workers and the vulnerable populations. We cannot and should not accept less.
Kellie Bryant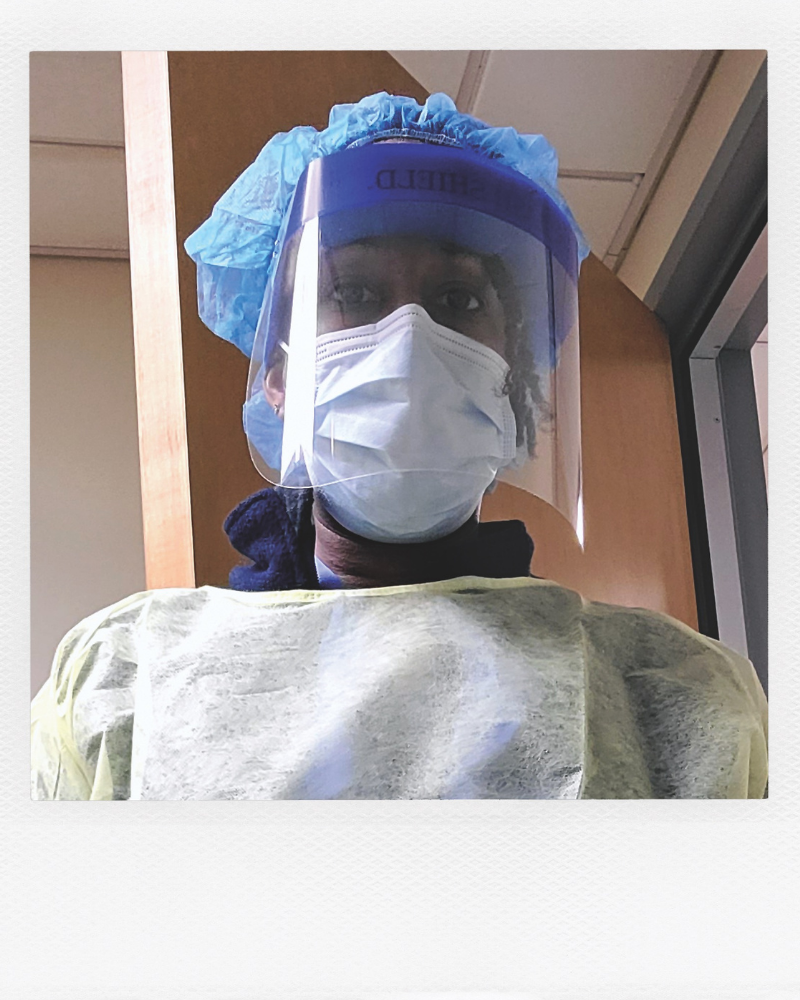 Faculty: Assistant Professor and Executive Director, Helene Fuld Health Trust Simulation Center
Location: NewYork-Presbyterian Hospital and ColumbiaDoctors Primary Care Nurse Practitioner Group, New York, NY
Although this pandemic has caused worldwide devastation, it has also allowed me to see some positive outcomes: that is, in times of need, people come together and discover strengths they may not have known they had.
Erin Pratt
Graduate: MS '19
Location: Greenwich Hospital, Greenwich, CT
Until last week, I was a postpartum nurse for the entirety of my six-month nursing career. However, I knew that our hospital's COVID-19 units needed help, so one day after our morning huddle, I decided I would volunteer.
Maura Abbott and Claire Brieva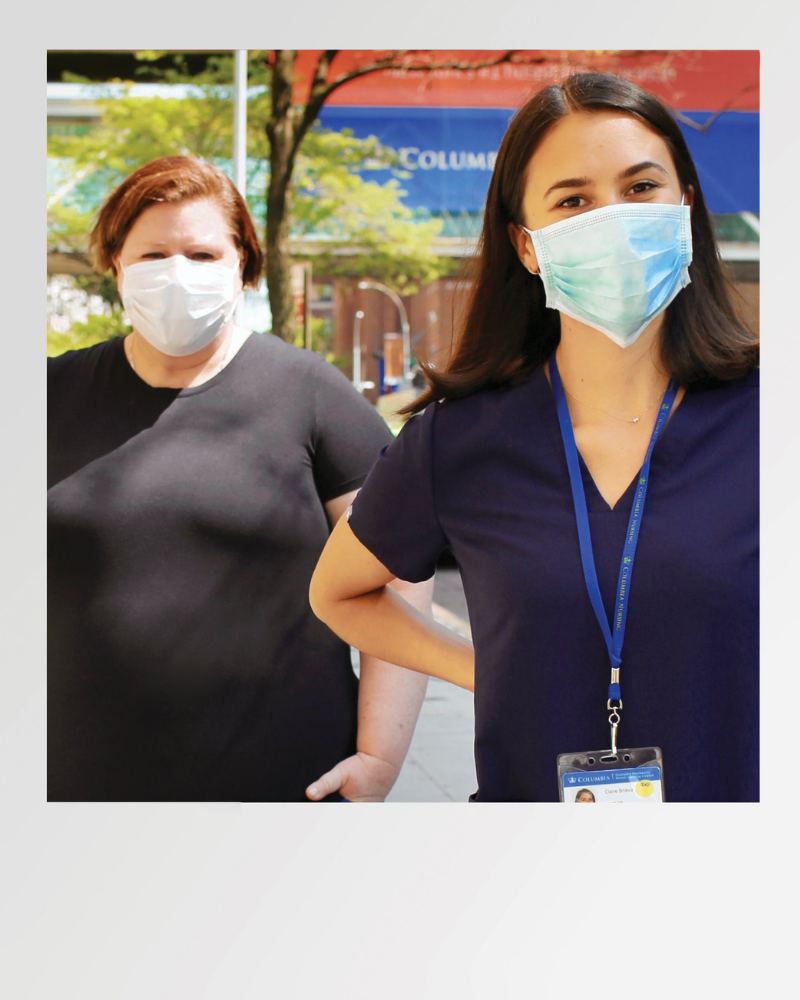 Faculty: Assistant Professor (Maura)
Student: Doctor of Nursing Practice, Family Nurse Practitioner Program (Claire)
Location: Columbia University Herbert Irving Pavilion (HIP), Herbert Irving Comprehensive Cancer Center, New York, NY
In many ways, I feel lucky. Yes, there's a lot of fear and anxiety in what we're doing, but there are also real, live patients, and I can help take care of them. To me, that's the most rewarding thing of all." — Maura
We've had to coordinate care with every single provider in this building and we are making sure that patient care is first and foremost. There is an enormous amount of pressure to make sure HIP remains a COVID-19 secure and safe zone, but at the same time, I have amazing people working with me. It is a collaborative effort, and I feel empowered by this experience." — Claire
Bryn Dragalin and Julie Friedman
Students: Masters Direct Entry Program
Location: NewYork-Presbyterian Hospital, New York, NY
Thankfully, every single person we met while working at NewYork-Presbyterian (NYP) became part of our support system, and knowing that we had them backing us made it possible to keep working day after day. Their bravery and courage to fight this disease deeply inspired us to continue on even when we felt exhausted and discouraged.
Rakiyah Jones
Faculty and Graduate: Assistant Professor and DNP '19
Location: ColumbiaDoctors Primary Care Nurse Practitioner Group, New York, NY
As the evidence began to come out and reflect that people of color are affected by COVID-19 and we continue to be disproportionately affected by it, as a provider and a person of color, there is no way that doesn't change you.
Catherine White
Student: Masters in Nurse Anesthesia Program
Location: Mount Sinai Hospital
Working in New York City during the COVID-19 pandemic has been scary and has at times felt hopeless, but being on the front line as a cardiothoracic ICU nurse has proven helpful. The ability to assist in facilitating care is rewarding. I quickly went from being a timid nurse anesthesia student back to being an experienced ICU nurse.
Adriana Arcia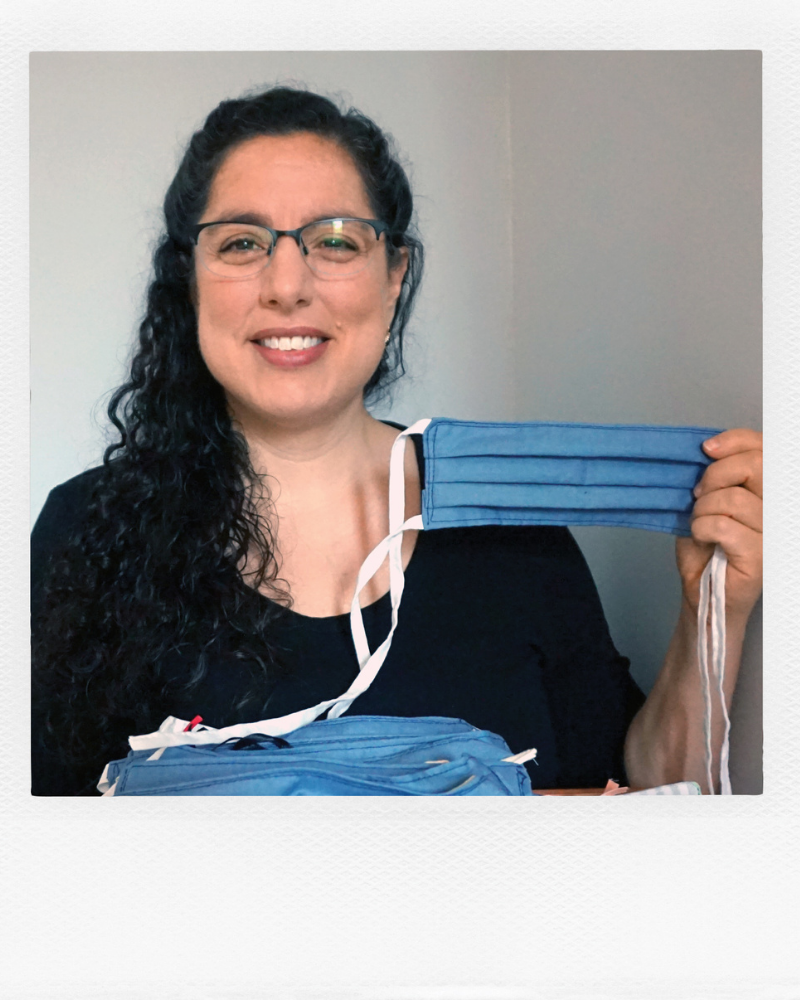 Faculty: Assistant Professor
Location: Inwood, New York, NY
In the evenings over the last few weeks, I made about 125 masks to give away. I left about half in the lobby of my building, took a batch to the employees at my local grocery store, and sent the remainder to MJHS Health System's Isabella Center in Upper Manhattan, where I had heard they were in need.
Tracy Higgins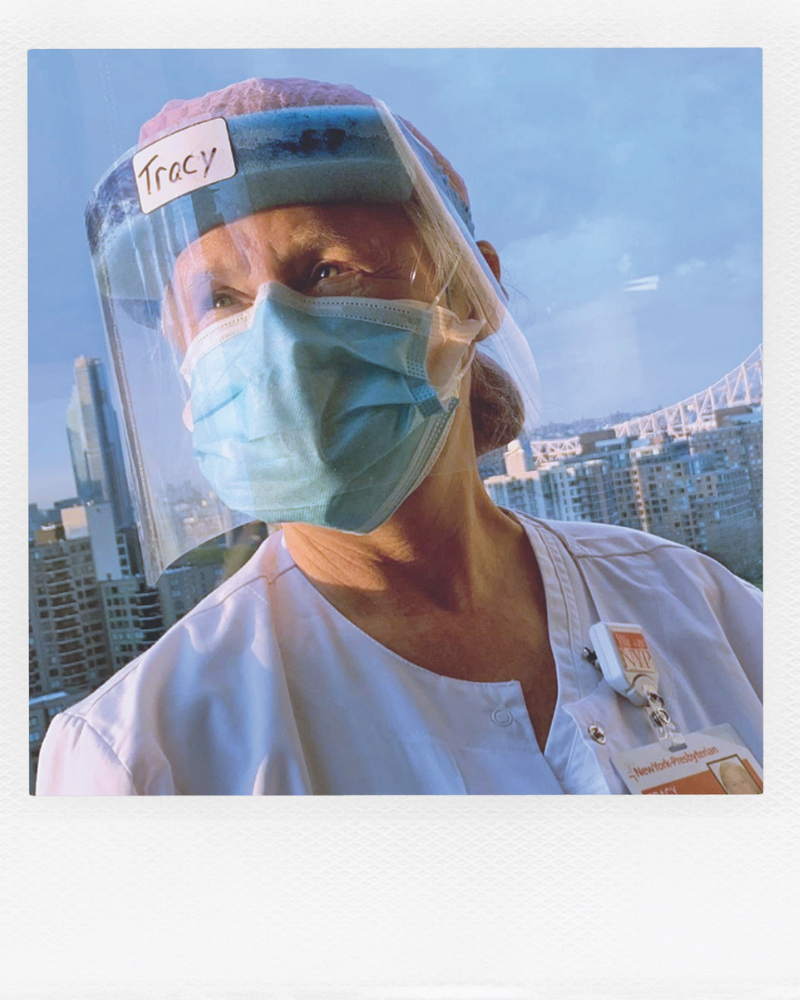 Graduate: PhD '16
Location: NewYork-Presbyterian Hospital, New York, NY
My family is from New York, so I feel like I belong here. I retired from a long military career in counterintelligence, assigned around the globe, before coming to Columbia Nursing for my PhD. When my beloved New York City came under siege with COVID-19, I felt that familiar sense of military mission to return to the field as a med/surg nurse, and I am grateful to be learning from my smart young colleagues and brave patients as we work together through this crisis.
Nicole Lesnett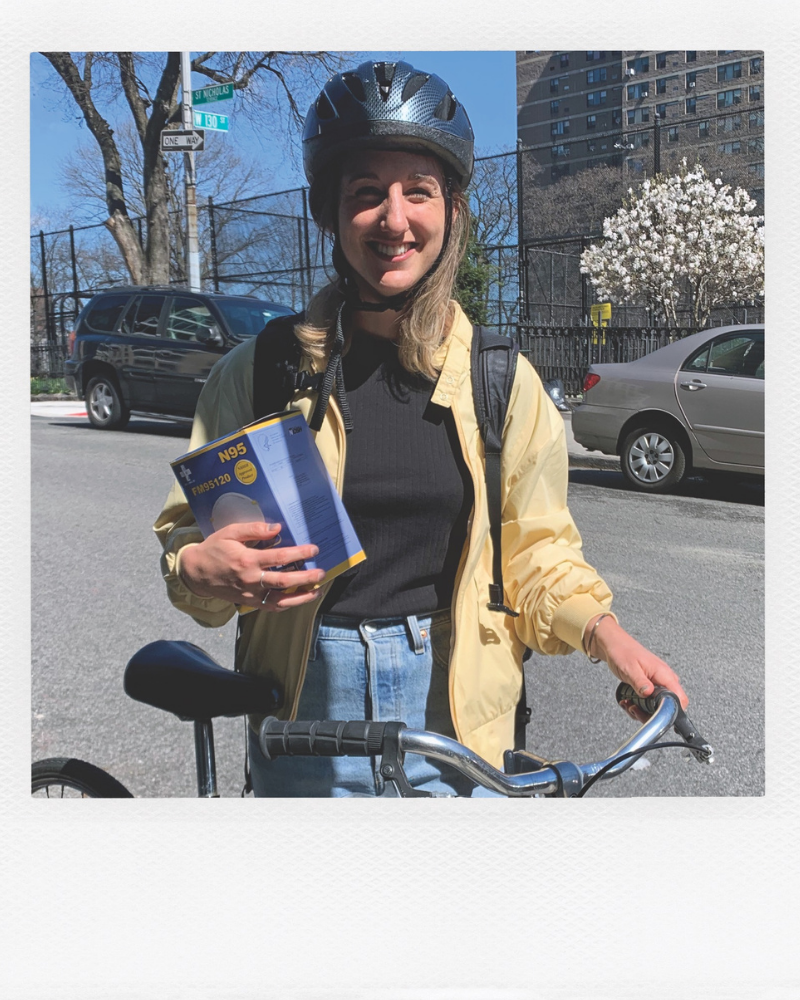 Student: Doctor of Nursing Practice, Family Nurse Practitioner Program
Location: New York, NY
I've been biking around Manhattan to deliver 300 N95 masks that were donated through a friend to anyone who has expressed a need. I'm relieved and grateful to be able to do one small thing for the incredible nurses, nurse practitioners, and other health-care staff who are working right now.
Jake Forrester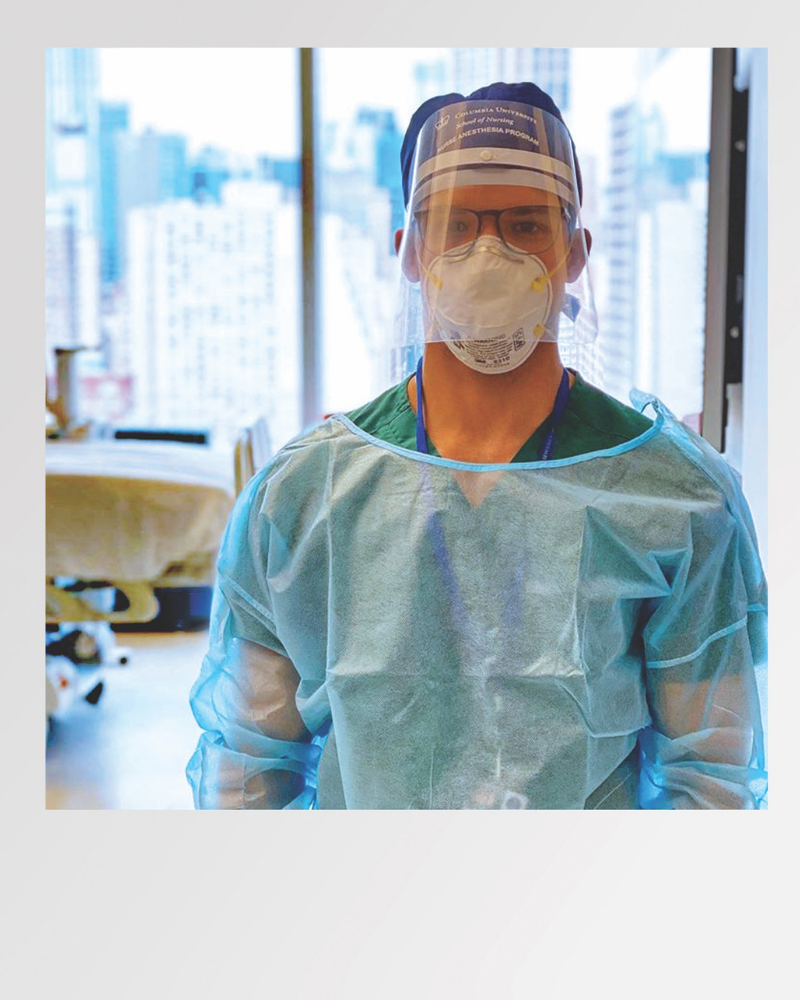 Student: Masters in Nurse Anesthesia Program
Location: NewYork-Presbyterian Hospital, New York, NY
I would say the hardest thing is going from being proactive in your care to prevent complications to treating a disease that we know so little about. So instead of being proactive, we are being reactive. And due to the complexity of this virus, our typical interventions do not work like we expected them to, making things that much harder.
Lodz Joseph-Lemon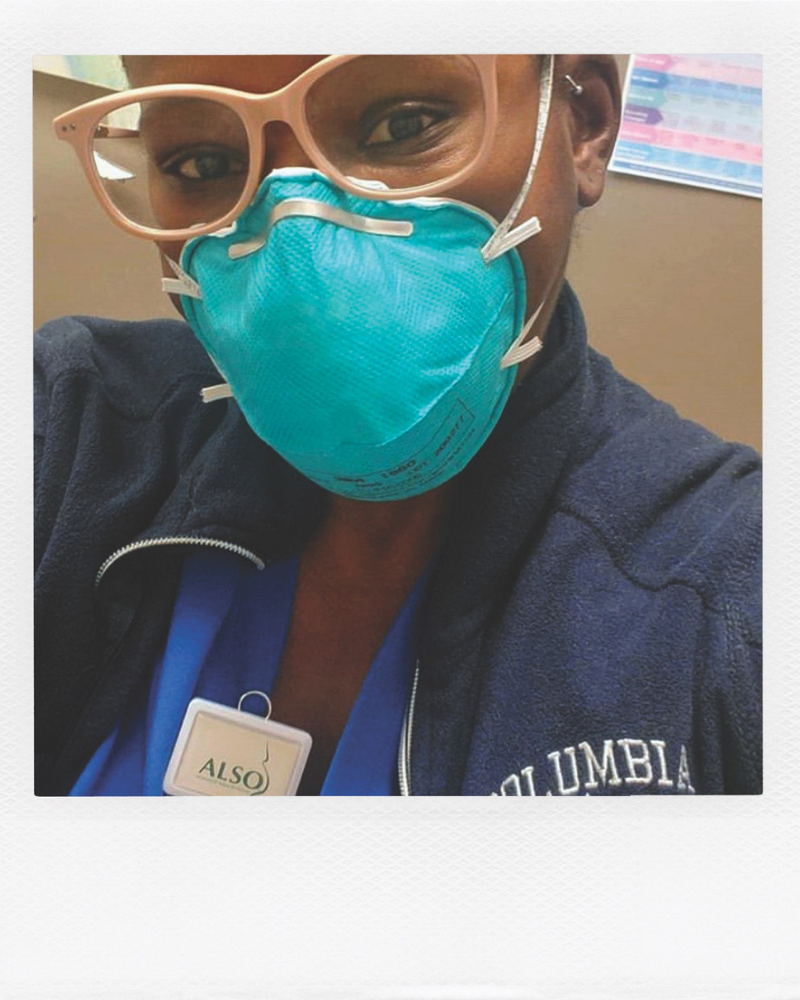 Graduate: MS '17
Location: Albany Area Primary Health Care, Albany, GA
Pregnant people deserve quality care during a pandemic. Patients are scared. Being a midwife and reassuring patients during a pandemic is humbling, hard, and scary and I'm incredibly proud to be a midwife.
Will Swanson
Student: Doctor of Nursing Practice, Psychiatric Mental Health Nurse Practitioner Program
Location: New York State Department of Health COVID Testing Sites, Jones Beach Island, NY, and New Rochelle, NY
Purpose is what has been getting me out of bed before dawn and falling into bed well past dark. The nurses around me never seem to describe it as a job anymore — times like this underline just how much nursing can be a calling.
Francisco Diaz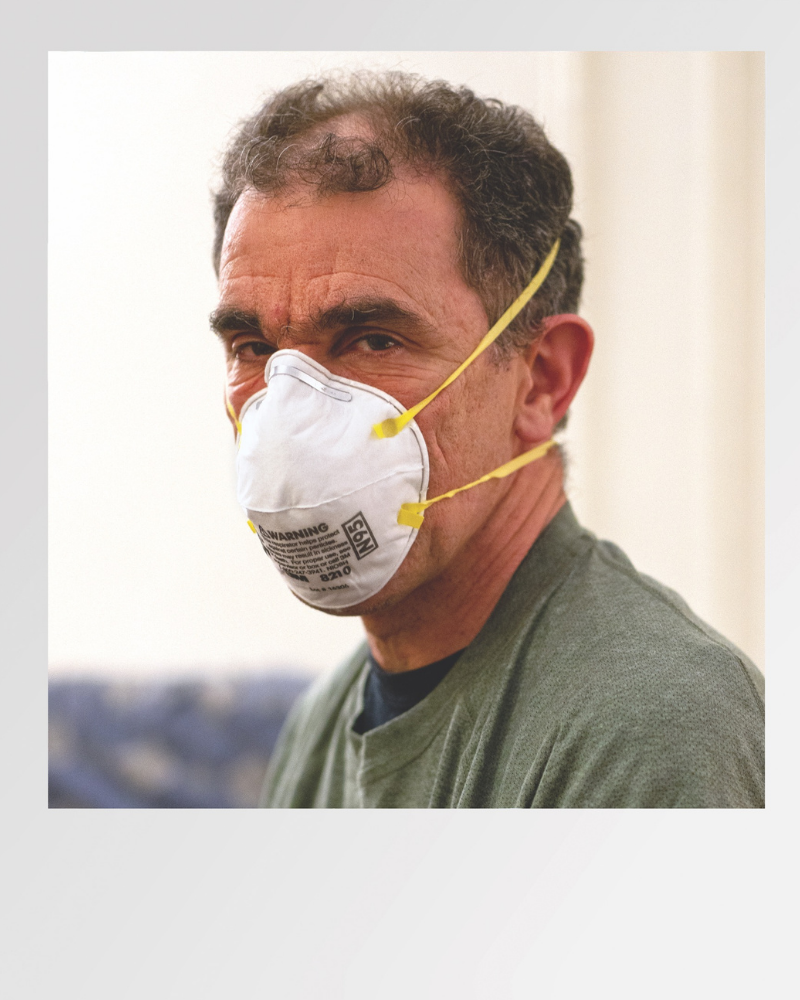 Graduate: MS '05
Location: Mount Sinai Morningside, New York, NY
I am tending to a lot of Latino patients with COVID. For Latinos, it is particularly difficult because with COVID-19 the patient care is more impersonal. We can't touch the patient, get too close. That is why talking to the family is very important, to offer them information about their loved ones, in a language they can understand.
Michelle Meissner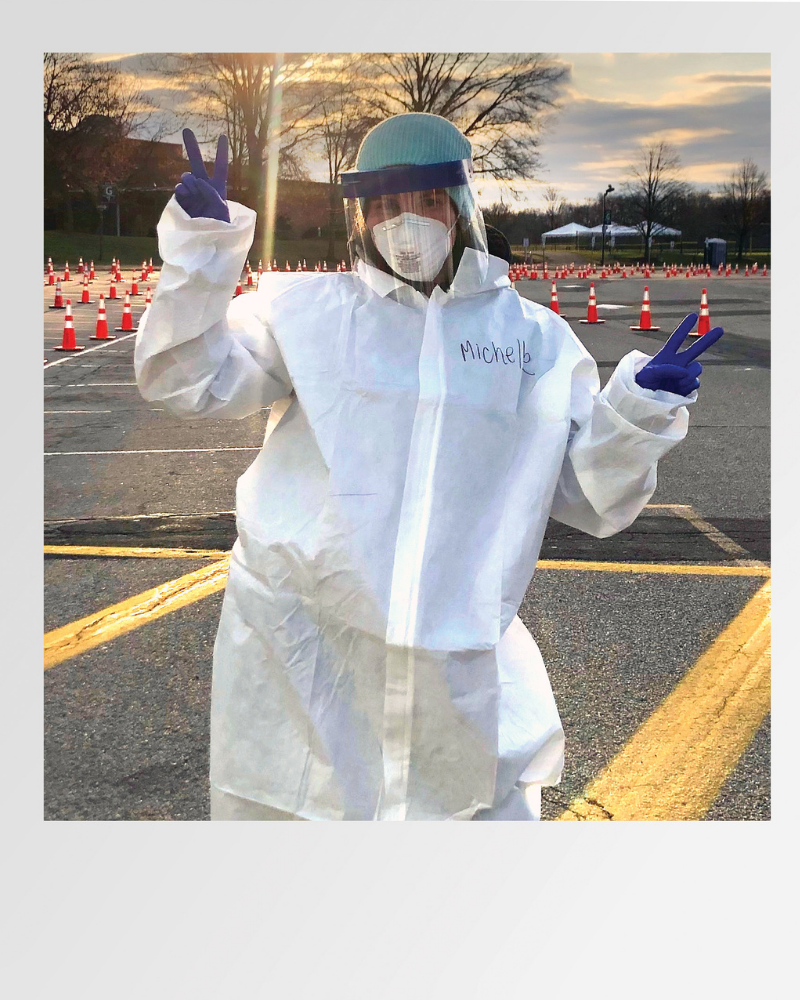 Graduate: MS '19
Location: New York State Department of Health COVID Testing Site, Bergen County Community College, Paramus, NJ, and Mount Sinai Morningside, New York, NY
During the beginning of COVID-19 I felt an overwhelming need to help where I could. I worked at one of the testing sites that popped up all over the area, and we would test about 500 people a day. I was additionally offered a full-time position at Mount Sinai at the height of the curve to work on a med-surg unit converted entirely to COVID-positive patients.
Kaedi Fehlberg
Graduate: MS '05
Location: John Muir Health, Walnut Creek, CA
Through the chaos and stress of the COVID-19 pandemic, I have seen beautiful gestures of service, love, and caring, both in the immediate medical community as well as in the surrounding community at large. People are coming together to share best practices, lend support, and are problem-solving in creative and innovative ways. I feel privileged to witness the best of humanity shining through in what can feel like dark and uncertain times.
Michelle Bernabe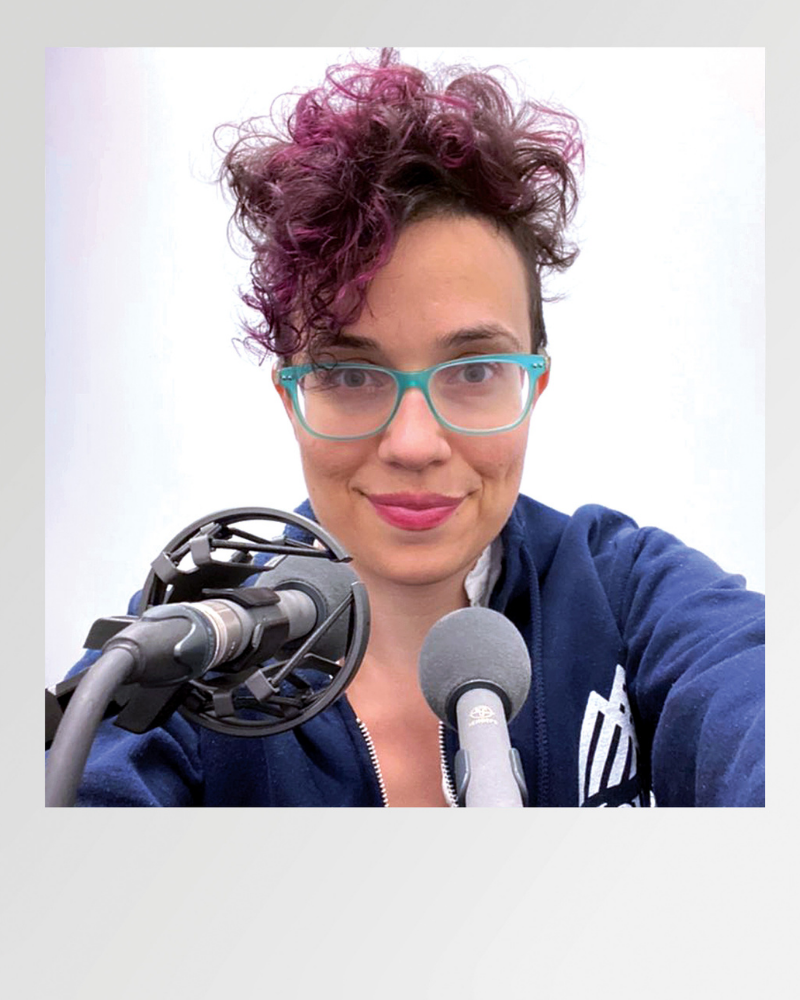 Graduate: BS '13
Location: Brooklyn Minds Psychiatry, Brooklyn, NY
I am working with local New York City psychiatrists and Peabody Award-winner Ben Adair to create the weekly podcast 'Pandemic Check In.' Beyond helping address callers' mental health needs, the podcast is a way of telling the mental health stories we are collectively experiencing during this global pandemic.
Minna Scott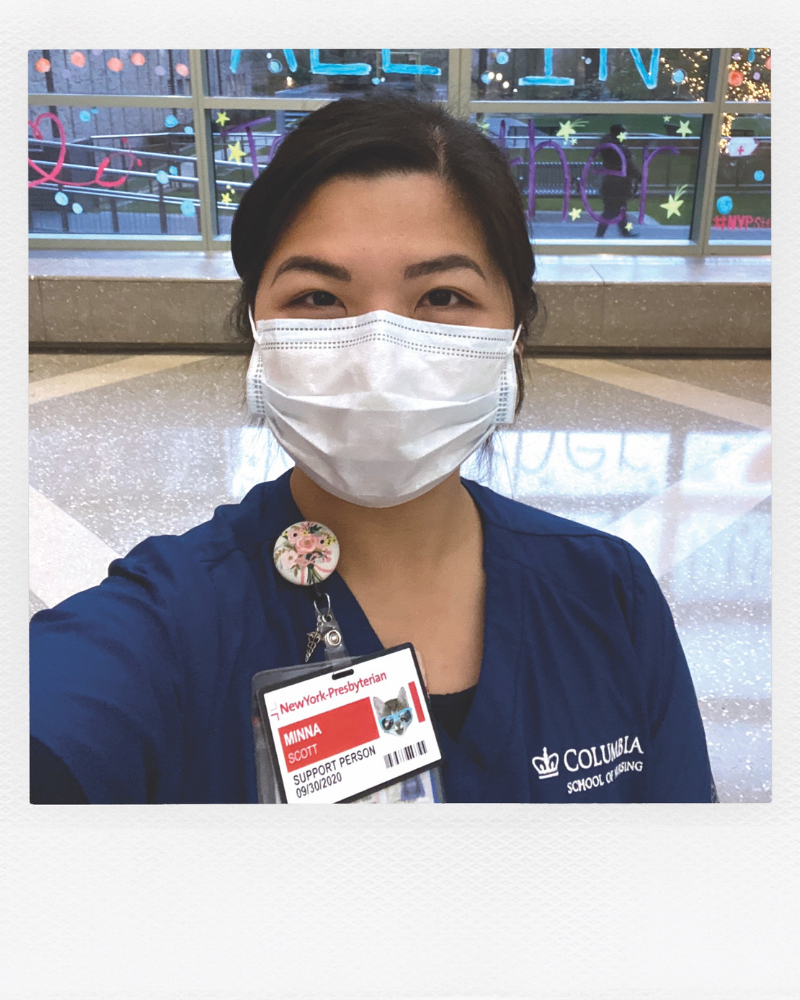 Student: Doctor of Nursing Practice, Adult-Gerontology Primary Care Program
Location: NewYork-Presbyterian Allen Hospital, New York, NY
I choose to be a nurse because to me there is no greater warmth than knowing you were able to provide comfort to someone in a time of distress. When I wake up every day, I think about other people - my patients, colleagues, and those I may be able to help - and learn about myself through them. In the past weeks of being a nurse technician in NewYork-Presbyterian Allen Hospital, I was privileged to be around nurses who devoted themselves to their patients. While their bodies showed fatigue and near-exhaustion battling COVID-19, their eyes and hands showed the kind of love and care parents give to their children.
This article originally appeared in the Fall 2020 issue of Columbia Nursing magazine.