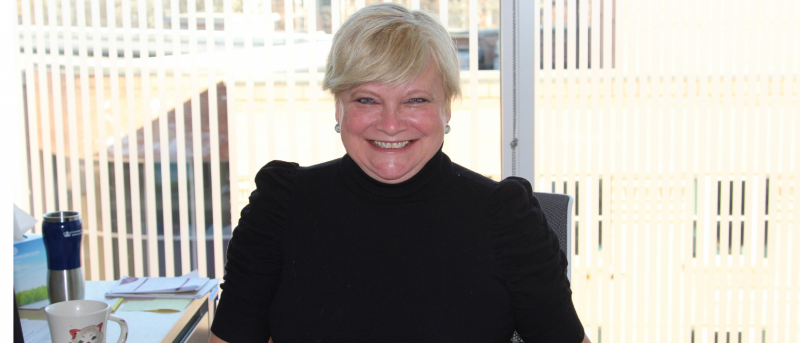 Maribeth Massie Elected Treasurer of American Association of Nurse Anesthetists
Promoting Continuous Learning, Innovation, and Quality Patient Care
Assistant professor Maribeth Massie, '98, PhD, MS, CRNA, was recently elected as Treasurer of the American Association of Nurse Anesthetists (AANA).
The AANA is the professional association representing more than 53,000 Certified Registered Nurse Anesthetists (CRNAs) and Student Registered Nurse Anesthetists nationwide.
"It is a privilege to represent both the profession of nurse anesthetists and Columbia Nursing at the national level. As an educator, I strive to give each graduate nurse anesthesia student the room, tools, and guidance to grow, explore, and become our future nurse anesthetists," said Massie. "Our core values as CRNAs—continuous learning; innovation; safe, high-quality patient care; evidence-based practice; rigorous standards—reflect this passion and commitment."
A History of Leadership
Massie has been involved in academic and professional leadership for many years. At Columbia Nursing, she was previously the assistant director of the Nurse Anesthesia Program for more than seven years, before joining the faculty at schools in Florida and Maine. She returned to Columbia Nursing as director of the Nurse Anesthesia Program in November 2018. In addition, Massie has held Board positions on both the Maine and Maryland Associations of Nurse Anesthetists (MANA), including being President of the MANA, and has held multiple committee positions on state, regional, and national levels, including elected positions within the AANA.
Massie will serve as the AANA's Treasurer for the 2019-2020 fiscal year. Previously, Massie was the AANA Region 1 Director, representing the states of New England, New York, New Jersey, and Puerto Rico. The AANA, which was founded in 1931, promulgates education, practice standards and guidelines, and affords consultation to both private and governmental entities regarding nurse anesthetists and their practice.