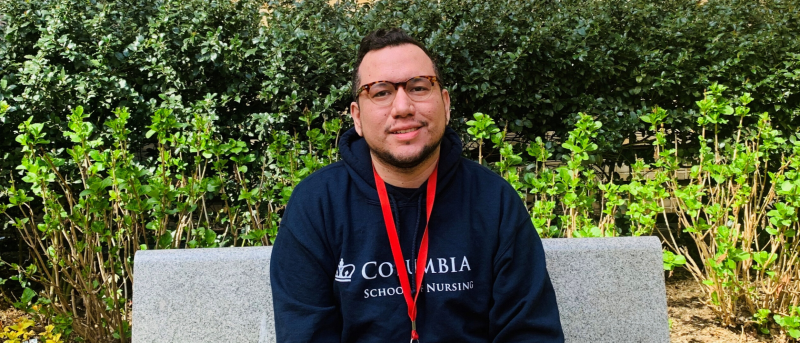 MDE Student Profile: Alden Bush
Masters Direct Entry Program '20
Nursing is the backbone of our health care system. It is the most trusted profession in our nation and is profoundly holistic.
A William Randolph Hearst Foundation Nursing Scholar, Alden Bush '20, is a first-generation college graduate and first-generation American who plans to become a dual psychiatric and family nurse practitioner. Alden values nursing's holistic approach to disease and its emphasis on individuals' lived experiences. As a DNP, he aspires to provide comprehensive mental and primary health care in minority and safety-net communities nationally and abroad.
Please tell about yourself—from what program are you graduating and where are you originally from?
I was born and raised in Miami, Florida, the son of Honduran immigrants. I am proudly Latino and a dual national. I am also a first generation American, a first-generation college graduate, and an aspiring mental health clinician. I will be graduating from Columbia Nursing's Masters Direct Entry (MDE) program.
Why did you decide to pursue nursing and why did you choose Columbia Nursing?
Nursing is the backbone of our health care system. It is the most trusted profession in our nation and is profoundly holistic. This is what attracted me most: the opportunity to look at individuals as a whole and see how multiple factors, including people's lived experiences, coalesce and contribute to disease. This holistic aspect of nursing, coupled with the graduate-level, public and community health-centered advanced coursework, and seamless entry into the Doctor of Nursing Practice Nurse Practitioner program is what made Columbia Nursing the only choice in my book.
This part of your formal nursing education is culminating at an extraordinary time. How has the pandemic shaped your feelings about becoming a nurse?
Witnessing first-hand the courage and commitment to the health of whole communities that nurses around the world, and right here at NewYork–Presbyterian, have demonstrated during this global pandemic has been invaluable and truly inspiring. I have never felt more sure of my decision to enter the nursing profession, and to do my part in shepherding the health of my community.
How has your Columbia Nursing education and experience prepared you—academically and clinically—to deal with the pandemic?
Columbia prides itself on preparing graduate-level registered nurses. We have the unique privilege of learning in one of the most socially diverse settings in the world and rotating through some of the top hospital systems in the nation. I felt challenged academically and pushed towards success in my clinical rotations. Clinicals are truly the hallmark of the program for me. Interacting with patients from all over the U.S. and around the world and learning from seasoned nurses and nurse practitioners was unforgettable.
What are you passionate about, and how has being a student at Columbia Nursing allowed you to follow your passion?
I am deeply passionate about social justice, global health, and the connection between social determinants and disease. The MDE program had big focus on public health, which allowed me to apply what I learned clinically to the bigger picture of population health. I am also deeply passionate about paying it forward and Columbia Nursing, through its peer mentorship program, allowed me to be a mentee and soon to be a mentor to the incoming cohort.
What's your next step after you graduate?
I will transition into Columbia Nursing's Doctor of Nursing Practice Psychiatric-Mental Health Nurse Practitioner program.
Do you have a favorite memory of your time at Columbia Nursing?
One of my favorite memories was volunteering for the two-step CPR training that the school provided to the local community. I met staff, adults, and children from local schools in the area. Teaching them basics in chest compressions and how to deal with someone in need of life-sustaining intervention until Emergency Medical Services arrived was deeply fulfilling. Serving the community is central to Columbia Nursing, and is also close to my heart.
Is there anything you'd like to add?
Columbia Nursing truly lives up to its Ivy League designation. It is a school with a rich history, an innovative and sustainable campus, a world-class simulation center, and amazing faculty and staff, all of which made the experience enjoyable, challenging, and unforgettable.