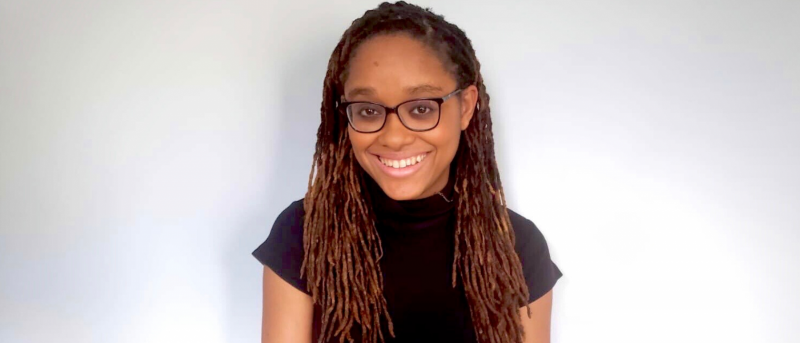 MDE Student Profile: Janine Inez
I now look at nursing not just as a career where a person can make a difference, but also as a duty, a responsibility to one's own community, and the world at large.
Janine Inez '20, once aspired to be a screenwriter but decided to follow in the footsteps of her mother, a registered nurse, so she could dedicate herself to helping people every day. Preparing to pursue her Doctor of Nursing Practice (DNP) as a Psychiatric Mental Health Nurse Practitioner, she looks forward to practicing psychotherapy and using narrative medicine to work with a variety of populations.
Please tell us about yourself—from what program are you graduating and where are you originally from?
I was born in Brooklyn and lived there for most of my life, except for the five years when I lived in Los Angeles where I attended the University of Southern California's School of Cinematic Arts and earned my BFA in screenwriting. I'm glad to be back in my hometown now as I near completion of Columbia Nursing's Master's Direct Entry (MDE) program.
Why did you decide to pursue nursing and why did you choose Columbia Nursing?
Switching from the arts to nursing was not an easy path, but one I am proud of taking. My mother has been an RN for 20 years and played an integral role in my decision to center my career on helping people every day. My interest in psychiatric mental health also played a part in my decision to choose Columbia Nursing. Its Psychiatric Mental Health Nurse Practitioner (PMHNP) program allows me to focus on my main interests: psychotherapy in tandem with medication management.
This part of your formal nursing education is culminating at an extraordinary time. How has the pandemic shaped your feelings about becoming a nurse?
Watching my mother perform her career as an RN, I have always known that nurses make a difference in this world every day. This has been beautifully and sometimes painfully highlighted during this pandemic. I now look at nursing not just as a career where a person can make a difference, but also as a duty, a responsibility to one's own community, and the world at large.
How has your Columbia Nursing education and experience prepared you—academically and clinically—to deal with the pandemic?
My time in the MDE program has been filled with many opportunities. I have gained in-depth knowledge about infectious disease and virology, which has been essential in helping me to explain universal precautions to my family and other loved ones. My clinical education has also enhanced my ability to remain calm and safe when donning and doffing PPE and teaching others to do so properly.
What are you passionate about, and how has being a student at Columbia Nursing allowed you to follow that passion?
My passions and values as a nurse have never been clearer to me as they are now. Prior to the pandemic, I imagined my journey to becoming a PMHNP as a never-ending process of becoming. This pandemic shows me that my dream of providing mental health resources and services to my community does not have to be something only on the horizon. Columbia Student Service Corps (CSSC), a student-created volunteer corps for the pandemic, has given me the opportunity to volunteer on the mental health and well-being team. This has led me to not only broaden my education about mental health resources, but also to cultivate leadership skills and outstanding interprofessional relationships across the entire university campus.
What's your next step after you graduate?
After completing the MDE program, I will begin Columbia Nursing's Doctor of Nursing Practice (DNP) program with a specialty in psychiatric-mental health.
Do you have a favorite memory of your time at Columbia Nursing?
I was honored that the Office of Student Affairs showcased a short film I completed describing my experience as a Columbia Nursing student and screened it before a large audience of current and prospective students, as well as faculty and staff. I was able to speak my truth and hopefully encourage our cohort and the cohort to come. It is a fond memory, and I am forever grateful for the opportunity.
Is there anything you'd like to add?
When everyday life becomes difficult, I like to remember this quote from the Buddhist monk Haemin Sunim: "Persevering, even when things are difficult, reveals your true character." Challenging times are an opportunity to ask ourselves who we want to be in this world while we are in it, and how we want to impact the lives of those around us. We are made to persist; that is how we discover who we truly are.