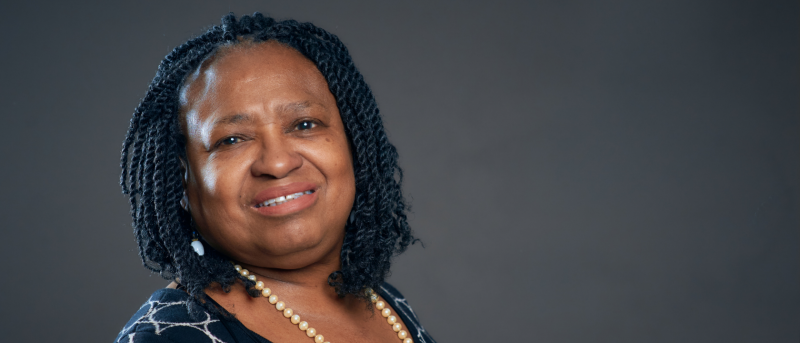 Creating and sustaining diversity at the Columbia University School of Nursing is job one for Vivian Taylor, EdD, the school's Associate Dean for Diversity and Cultural Affairs.
In this newly created position, Dr. Taylor's duties include developing and implementing programs that not only support but promote awareness, an understanding, and even a celebration of difference among us.  Such efforts will also focus on ways in which we can bring equity, access, and resource information to underrepresented minorities at the school.  Previously, Dr. Taylor served as Vice President of Community Development and Chief of Staff at Barnard College.
We caught up with Dr. Taylor just prior to her officially moving into her office in GB.
Q:  How do you see your role at CUSON as the Associate Dean for Diversity and Cultural Affairs?
A:   I see my role involving collaborations with members of our CUSON community to determine diversity priorities and strategies, forming alliances with other segments of the Medical Center, Columbia University and our local community neighbors on behalf of our CUSON diversity efforts. I look forward to consistently learning and exploring what it really means to promote a diversity agenda for CUSON. 
Q:  What do you see as the major challenges to achieving your goals in the area of diversity and cultural affairs?
A:   In my experience, I would need to first listen to CUSON students, faculty, and staff to know what their challenges have been in the area of diversity. Together we can resolve, combat or lessen the challenges faced going forward. One possible challenge would be to determine what diversity means to the various members of our CUSON community. This could be done through frank and supportive conversations and dialogues with the aim of developing diversity strategies that would continue to foster and enhance a welcoming environment for our CUSON students, faculty, and staff, ultimately then, benefiting the community at large that we serve. 
Q:    What have been some of the influences and influencers in your career and how do they relate to this new position at CUSON?
A:    My interest and passion for doing diversity work has been influenced by people engaged in social justice efforts and by movements in support of human rights. These influences will help to inform my work in my new position at CUSON. As a result, I strive to learn about different cultures and the various practices and patterns that can improve or hamper my ability to communicate or help those different from me. All members of our CUSON community deserve to have their voices heard and to develop the cultural competencies that will enable us to serve all members of our society.
Q:    What changes have you seen in the last decade in higher education relating to diversity?
A:    Over the last decade, one critical issue in higher education as it relates to diversity has included a renewed look by the Supreme Court at the way in which race can be included in college admissions decisions. While race is not the only factor to be considered in diversifying a student body, it is still one factor to consider in reaching out to underserved, under-represented, and disenfranchised members of our society.  The gender gap is another consideration with women out numbering men in many higher education institutions.  There is a need to focus on how we in higher education can increase the number of male graduates, particularly those from under-represented groups in the US. Also, over the last decade, I have seen a positive change in the attention paid to the quality of campus life for LGBT college students.  However, this attention has not been consistent across college campuses and much more needs to be done to enhance the quality of life -- on a more consistent basis -- for these students and all who may feel marginalized.