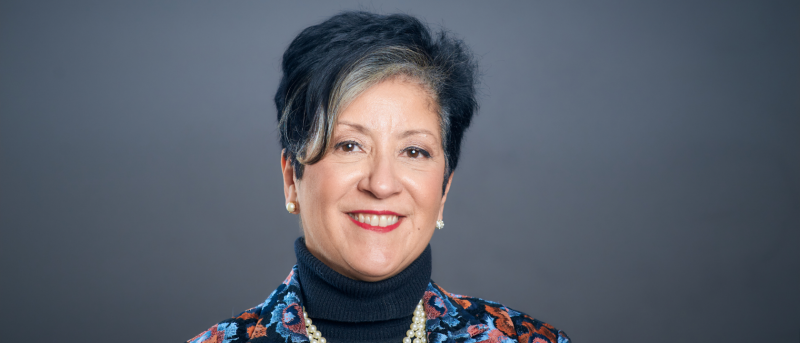 Mentoring Nurses Upward and Outward
Student Profile: Wanda Montalvo, ANP, MSN, RN
Wanda Montalvo is an executive nurse leader and health care consultant with more than twenty years of experience in quality improvement and community health. She previously served as the Clinical Director for the New York State Diabetes Campaign, sponsored by the New York State Health Foundation, working with clinical organizations throughout the state developing interventions to reverse the spread of diabetes.
Prior to that, she served as Chief Clinical Programs Officer for the Community Health Care Association of New York State, and Cluster Director for the Northeast Health Disparities Collaborative, sponsored by the Department of Health and Human Services' Bureau of Primary Health Care. Montalvo received Bachelor of Science and Masters of Science degrees in Nursing from Long Island University School of Nursing. She currently chairs the Operations Committee of the National Diabetes Education Program and is pursuing a PhD at Columbia Nursing. She was a 2004 Robert Wood Johnson Foundation Executive Nurse Fellow and is a Jonas Center for Nursing Leadership Scholar.
Q:  After already earning an NP degree and holding several prestigious positions in the area of public health, why did you decide to go back to school and earn a PhD?
A major influence on my decision to pursue a PhD at Columbia Nursing was the Institute of Medicine's Future of Nursing report, which calls on nurses to take a greater role in our increasingly complex health care system. In 2010, together with members of the IOM committee who developed this report, I participated in a number of health center site visits. As an advanced practice nurse, I spearheaded improvements in care delivery and worked in underserved areas with federally qualified health centers. But these site visits helped me realize that to make a sustainable and meaningful change in the health care system—both as a critical consumer and as a contributor of new knowledge — I needed the skills I could only get from a nursing PhD program. Nationally, only 3% of nurses hold a doctorate degree and the numbers are even lower for Hispanic nurses.  To be a better role model for other nurses, I felt it was important for me to obtain this degree.
Q: You helped launch the "Mentor Nurses Upward and Outward" campaign for the Future of Nursing New York State Action Coalition, in which nurse leaders pledge to mentor at least one colleague. Why is mentoring nurses so important?
One of the recommendations in the IOM Future of Nursing report calls for mentoring future nurse leaders to lead health care system change. Unfortunately, nurses have limited formal opportunities for formal leadership development due to budget constraints, especially if you work in public or community health. Mentoring is important because a good mentor can influence their protégé's career development, and help them develop the required leadership and political skills for career advancement.  Ideally, this relationship takes place in a safe environment where the nurse can reflect on their strengths and opportunities for self-improvement. It's like learning how to dance; the mentor teaches their protégés the steps. Protégés should be provided with opportunities to observe their mentors in situations where they are leading and exercising political skill to intentionally influence the outcome of a meeting, system change or policy.  These lessons are harder to learn in a classroom or leadership program.
Q: Bullying is a big problem in nursing. Can mentoring offer a solution?
I think bullying occurs in nursing when people are promoted into management before developing  the skills they need to lead effectively or were accurately assessed for the political skill necessary to navigate complex work environments.  Research has found that nurses with high levels of social entitlement or lower emotional intelligence tend to exhibit abusive supervisory behavior; but if they are politically skilled, this tendency decreases. In my RWJF Executive Nurse Leader program, we were required to evaluate ourselves using objective validated tools, which I found to be a great benefit.  If nursing organizational leaders used evaluations established by human resource departments in other industries, potential managers could be assessed more objectively, and appropriate interventions could be planned.  At all levels, the nursing curriculum could benefit from introducing leadership development courses or bridge partnership opportunities to help nurses gain access to these types of courses.   So, the remedy to bullying is a two-tiered strategy: Provide support for nurses' professional skills development, including how to communicate a well-articulated plan for day-to-day operations, and remove any bad apples with poor supervisory skills.  Nurses work in demanding environments, having a leader who is a positive influence inspires them to follow and support an organizational vision.
Q: Several of your studies have explored the lack of leadership positions in the nursing industry, despite it being the largest segment of the health care workforce. What can mentoring do to fill the leadership gap in nursing?
Nurses need to communicate, network, and educate colleagues in other industries to the value they bring to the system.  Having mentors from other industries can often expand access to their social network, increase visibility, and expand their ability to sponsor us for committees or boards. I've had mentors from IT, the federal government, and philanthropy who have all contributed to my knowledge base. And they learned from me that nurses are problem solvers, and innovative, strategic thinkers.
Q: Tell us about some of the mentors that have nurtured you in your career. How did their guidance help you get to where you are today?
The best mentors gave me encouragement, honest feedback, opened their social network to me and sponsored me for professional development and career advancement.  One of the first people I admired early in my career was Paloma Hernandez, the CEO of Urban Health Plan in the Bronx. I was inspired by her because she modeled transformational leadership and a Hispanic woman leading an organization with a multi-million dollar budget. The experience gave me permission to believe that someday I could lead an organization or help influence a nation.  My most recent informal mentor has been Diana Mason, PhD, C, FAAN, RN, Rudin Professor of Nursing at Hunter College and President of the American Academy of Nursing.   Last year, she sponsored a grant from the Macy Foundation that sponsored my participation in the Hermann Biggs Society, where scholars are given an opportunity to participate in monthly health policy dialogues with national leaders.