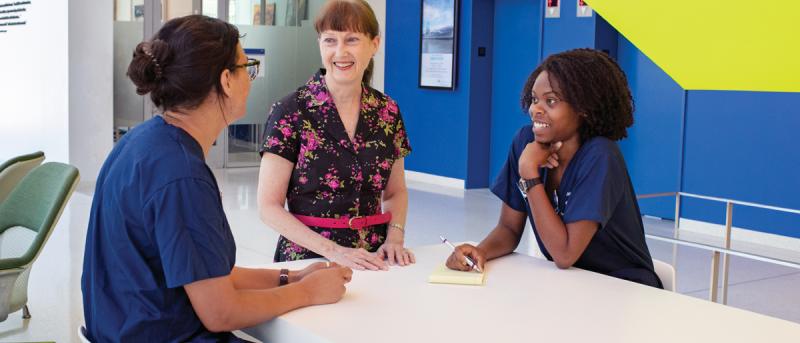 A New Chapter
Leaving a Legacy of Inspiration, Innovation, and Excellence, Dean Berkowitz Retires
By Andrea Kott, MPH

This article originally appeared in the Fall/Winter 2018 issue of Columbia Nursing magazine.
On a muggy summer afternoon, Bobbie Berkowitz, PhD, scans the streets of Washington Heights from her office. Wrapping up eight years as dean of Columbia Nursing before retiring, she is taking in more than the view. "I recently found the list I'd put together of all the things I wanted to do when I first came to Columbia Nursing," she mused.

"Everything on that list we have accomplished." Berkowitz credits colleagues for implementing the shared vision of elevating the school's curriculum, expanding its research enterprise, and growing its primary care practice. Indeed, she considers having worked alongside faculty and staff one of the greatest gifts of her deanship. "I have never worked with a team that is as strong and talented as the one I have had the pleasure of working with here."
The admiration goes two ways. Members of the Columbia Nursing community know they are losing not just a boss, but also an inspiration, colleague, and friend.
An Ambitious Agenda
Profoundly modest, Berkowitz redirects any attempt to highlight her legacy. "All my great ideas have come from the people who work here," she insisted. But she doesn't mind offering that being an adventurer from the Northwest with a powerful appetite for opportunity ("I always take a look ..."), who is future-oriented and has a decades-long track record as a nursing and health policy leader, made her completely up for the task. She arrived with an ambitious agenda: to overhaul the school's structure, develop its research enterprise, revamp its curriculum, expand its faculty practice, and boost its national ranking, to name a few of her goals. Before she could launch any of these projects, she had to produce a five-year strategic plan—the school's first—which she did.
With the plan in place, Berkowitz reorganized the school into divisions, including Scholarship and Research, Academic Affairs, Clinical Practice, Student Affairs, Diversity and Cultural Affairs, Strategic Communications and Marketing, Development and Alumni Relations, and Finance and Administration, to promote shared decision making and accountability. "You don't want the dean to run everything," she said. "Now faculty and staff are the senior leaders who runthis place."
A Simpatico Leader
Her leadership style—collegial and embracing debate— is among the qualities that her colleagues have lauded. "Bobbie engenders in people empathy and a simpatico sense," said Elaine Larson, PhD, senior associate dean, scholarship and research. "I valued her wise counsel and advice, and the fact that she was open to suggestions
from others, even if they did not quite agree with her."
Stephen Ferrara, DNP, associate dean, clinical affairs, added, "When you're sitting in a meeting with Bobbie, you really feel comfortable speaking because you feel respected and that you're being listened to."
Expanding Research
A believer in the power of partnerships, Berkowitz worked closely with senior scientists like Larson to expand the school's research enterprise. "Bobbie was very instrumental in helping me provide people with the resources they needed to get grants and external funding," Larson recalled. "She recruited a number of younger faculty members who were promising but just beginning, and helped us provide them with the pilot monies and grant-writing assistance they needed to develop. She understood research enough to know that building an enterprise wasn't going to happen
tomorrow but only after years of providing people with the resources they needed to be competitive." Larson added, "Bobbie was really in it for the long haul, and it's paid off. We've gone from being 14th to fifth in terms of NIH funding for schools of nursing."
The school's expanded research enterprise now includes joint appointments with other health systems, which allow faculty to conduct their own scientific investigations while mentoring hospital nurses who want to develop original research based on their clinical experiences. In one such appointment, Eileen Carter '14, PhD, RN, mentored one of NewYork-Presbyterian's pediatric nurses as he designed a now published study showing the effectiveness of
using video about MRIs in reducing anxiety in children who are about to undergo the procedure. Their partnership
inspired LINK (Linking to Improve Nursing Care and Knowledge), a program that provides NewYork- Presbyterian nurses with the support to pursue clinical research that might improve patient outcomes. It also spurred the Academic-Practice Research Fellowship, also with NewYork-Presbyterian, a competitive two-year program that awards clinical nurses with mentoring and support––including a work sabbatical––to pursue research.
Committed to increasing the school's focus on informatics research and data science, Berkowitz championed its partnership with Columbia University's Data Science Institute. "Research informs practice, and our role is to understand the value of data in improving patient care," she said. "We have nurses and non-nurses who really understand the creation and utilization of data in large sets to answer questions about the most pressing public health issues, like HIV/AIDS and hospital-acquired infections. We see that as the future."
This future contains another hallmark of Berkowitz's tenure: the school's dedication to diversity, both amongstudents and staff, and in the research it undertakes. "Bobbie's main focus is on global population health in service and research, in what's relevant for the community at large and for the world," Larson said.
Because relevance is paramount, the school has concentrated recent efforts on building research in LGBT health and global health. Locally, it has partnered with the Columbia University Department of Psychiatry and the New York State Psychiatric Institute to found the Program for the Study of LGBT Health, whose findingson health issues among transgender and gender non-conforming people, sexual minority women, and the aging LGBT population have informed the LGBT health services at ColumbiaDoctors Primary Care Nurse Practitioner Group in Washington Heights.
Through its global programs, led by Jennifer Dohrn, DNP, the school is collaborating with the University of Jordan on a joint study of the reproductive health of Syrian refugees in Jordan; recently completed a three year study on the gaps and needs in nursing research in eastern and southern Africa, and the Middle East; and is now working with 13 clinical sites in 11 countries to provide students with exceptional learning experiences. "Our global program has blossomed," Larson said. "It takes vision to do research and service not just for New York City but also for the world."
The school's global reach expands even further. For example, it is the only World Health Organization (WHO) collaborating center focusing on advanced practice nursing. "WHO collaborating centers have been around for decades, but we really made ours come alive when Bobbie came," Larson said.
Revamping Curriculum
Before arriving at Columbia Nursing, Berkowitz recognized that hospitals were beginning to hire nurses with advanced degrees. Moreover, the Institute of Medicine (IOM) was recommending that the nursing workforce upgrade its educational requirements and increase its number of doctoral-level nurses. "It's where the future was going," she said. Following the IOM's lead, in 2017 the school revamped its curriculum, transitioning its registered nursing programs from baccalaureate to master's level, and its advanced practice programs from master's to doctoral level, according to Judy Honig '05, DNP, senior associate dean, academics, and dean of students. "Bobbie shared the faculty's vision that we were poised to take a leadership role in moving our education upwards," Honig said.
Thus, graduates with a master's degree who choose to become nurse practitioners, midwives, or nurse anesthetists must now earn a doctorate in nursing practice (DNP) but may complete their combined master's and doctoral studies in four years instead of five. Master's-level graduates may also enter and complete an accelerated PhD program in three years. The school also enriched its curriculum with subspecialty certifications in adult and pediatric oncology, palliative and end-of-life care, and women's health.
Accelerating the curriculum was one way that the school raised its educational bar under Berkowitz. Constructing and relocating to an ultramodern building with a state-of-the-art simulation center was another. Here, the school prepares nurses to practice, teach, and research 21st-century healthcare. Advanced technology creates clinical scenarios that nurses encounter in realworld settings; it also enables the school to model teaching and patient care for its various partners, including clinicians who attended a national summit on the treatment and management of cystic fibrosis; the Hospital for Special Surgery, which sought the school's expertise in training nurses to address the multiple challenges of caring for orthopedic surgery patients who present with common comorbidities; and the New York State Department of Health, which registered the school as a site for training in opioid overdose treatment and prevention.
Although many contributed to the new building, it was Berkowitz who oversaw the $25 million capital campaign that made it a reality. She introduced innovations to the school's fundraising efforts by diversifying the scholarship-focused Annual Fund into several smaller entities, including a Building Fund, an Innovations in Simulation Fund, a Dean's Discretionary Fund, and a Global Fellows Fund, giving donors choices for directing their support. She has also been a source of steady support for Columbia Nursing's Alumni Association and its efforts to provide mentoring and other types of professional guidance to students.
Elevating Practice
With the research enterprise expanded, curriculum revamped, and a new building up and running, Berkowitz harnessed the school's talents to address New York City's primary care gap. "People in New York get a lot of specialty care but not a lot of primary care," she said. Under her leadership, the school opened a new location of the faculty practice, rebranded as the ColumbiaDoctors Primary Care Nurse Practitioner Group, in Washington Heights. The original practice still operates in Midtown. 
The only one of its kind in northern Manhattan, the practice offers a range of LGBT-specific services, filling a critical need among a population that commonly struggles with homelessness, lack of health insurance, drug addiction, or other mental health issues. Ferrara oversaw its launch with Berkowitz's enthusiastic backing. "She saw this as so logical, was there to champion it, and did everything she could to make it happen," said Ferrara.
The school's commitment also inspired "House Calls," a service that brings primary care to homebound patients who need chronic disease management and post-hospitalization care.
Promoting Policy
If there's one message that Berkowitz has driven home, it's that nurses must recognize their intrinsic capacity to lead. "Policy doesn't just impact their patients. It impacts their profession," she said. She is immediate past president of the American Academy of Nursing, and an active member of the Deans' Nursing Policy Coalition, which works with policymakers to protect healthcare funding, including scholarships for nursing students. "We spend time evaluating the direction of the federal government's policy on health and then act on what is needed to increase support for students, education, research, and the field overall," Berkowitz said.
For Ferrara, Berkowitz has been an inspiration. While his lobbying efforts helped win passage in 2014 of the Nurse Practitioners Modernization Act, which allows NPs with 3,600 or more hours of clinical experience to practice without a written agreement with a physician, he credits Berkowitz for playing a pivotal role in getting the legislation off the ground. "To say she had a small part in that is an understatement," he said, referring to both the Modernization Act and the "BSN in 10" law, which passed in 2017, requiring nurses to attain a baccalaureate degree in nursing within 10 years of receiving their initial RN license. "Bobbie was instrumental in making sure the entire nursing profession was aware of this bill."
As a health policy leader, Berkowitz advanced the role of nurses and the profession, Ferrara continues. "Her leadership in health policy and on different boards and coalitions is not just about nursing. It's about how can we lead and take responsibility for public health. That's the idea of nursing in general: to go beyond individual patients and enhance the health of all the people."
An Appetite for Adventure and an Eye on the Future
In less than a decade, Columbia Nursing has transformed the ways it prepares nurses as clinicians, scientists, educators, and leaders. These changes, sewn into the fabric of the school, are Berkowitz's legacy. Honig says she's proud of where the school has come in the last eight years. "We've set an academic example for clinical education, and I appreciate the support and backing from Bobbie to make that happen."
Berkowitz, who is both excited and wistful about this new phase, says she'll miss her colleagues. The missing will be mutual. "It's been a pleasure to work for her and with her," Honig said.
Meanwhile, opportunities and adventures await Berkowitz and husband Rich, who, in the spirit of Teddy Roosevelt ("Teddy Roosevelt is one of my heroes!"), will visit the country's major national parks. They'll golf, fly-fish, and gradually acquire a menagerie of cats and dogs to replace the beloved pets that died over the years. And they'll travel abroad. "I want to explore what's going on out there," Berkowitz said. "I need some time to play. Now, we'll see how good I am at that."